Accumulating My Chz Before the Big Launch of $BAR on Monday
Powering down Steem made me open my eyes to everything going on in the crypto world while I was waiting for Steem to take off. I wrote a post about $chz last week and on Monday it will come of age after partnering up with Barcelona to launch their official token. The token will launch at 2USD but in order to buy it you must purchase Chiliz token. You can buy these eitherby downloading the Socios app, downloading the Chiliz exchange or buying them on an exchange like Binance. You then have to transfer them to your Socios app and the Barcelona token will go live there on Monday 23rd June at 12pm GMT.
I love football and I love crypto but I really see a future in club tokens. Dortmund are doing it already. You cannot buy a beer in the stadium unless you have tokens. And with this pandemic cash is a thing of the past.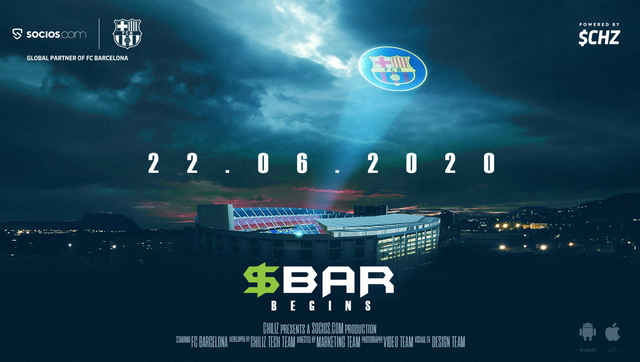 Barcelona token will launch at 2 quid but Juventus token went to 14 dollars. It's sitting at 6USD as we speak. What if Barcelona token goes to 20 quid on Monday. That will be a great little 2 euro investment. This is only going to get bigger with the NBA and NFL sniffing around to see if this little crypto company succeeds. Its .01 cent per Chiliz as we speak. The whale traders such as @incomesharks and @bitman have their ears pricked also and are accumulating. This will be kick off alt season. Thanks to Steem I am after getting myself 200k chiliz so let us see how this will play out. I am in two minds over going all in with $BAR this Monday as I feel Chiliz itself will rocket next week. It's a tough life but I win either way.
The clubs need funds. Chz is about to sell 40,000,000 tokens at 2 quid each. If Barcelona work out then its open season and $CHZ becomes hot property. Possibilities are endless.