Hi All, GainingSteem.Com is working to organize two Blockchain Conventions in the New England Area and I would love it if you would support this intent via my Fundrazr.com campaign. One will be held in Boston, MA and one in Manchester, NH! Our goal is to hold the conference at the Boston Convention and Exhibition Center. We'd like to attract popular social media, steem.com, youtube, and facebook personalities, as well as speakers with strong background/experience in successful ICOs/Blockchain Related Companies. Our goal is to have a number of exhibitors, vendors, public figures, Steemit Personalities, etc. there! :)
WE ARE AIMING TO HOLD THE CONFERENCE IN MID SPRING 2018!
I hold a very special space in my heart for the approaching Smart Media Tokens, as Steemit.Com Is My Greatest Passion In The Crypto Space, and I will make it a prominent speaker/panel discussion piece, so as to increase awareness of this great platform, as well as increase awareness of that coming innovation!
A contribution of $25 will give you 3-Day VIP Access To Both Events, as well as two free t-shirts from BTCShirt.Com! We're Accepting Sponsors For The Event As Well! Thank you so much for taking the time to read this! :)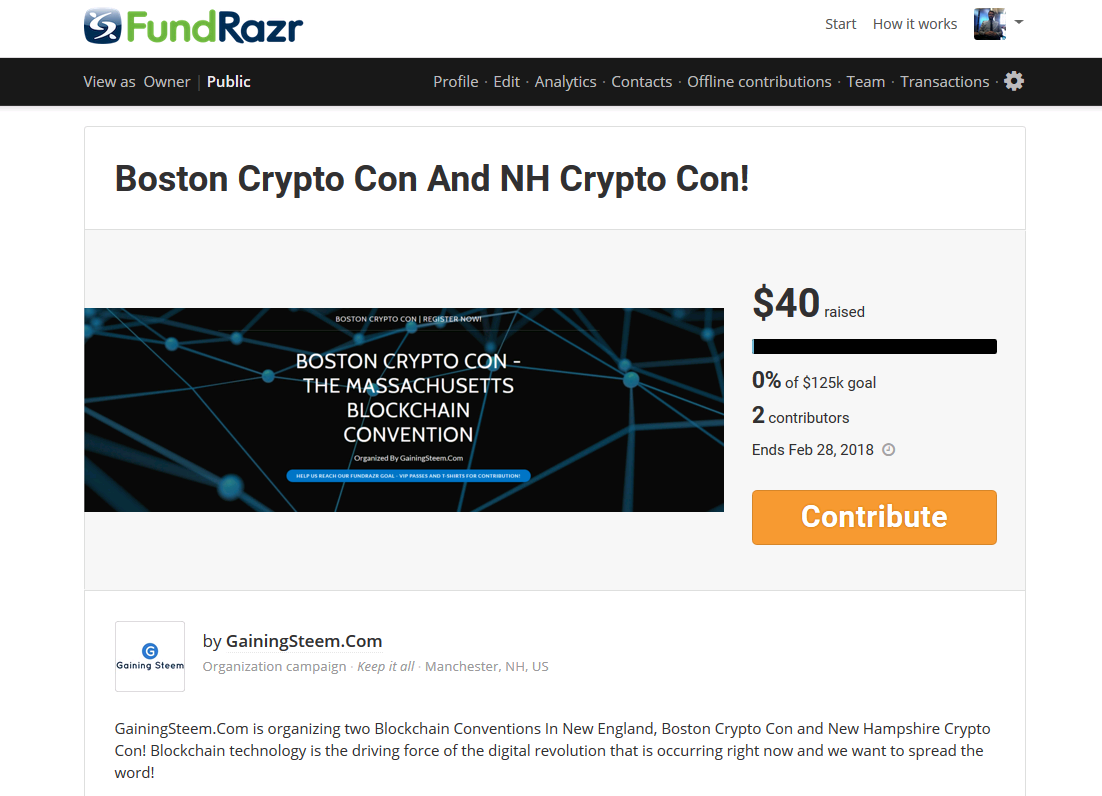 There Will Be A LOT More To Come On This! I will be reaching out to contacts in the space to promote and get the ball rolling! Let's make this happen and further the blockchain movement!
Contribute By Clicking Here Or On The Image Above And Join Us For This Event!
---
NHCryptoCon.Com

BostonCryptoCon.Com

GainingSteem.Com

---

---

JUST 5000 SUPPORTERS WILL MAKE US MEET OUR GOAL AND THOSE 5000 WILL HAVE FREE PASSES TO THE CONVENTIONS!

AS ALWAYS, WISHES OF WEALTH AND HEALTH FOR ALL! :)