There are several types of payment cards that are managed and run on certain networks, such as Visa, MasterCard and American Express (AmEx). This includes several types of cards, such as credit, debit, prepaid and paid. Payment gateway systems such as PayPal or Stripe, as well as electronic wallet systems such as Apple Wallet and Google Wallet, are developed in the payment card environment.
Payment cards occupy more than 77% of world trade. Over 257 billion cards issued for transactions in the world. AIGO is an attempt to design the development of infrastructure that could develop into a fully decentralized payment system.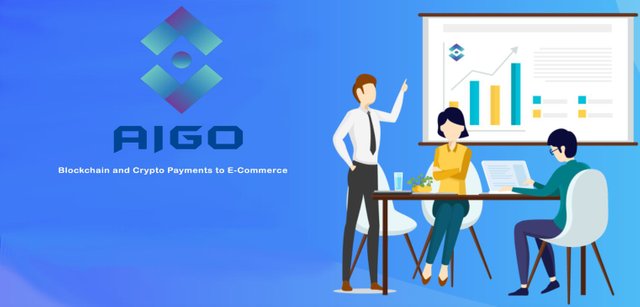 That's why the AIGO project came about, the goal of which is to create a fully decentralized payment system. Blockchain technology is a big promise to change the payment industry. The problem described in the previous section can be solved with the help of the P2P core chain of payments network, which provides flexibility and scalability of payment cards on a decentralized platform. AIGO protocol can simplify transactions between buyers and sellers, eliminate intermediaries along the way, save large amounts of money for sellers and buyers, increase overall efficiency and reduce risks.
AIGO is designed as a free, intelligent source code project built around a custom contract chain that governs transaction behavior. This can be organized as a simple transaction, a very complex transaction, including, but not limited to, repayment payments, split payments, usage fees, exchange rate adjustments, or a combination of the above. Enterprises will be able to use decentralized payment mechanisms, such as creating new ones in line with their needs in the business world. We believe that the solution offered by AIGO will create business opportunities for external companies that can create additional services above SmartContract and help promote AIGO Ecosystems. These services may include, but are not limited to credit services, transactions, insurance, arbitration, and others.
How AIGO Works
For a cryptocurrency to be successful over time, it must be a key aspect of the ecosystem that it represents. The AI-Payment ecosystem will be fully built on the functionality of AIGOPay tokens. Our goal is to create the de jure and de facto standard. AI-payment for modern payments by adopting strong economic support for tokens.
We have carefully selected partners for launch with the ability to realize the potential of AI-Payment in the field of personal market skills. This market will allow people to expand opportunities, pay for services and disrupt the current revenue sharing model.
As part of the support system that will be developed to facilitate the adoption of AIGO tokens, we will merge applications as part of our wallets when only enterprises decided to use AI-Payment.
AIGO Smart Contract

AIGO SmartContract is a smart contract that secures and retains ownership of AIGO tokens among various wallets. This is a modified version of the signed ERC-20 contract, which adds flexibility to payment and transfer protocols. It is important to note that the contract tokens will be processed by:
Creator of the agreement.
Community of tokens.
Contractor of the agreement.
Key IEO Details
AIGO = 0,004$
Soft Cap: 3 200 000$
Hard Cap: 42 000 000$
IEO: 23.07 - 31.08
The Aigo token (symbol of AIGO) was conceived as a payment "intermediary". Through the AIGO token, there will be the only way to transfer value between the parties through the protocol and can be converted to any other cryptocurrency or fiat. Initially, the token will be developed as an ERC20 token on the Ethereum blockchain. This will facilitate the use of the token as a payment tool on the platform. To ensure the long-term scalability of the project and meet the potential needs of the community, the team will decide to transfer AIGO tokens to new generations or switch to other, more productive blockchains. AIGO token holders will be able to exchange or replace them with a new version, all the necessary instructions and tools will be provided on the project's repository inside GitHub. The total number of AIGO tokens will be 2 billion. Unsold tokens will be used to finance development.
The project team
Teguh Saputra - CEO, co-founder;
Alfan Asyari - Marketing Director, Co-Founder;
Bayu Reza - technical director, co-founder;
Danang Junior - Director of Public Relations;
Josua Diver - Head of Research;
Tony Hartanto - Head of Software Development;
Ungga Rizki - Head of Investor Relations;
Zaaref Knight - Community Manager.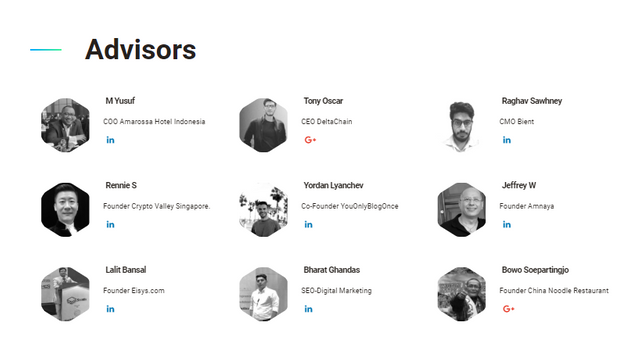 Development plan
November 2018 - Startup Project Development, marketing research of the company.
December 2018 - Implementation of the project in accordance with the base of our company.
January 2019 - AIGO Tokens v1. 0 (ERC-20), blockchain research.
June 2019 - AIGO pre-sale and IEO sale, community campaign.
August 2019 - Testing the next generation blockchain, Testing A- Wallet v1.0 (Android, iOS, Chrome).
November 2019 - SDK III - provides integration with AI-Payment and third-party extension services, testing A-Store v1.0 (website).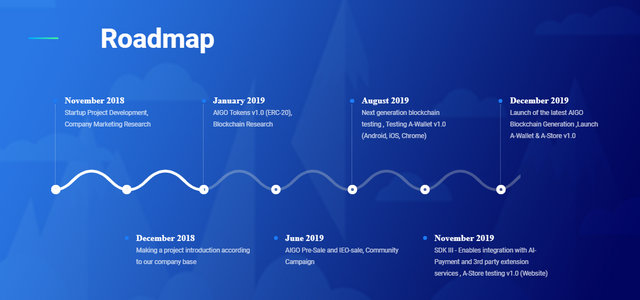 You can study this project using the technical documentation proposed in the resources listed below. Which links, I have specially prepared for you.
Additional Information:
Website: https://aigopay.tech
Whitepaper: https://drive.google.com/file/d/17K2inOew076KJ_iTKL3n4g0tDz8JXUf0/view
Bitcointalk: https://bitcointalk.org/index.php?topic=5155901
Telegram: https://t.me/AIGO_Global
Twitter: https://twitter.com/aigopay
Facebook: https://www.facebook.com/aigopayment
Author: berk3berk (https://bitcointalk.org/index.php?action=profile;u=2534145)
ETH wallet: 0x65465d5e32D9228CCF5801D58282Aa537CDe182f