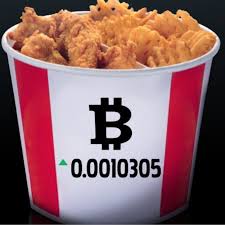 KFC Canada introduced a new menu item, the so-called Bitcoin Bucket, which customers can buy only with Bitcoin
KFC Canada announced a new promotion via Twitter on January 11:
Sure, we do not know exactly what Bitcoins are or how they work, but it should not be between you and the good chicken.
Bitcoin Bucket, which is sold for the equivalent of 20 Canadian dollars in Bitcoin, contains ten chickens, fries, medium drink, sauce and two dips. Canadian citizens can order a Bitcoin Bucket delivery via the Colonel & Co. website.
KFC Canada has also released a promotional Facebook video live for Bitcoin Bucket, as well as a graphic depicting a bucket of chicken from KFC, updating the course in real time every 5 minutes for almost 4 hours. One Bitcoin Bucket costs about 0.001 Bitcoin.
In a similar PR program, on January 9, Kodak announced its ICO to its own cryptocurrency, KodakOne. KodakOne will be used to register and license images on the new KodakOne platform.
Bitcoin also entered the fast food industry in July 2017, when a German food company, Lieferando, began to accept Bitcoin in orders. Recently, in August 2017, Burger King in Russia introduced its own virtual currency Whoppercoin, which can be used as part of a loyalty program for customers.