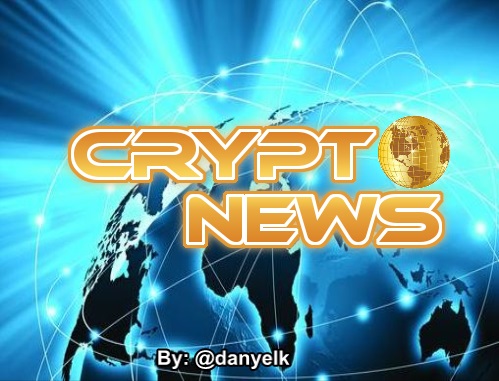 In the Middle of London: A Billboard showing a Bitcoin Miner!
Forbes Fintech 50 for 2018: The Future of Blockchain and Cryptocurrencies!
IBM recommends greater Popularity of Blockchain Technology!
Dubai: Regal DMCC keeps Bitcoin and Ethereum in the Almas Tower!
Ripples Technology is being tested by Saudi Arabia's Central Bank!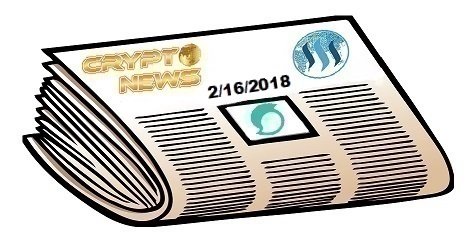 ---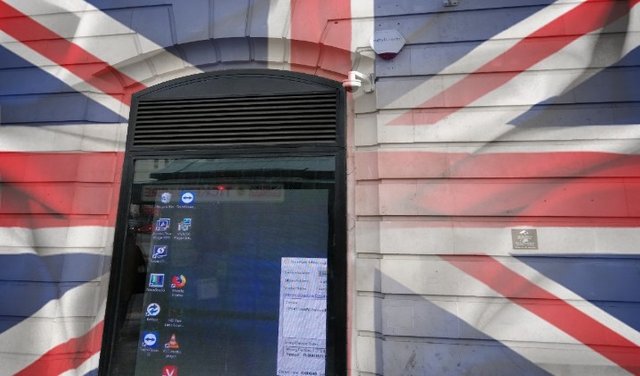 When public screens have a bug, it often showes look behind the scenes. This is what happened recently in London, when a billboard showed the operating system - and a mining program looking for cryptocurrencies.
We've recently found out that botnets are increasingly letting their hijacked computer mine Monero . Now we have a similar phenomenon that has been revealed in a shop window in London.
Terence Eden, a British nerd and blogger, collects photos of crashed public screens. Recently, for the first time, he saw an advertising screen being used to mine cryptocurrencies. The program that ran on the computer was NiceHash Miner Legacy, a version of the popular mining software Nice Hash developed for old computers. Nice Hash is more like a marketplace where you can buy or sell mining power. The software then automatically searches for the most profitable cryptocurrencies and pays the miners to Bitcoin.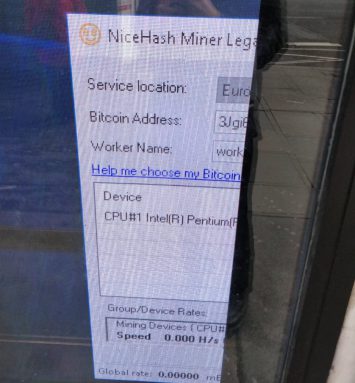 On the screen that Terence Eden found, the first characters of the payout address are shown: 3Jgi6. It should, theoretically, be possible to find the real address if you have a database of all addresses, but I do not know how. If one of the readers has a tip, that would be extremely interesting. So you could learn how much the hacker has earned by taking over the advertising space - even if it will probably not be so much. But is it so much less than an electronic billboard is advertising?
Another interesting question would be how the mining software came on the system. Has a hacker somehow infiltrated it, through an open port or an e-mail to a system administrator? Or has an advertiser-provider got the chance to earn extra bread by mining on many systems in customers' windows? Or may one even ask if the advertising company has made the mining part of their business model?
---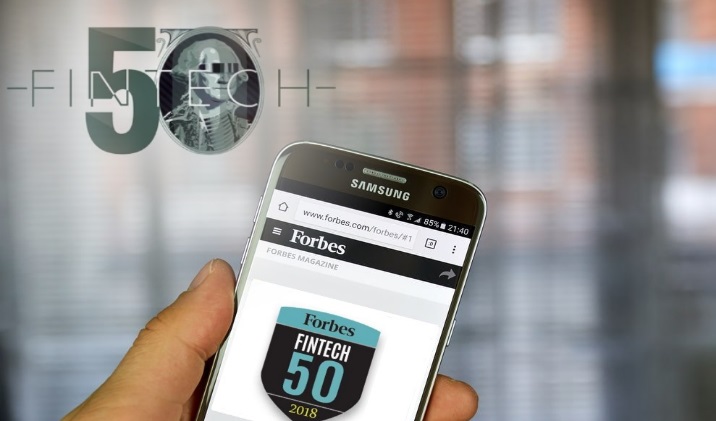 In this year's list of 50 fintech companies in 2018, a total of nine start-ups are active in the field of blockchain and cryptocurrency. In addition to known sizes are also newcomers in the listing. Forbes even dedicates a report to the blockchain start-ups.
Here are the nine start ups:
Bona fides:
Working with the Georgian government to put land titles on the blockchain
Cofounder & CEO: Latvian educated computer scientist Valery Vavilov, 38, on Forbes' list of the Richest People in Cryptocurrency
Funding: $90 million from Credit China FinTech Holdings, DRW Venture Capital, iTech Capital, Georgian Co-Investment Fund, Blockchain Capital, Binary Financial and Bill Tai
Threat to: Traditional government technology suppliers
Blockchain, London
World's most popular cryptocurrency wallet, enabling its users to manage their own private keys for Bitcoin, Bitcoin Cash and Ether. Expansion to U.S. now allows crypto trading in 22 states, including California.
Cofounders: CEO Peter Smith, Nicolas Cary and Ben Reeves
Funding: $70 million from Lakestar, Richard Branson, Alphabet's GV, Lightspeed Venture Partners and others
Threat to: Coinbase and Xapo
Chain, San Francisco
Offers blockchain technology for financial institutions, as well as ledger balance software for fintech and ecommerce companies
Founders: CEO Adam Ludwin, 36; CPO Devon Gundry, 36; and CTO Ryan Smith, 31
Funding: $43.7 million from RRE Ventures, Khosla Ventures, Citi Ventures, Nasdaq, Visa, Fiserv, Orange Digital Ventures, Digital Currency Group, Blockchain Capital, Pantera Capital, 500 Startups, Thrive Capital and others
Threat to: Inefficient legacy record keeping in finance
Chainalysis, New York City
Its tools allow institutions and law enforcement to trace specific transactions on the blockchain.
Founders: CEO Michael Gronager, 47; CTO Jan Moller, 46; CRO Jonathan Levin, 27
Funding: $1.6 million from Point Nine Capital, Digital Currency Group, FundersClub, Techstars, Converge Venture Partners
Threat to: Criminals using cryptocurrency
Coinbase, San Francisco
Easiest, most user-friendly onramp to the cryptocurrency world, offering digital currency wallets with more than 10 million users; trading in Bitcoin, Bitcoin Cash, Ethereum and Litecoin on GDAX exchange; and merchant tools.
Cofounder & CEO: Brian Armstrong, 35, on Forbes list of the Richest People In Cryptocurrency
Funding: $217 million from IVP, Greylock Partners, Draper Associates, Andreessen Horowitz, the New York Stock Exchange, Draper Fisher Jurvetson and others Latest official valuation: $1.6 billion, but surely more
Threat to: Other crypto exchanges, fiat currencies
Ripple, San Francisco
Employs blockchain technology for cross-border payments. Transactions can be done with the XRP token, which has had a wild speculative ride, but isn't necessary to use the Ripple network. (No banks have fully committed to using XRP.)
Cofounder and executive chairman: Chris Larsen, 57, cofounder of Prosper and Eloan and the richest person in cryptocurrency
Funding: $93.6 million from SBI Investment, Santander InnoVentures, Seagate Technology, CME Ventures, Standard Chartered Bank, Andreessen Horowitz, Lightspeed Venture Partners, Digital Currency Group, Blockchain Capital, Accenture and others
Threat to: Correspondent banks and the SWIFT payment-settlement system
Shapeshift, Zug, Switzerland
Exchange allows users to trades between 70 cryptocurrencies, without establishing an account or wallet. To maximize privacy, it does not link to bank accounts or take fiat currencies, though it says a fifth of customers are from U.S. Charges no fees and makes money on the spread.
Founder: Erik Voorhees, 33, an American and early Bitcoin advocate who also founded Satoshi Dice.
Funding: $12.2 million from Earlybird Venture Capital, Digital Currency Group, Lakestar, Access Venture Partners, Pantera Capital, Blockchain Capital, FundersClub
Threat to: More traditional crypto-exchanges
New York City
Provides blockchain technology platform to the capital markets.
Cofounders: CEO Mark Smith, 48, CTO Adam Krellenstein, 29 and Evan Wagner, 27
Funding: $15.4 million from Celeridem Capital Management, Medici Ventures, Fenbushi Capital, SenaHill Partners and others
Threat to: Broadridge and custody banks like BNY Mellon and State Street
Xapo, Palo Alto, CA
Provides secure offline storage for investors and family offices who want to hold Bitcoin as a form of digital gold (as opposed to actively trading it). Also offers Bitcoin wallets for consumers, mainly in developing world.
Cofounder & CEO: Wences Casares, 43, who founded the first online brokerage firm in Latin America
Funding: $41 million from Benchmark, Greylock Partners, Ribbit Capital, Index Ventures, Fortress, Emergence Capital Partners and others
Earlier this week, the list of Forbes Fintech 50 for 2018 came out, which has selected 50 companies and start-ups that will play a prominent role in financial technology this year. In view of the noticeable increase in capital that flowed into the fintech industry in 2017, it is not surprising that a total of 22 companies have managed to get a new listing. Nine of the listed start-ups also come from the blockchain and cryptocurrency sectors.
Indirectly, Robinhood and Veem are also dealing with blockchain technology and cryptocurrencies. Some sources therefore speak of eleven instead of nine blockchain start-ups. All in all, it is worthwhile to take a closer look at the Forbes list and look at the two companies mentioned above.
Above all, these nine selected start-ups are characterized by the establishment of a blockchain infrastructure for the public crypto market. In addition, they support initiatives that could change the way financial transactions are currently made and recorded. Of the nine blockchain start-ups, five have managed to get on the list.
---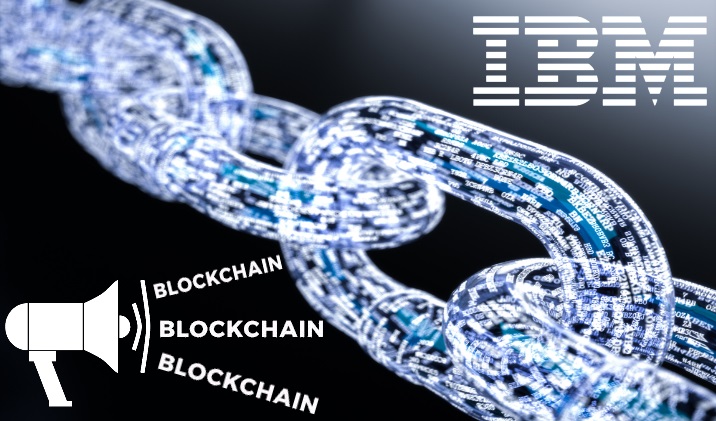 IBM's Jerry Cuomo has spoken out in favor of blockchain technology in front of a government committee in the US, warning against over-regulation of volatility in crypto currencies.
IBM has been working on blockchain technologies for a long time and offers its customers blockchain services (BaaS). Company block vice director Jerry Cuomo announced on Wednesday to the Congressional Science, Space and Technology Committee that his company has already participated in more than 400 blockchain projects.
Cuomo sees great benefits in technology and said that the government should do more to spread and deploy the technology. At the same time, Cuomo warned against too much regulation in the industry due to the volatility of crypto currencies. These, according to Cuomo, would not reflect the potential of the technology. Rather, such measures should ensure that there are no unwanted consequences that could hamper innovation and developments around blockchain technology.
Cuomo highlighted the benefits of the technology, which could also be of great importance at the administrative and governmental level. Cuomo highlighted that IBM is already working with the Food and Drug Administration, CDC and the Personnel Administration. In the process, we will examine how blockchain technology could reduce complexity.
Restrictions on blockchain solutions would, according to Cuomo, lead to the technology not being able to realize its potential.
In addition to the cooperation with US government agencies and the cooperation within the framework of the Hyperledger project, IBM has recently begun a cooperation with the shipping company Maersk. The shipping company has launched a trading platform based on IBM's Baas. The companies want to optimize the time-consuming administration of international deliveries.
Cryptocurrency and blockchain services are becoming increasingly interesting as accounting systems become decentralized. Recently, James Disney from Credit Suisse told CNBC the benefits of blockchain. Among other things, the technologies are used in digital payment processing and offer a very high level of security there. Profiteer has recently introduced NetCents Technology Inc. (WKN: A2AFTK), which has posted impressive price gains since its inception.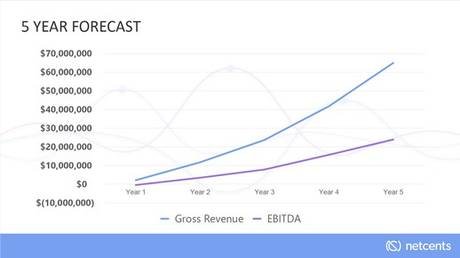 NetCent's Technology is an online payment processing platform that provides merchants with online services for processing electronic payments. This blockchain technology is used, which allows the settlement with Fiat currencies but also digital currencies.
Among other things, NetCents works with the US payment service provider Aliant Payment Systems. NetCents has provided Aliant with the processing platform for settlement of payment services including Ethereum and Litecoin. NetCent's CEO Clayton Moore said the partnership with Aliant is a partnership and they share a common vision with Aliant. Aliant was one of the first payment service providers to offer Bitcoin solutions.
---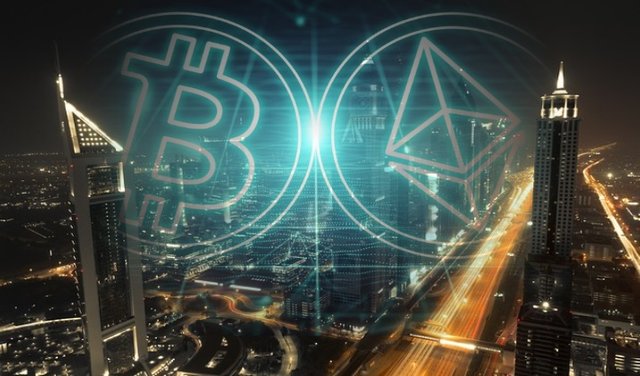 Dubai-based Regal RA DMCC investment firm is now offering its customers to store there cryptocurrencies such as Bitcoin and Ethereum in a "cold storage," a vault of Dubai's Almas Tower, according to The National, a news portal based in the Arab world. The company also intends to be the first company in the Middle East to receive a license to trade cryptocurrencies.
The company will thus offer the world's first "cold storage" solution, allowing investors to store their cryptocurrencies in the 363 meter high skyscraper - Almas Tower. This is also the headquarters of Regal RA DMCC. It also already holds gold reserves and other precious metals of the company.
In the interview conducted by The National, the CEO of Regal Assets states that this is the safest way to preserve currency in the world at the moment:

The cryptocurrencies should be stored in physical form, without connection to a network. Although the term hardware wallet is not used in the article, it is assumed that Regal Assets keeps hardware wallets. All physical devices are completely secured against theft, hacker attacks or natural disasters.
In addition to preserving cryptocurrencies, Regal Assets also works on a trading platform in Dubai, which is to be subject to the legal, regulatory framework of the country.
However, the government and central bank of the United Arab Emirates (UAE) has not yet given the go-ahead for cryptocurrency exchanges. In October last year, the UAE Central Bank reminded that cryptocurrencies are not subject to central bank supervision. In addition, cryptocurrency exchanges have not yet received a license from the regulatory authorities.
This opinion seems to soften slowly. The emirate's regulator recently stated that it has a regulatory framework for cryptocurrencies.

With the suggestive "Pro Cryptocurrencies" regulations, another financially strong market, the United Arab Emirates, the adaptation of Bitcoin, Ethereum and Co. seems to be driving forward.
At the moment there seems to be a rethinking of cryptocurrencies worldwide. Unified Approach: Cryptocurrencies can not be banned, they can only be regulated. In our view, this development is very positive and should also be beneficial to the entire cryptocurrency market in the long term.
---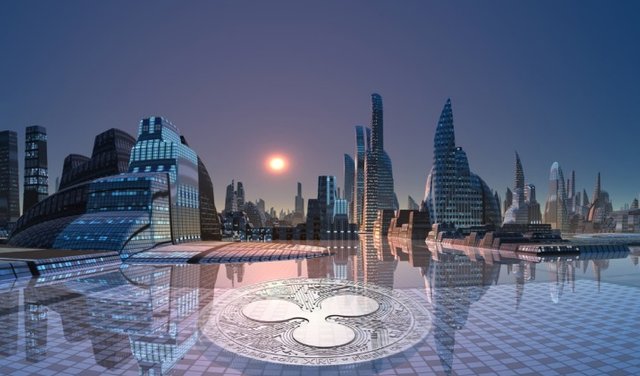 Startup Ripple has closed a deal with the Saudi Arabian Central Bank. The bank will test the technology of the company in a pilot project.
The Central Bank of Saudi Arabia is not the first financial institution to opt for cooperation with the startup. The Bank of England has also been testing the technology since last year. The collaboration became public when Managing Director Brad Garlinghouse spoke in San Francisco during the Blockchain Connect Conference about the deal.
"This groundbreaking pilot is the first of its kind to be launched by a central bank. Participating banks from [Saudi Arabia] will use xCurrent to process payments instantly inside and outside the country, with great transparency and low cost, "said Ripple.
Other financial institutions are also interested in xCurrent. Santander, for example, is working on an app that uses the technology for mobile payments. Possible sales markets for the app would be Spain, Brazil and Poland.
In addition, the United Arab Emirates intends to use the RippleNet network in the future to simplify cross-border payments.
Dilip Rao, the global head of infrastructure innovation at Ripple, believes the agreement with SAMA is part of a wave of recognition by financial institutions of the impact blockchain solutions can have on payments.
To learn more about xCurrent and Ripple's other solutions to revolutionize cross-border payments visit there solutions page.
---
---
Image sources:
Post header created by myself
Article headers created by myself
If you missed my last crypto news just click here!

I wish you all a great Friday!
ⓁⓄⓥⒺ & ⓁⒾⒼⒽⓉ
Best regards
@danyelk