Good news !!! Crypto Price Increases After Google and Facebook Open Prohibition
After marrying antipathy against crypto, Facebook currently makes a whitelist for certain crypto. Google started loading some crypto in its converter tool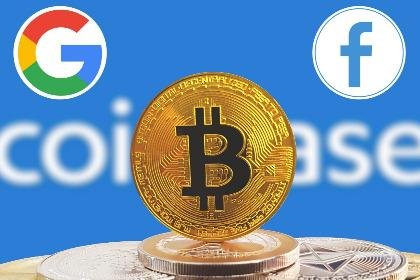 Crypto prices go up following the prohibition changes made by Facebook and Google. Having previously banned the advertising of all crypto currencies on its platforms, Facebook has incorporated Coinbase ads into a "whitelist", followed by Google which now includes some major crypto coins in its exchange converter tool.
Today, Top 10 crypto currency has increased significantly. Bitcoin is trading at 8,269.52 USD, up by 6.87% from the previous period. The largest increase was printed by EOS (10.72%), and TRON (13.43%).

Internet giant Vs Crypto
Previously, Facebook and Google took action unexpectedly in response to the circulation of crypto currency. Facebook party imposed a thorough ban on all crypto ads on its platform. This step was followed by Google who refused to add exchange rates for major crypto coins such as Bitcoin and Ether on the converter. The giant search engine also plans to block crypto ads as of June 1, 2018.
Facebook and Google claim that the measures taken aim to combat the promotion of ICO on their plarform. Both Facebook and Google want to prevent the misuse of their features by the initiators of ICO (Initial Coin Offering), as the new coin offers proved vulnerable to fraud.
However, critics feel the decision of these internet giants is arbitrary. Critics emphasize that regardless of the existence of various deceptions under the current crypto guise, there is still a large number of crypto and crypto startups legitimate and legal. By 'flat-hitting' the entire crypto currency market, Facebook and Google seem to give the impression that crypto is a forbidden activity.


Crypto Prohibition Changes Greeted Happy
Reporting from Coinfrenzy, Facebook softens its stance on crypto ads and decides to create a "whitelist" for a legitimate crypto organization. After the announcement, Coinbase was finally added to the whitelist, enabling the exchange to place crypto ads on the Facebook platform.
"Facebook banned crypto ads earlier this year, we are now proud to say that Coinbase has entered the" whitelist "and re-introduced an open-ended financial system to more people," said Brian Armstrong, CEO of Coinbase, on Twitter accounts- his.
The news that accompanied the Coinbase ad image snippet on Facebook was immediately flooded with reaction from crypto currency users, as evidenced by Tweets Armstrong gets over 700 Retweets, 3,000 Likes, and 160 replies.
This happiness increases after Google receives Bitcoin, Bitcoin Cash, Ethereum, and Litecoin into the online currency conversion tool it provides. Although it has not revoked the ban on crypto ads, this step has signaled Google's softening attitude towards the crypto currency.