Love it or loathe it, 100 ball cricket is here and the formation of the inaugural tournament that is due to take place next year will for all intensive perhaps begin in earnest today when the 8 franchises draft their 14 man squads.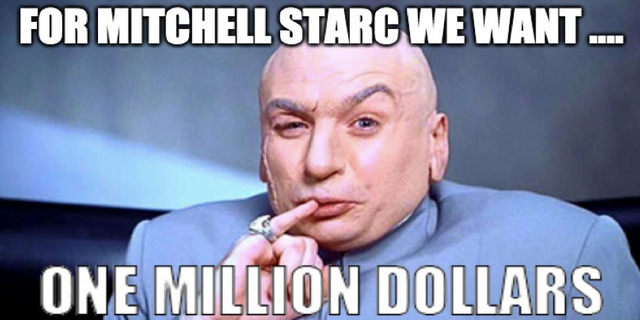 I could write a lot about my feelings on cricket's latest incarnation and maybe I will one day - to some-up I can see several pros, plenty of cons and I'm generally quite confused about the need for another rehash of the limited over game but in the end I am happy to wait and see what the 100 ball format produces.
One area that is quite exciting is the idea of the draw to decide the teams. In essence, this is fantasy sports in the real world with a whole host of international and domestic stars up for grabs. Those of you who are cricket geeks like myself may have watched the annual IPL auction that takes place at the end of each year to determine the new signings (if any) that each franchise in cricket's premier T20 league makes. In all honesty with the exception of the CSK delegates who wear canary yellow suits the whole thing is a fairly drab affair that goes on for far too long. By contrast, the hundred will see 96 players drafted into the 8 newly formed teams in just an hour with each franchise being limited to just 100 seconds per round to make their picks.
Part of the draft has already been completed with each franchise choosing 1 "icon" player alongside 2 local stars from within the franchises "catchment area". This part of the draw gives significance to the idea that while drafting in foreign talent is all well and good, the new franchises will need some form of local identity to get the punters through the turnstiles. Here is how the first stage of the draw went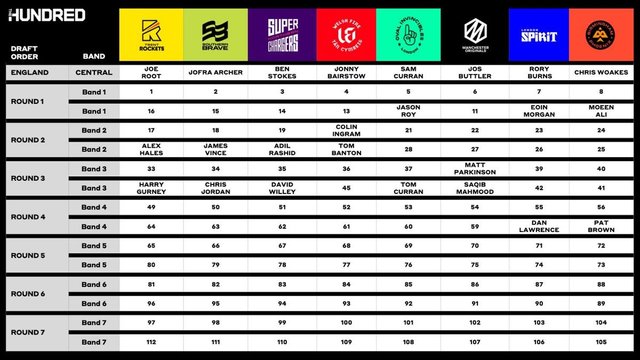 As you can see there are 7 rounds for the 2nd stage of the draw with each round being for players at a different cost bracket. Round 1 (£125k), Round 2 (£100k), Round 3 (£75k), Round 4 (£60k), Round 5(£50k), Round 6 (£40k), Round 7 (£30k). The prices are players' remuneration for the tournament and players are able to set a reserve price that must be met in order to secure their services.
Six international stars, namely Chris Gayle, Lasith Malinga, Steve Smith, David Warner, Kagiso Rabada and Mitchell Starc have put a reserve on themselves for the top price bracket. The most expensive domestic players that are yet to be selected are Mark Wood, Joe Denly, Liam Livingstone and Samit Patel all of whom have a reserve of £60k. You can see a full list of the players and their prices here
Anyway enough explaining here's are my picks for the players that I would choose for my local franchise The Oval Invincibles who have already recruited Surrey-based Jason Roy and the 2 Curran brothers. I've tried to keep things realistic in regards the players who might be available as the draw unfolds. Of course, on the day itself teams are going to have to react very quickly and the players they might have had their eye on get selected by their rivals.
Round 1 - Mitchell Starc
The pitches in this tournament are likely to be very batsmen friendly so having bowlers who can take wickets will be crucial and Mitchell Starc is a proven strike bowler in the shorter forms. I guess the major concern would be his fitness and the fact that he has backed out of his last 2 IPL contracts due to injury concerns and loyalty to the national team.
Round 2 - Shakib Al Hassan & Nicholas Pooran
Shakib Al Hassan was magificent with both bat and ball in English conditions during the World Cup. He is also a great leader on the pitch and thinker on the game - definitely a guy you'd want in your dressing!
I thought Pooran was the West Indies best batsmen during the World Cup and he has been impressive in franchise cricket around the globe. A very cleaner striker of a cricket ball and good professional to boot, something that can't always be said of some of the more temperamental players from that part of the world.
Round 3 - Phil Salt
Phil Salt has already been included in the England T20 squad and has picked up contracts in the Caribean and Pakistan franchise leagues. Pairing him with Jason Roy at the top of the order would provide an exciting opening combination.
Round 4 - Danny Briggs & Ravi Bopara
Briggs has been arguably England's best slow bowler in T20 domestic cricket in recent years and despite still being just 28-years-old he has not played for his country since 2014. While a left-arm option is always important, have I overdone it by picking 4 southpaws?
I've always had a soft spot for Bopara and Ravi is undoubtedly a very gifted player, capable of winning games single-handedly on his day. If only he had that killer instinct that ensured those days came about more often....
Round 5 - Liam Plunkett & Laurie Evans
Plunkett would offer experience and something a little bit different to my bowling attack that would complement the speed and swing of Starc and guile and variety of Tom Curran. The Oval is also now his adopted home so he should know the conditions fairly well.
Laurie Evans meanwhile has gone from being a brash young cricketer who self-named himself "The Becks of Birmingham" to becoming a highly accomplished and increasingly mature T20 batsman who is capable of playing various roles throughout the order.
Round 6 Ed Barnard & Mason Crane
We are getting down now to the squad player picks and Ed Barnard fits the mold of good bits and pieces cricketer, capable of adding to the team with both bat and ball. He is also electric in the field as demonstrated by this worldy that he took in the T20 blast. He has played an important role in Worcestershire's recent T20 success.
Mason Crane has struggled to overcome the early hype surrounding his international debut as well as a stress fracture to his back. However, he remains a good wrist spinning option and while leggies aren't always as effective in England as they are in other parts of the world every team will still want at least one in their squad.
Round 7 Will Jacks & Ollie Pope
Last up I've gone for 2 local lads. Will Jacks has already shown that he has a penchant for the very shortest formats of the game. He is an immensely clean striker of a cricket ball and just needs to add consistancy to his obvious talent.
Ollie Pope has already played at international level and looks set to add to those caps this winter. This is probably not his ideal format but he is still an inventive and high calibre batsman.
Starting 11
Jason Roy

Phil Salt

Laurie Evans

Nicolas Pooran

Ravi Bopara

Shakib Al Hassan

Sam Curran

Tom Curran

Liam Plunkett

Mitchell Starc

Danny Briggs
Who would your top picks be in the inagural Hundred draft?