Pakistan v England 2000 - England win by 6 wickets
Historical context: England end 38-year winless streak in Pakistan
No country for Englishmen
England had not won a single Test match in Pakistan since 1962 let alone an entire series when they arrived for their tour at the turn of the millennium. I have written before about the importance of conditions and the way they affect the outcome of Test Matches. In that respect, there is a reasonable argument to be made that cricket is the hardest sport to win away. A football pitch or basketball court is essentially the same wherever a team travels but the dry, sunbaked cricket pitches of Pakistan are about as far removed from the cool, lush conditions of England as one can imagine.
Beyond the hostile conditions, England had also had problems with what they perceived to be unfair and bias umpire decisions, particularly in previous decades where both officials originated from the host country!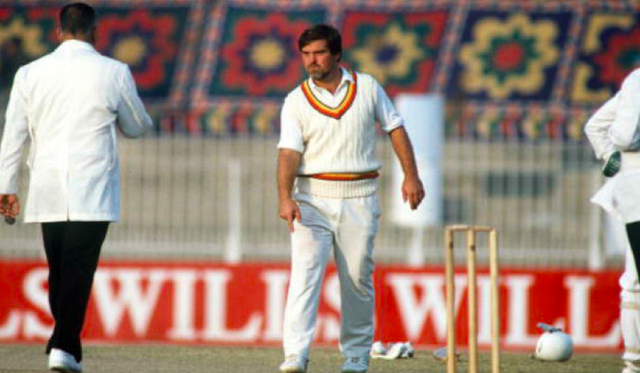 The confrontation between Pakistani umpire Shakoor Rana and Mike Gatting in 1987 sparked a major diplomatic incident
"In Pakistan many men have been killed for the sort of insults he threw at me. He's lucky I didn't beat him."
Pakistani umpire Shakoor Rana's comments following a confrontation with England captain Mike Gatting in 1987 who accused Rana of unfair treatment of his touring team.
And of course wherever England travel in the sub-continent, there is always that added desire from the home team and their supporters to put one over on their former imperial overlords. Up until the year 2000, Pakistan had been enjoying this brand of sporting revenge on a regular basis.
An unfancied England team dig deep
England scrapped hard in the first match of the series. A determined century from Graham Thorpe who himself was going through a personal crisis which may well see him feature in a future post of greatest individual comebacks, helped England to 480 in their first innings. While this meant that Pakistan had very little chance of winning the game, they could still save it and in batting out the best part of 2 days in the dry heat they not only got the draw they desired but also sapped England's energy levels.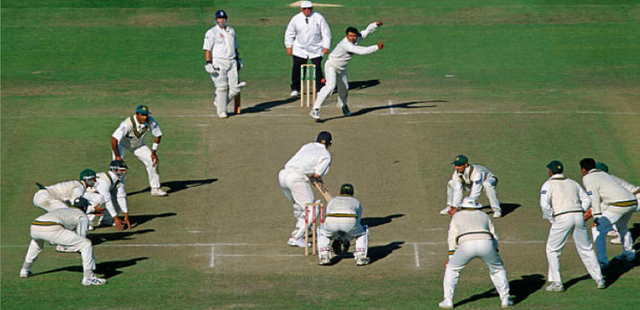 Under the pump! Pakistan surround England's batsmen as they push for victory in the 2nd Test
The 2nd match saw even first innings scores from both teams before Pakistan took control of the game following Abdul Razzaq's maiden Test century. On a worn and turning pitch England faced a couple of tricky sessions against the Pakistani spinners and at one point lost 3 quick wickets to give Pakistan a sniff at victory. Veteran pair Atherton and Stewart stood firm for England, who just about escaped with a draw to fight another day.....
A ray of light in the Karachi night
The 3rd and final game of the series started well for Pakistan as star batsmen Inzamam-ul-Haq and Mohammad Yousuf combined to put on a 259 run partnership. However, England found hidden reserves of energy to hit back and took the final 6 Pakistan wickets for just 82 runs before a Michael Atherton marathon innings of just shy of 10 hours in extreme heat took England to within 17 of their hosts. Inspired by Atherton's efforts and an impassioned team talk from fiery captain Nasser Hussain, England's bowlers rolled Pakistan for just 158 in their 2nd innings, giving them an unexpected chance at a series win. Given the fact that England had managed just 23 wickets in the previous 2 matches, it was a remarkable turnaround for them to have bowled out Pakistan in such a manner.
Beyond the quickly deteriorating pitch, the main obstacle for England's batsmen was time and the fast setting Karachi sun. Pakistani captain Moeen Khan used every trick in the book to try and slow down the play, meaning that England batsmen Graham Thorpe and Nasser Hussain were left to hit the last 20 odd runs in near total darkness. The celebrations that followed victory are testament to how much this comeback win meant to the England team after all those decades of disappointment
This series as well as the win later that winter in Sri Lanka against Murali and co. are often forgotten when people talk about great away wins for England. For me, this victory represented a defining moment for an England team that just 18 months earlier had been bottom of the ICC's Test rankings. Many of the players who helped win this match had been part of that England team during the dark days of the 1990s and as such this game represents the perfect example of a comeback for England in the match itself as well as in the larger historical context.