The garden plaza by the cathedral has ten times the normal busy crowd, a constant game of humans trying not to collide. The air is pleasantly warm. Last light fades from the sky as we browse the perimeter of memorial displays. Layers of sand, rice and beans are carefully organized to form images on the ground. A spread of marigolds depicts a slain journalist, one of 15 killed in Mexico this year. Another display shows the faces of dozens of murdered police officers. Here and there hang random handmade cardboard signs about police and cartel violence.
About half the women are dressed as "catrinas", which is a dead skeleton bride. Accompanying men are often dressed as dead grooms. A man strikes a women hard as the crowds flow around them, which seems even more absurd than normal considering all these catrinas. We lurk around a corner for a moment to see if the woman is trying to escape, but she hits the man back just as hard so we continue on.
The massive illuminated cathedral towers over the square. One cathedral bell swings wildly as competing sound systems play ghoulish music. It may be the scariest set of sounds I've ever heard, intensified by the appearance of the world's creepiest silent clown, complete with green teeth and black eyes.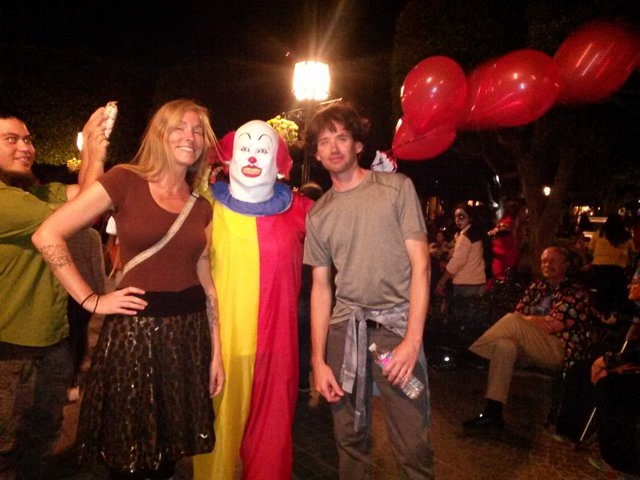 Sarah feels the need to purchase a package of colorful marshmallow cookies from a street vendor cart with excessive LED lighting. The street vendors seem to be in some out of control competition. Who can have the most and the brightest LED lights to blind their customers? The marshmallow cookies are not for eating, not now at least. "The cookies are to keep me safe", Sarah says. Fifteen pesos to save the soul. From then on, Sarah and Turtle hold the cookies high in the presence of all unknown creepy characters, especially clowns.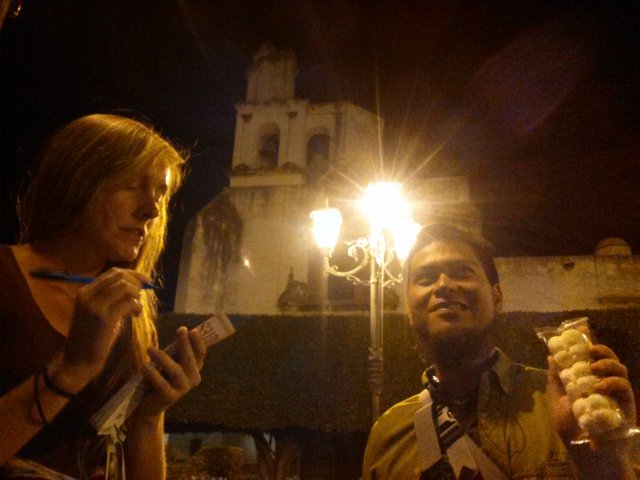 Inside the cathedral a line of people are disappointed when two men wearing jeans and walkie talkies cover the crypt entrance with plywood and rope it off. The sanctuary then becomes quieter until a booming invisible voice begins praying over a high quality sound system. People all around kneel and repeat the phrases as the two men with walkie talkies refocus their attention on lighting candles. Colorful life-size biblical figurines adorn the walls from floor to ceiling. Why is Jesus wearing a robot helmet crown of thorns? I swear that something is moving under Mary's dress. What if something is in the crypt, I think, looking at a remaining visible black void in front of the plywood. A bell rings, causing the worshipers to pray harder. "That sounds like the garbage truck bell", Sarah whispers.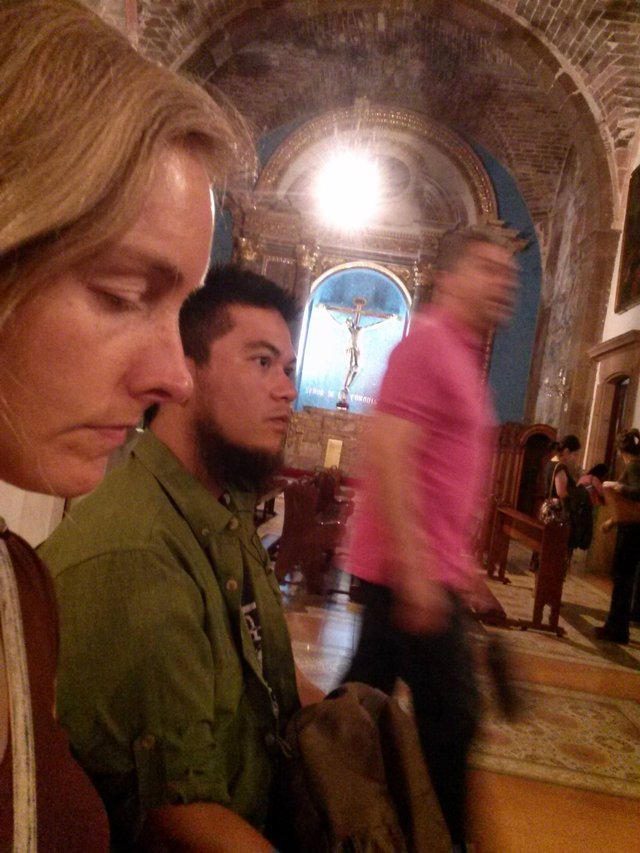 Up until last week the garbage truck had just been a couple of causally dressed men in an old pickup truck. They came three times per week at predicable hours. Now a new company took over with a real garbage truck and blue uniforms, but the garbage men still ring the same dinner bell by hand. You never know when these new garbage men are going to show up, but you're apparently not supposed to just leave your garbage on the street. "Hola Guera", a garbage man said to Sarah yesterday, slang for "white girl".
My mind wanders to the mini-refrigerator in our apartment. The name brand is Mabe. Maybe it will keep our food cold. There are so many amazing doors in San Miguel, ornate wooden ones 20 feet high. What's behind them? "That's too creepy. It reminds me of Hunger Games", Turtle says in response to a dozen children screaming in delight at an expensive drone that hums loudly a few feet above them. Sometimes I can't tell if a woman is 45 or 12 years old until we're right next to each other. This bartender must weigh 60 pounds.
Bathrooms can be hard to find, but not on a night like this when anyone can wander anywhere in the massive crowd. I can't even figure out how this sink works until it sprays me from top to bottom. There are multiple soaps to choose from. The towel dispenser puts out about 4 inches of paper mache though. Those devices are so extreme from place to place. In suburban US malls I've experienced several feet of dispensed paper. Outside this fancy bathroom I discover that Sarah and Turtle are being served tiny bite size tacos by men in tuxedos. On the way out we pass tables of diners who are more interested in the fine china than the food on it. The extremes. Two blocks away there are inevitably other humans sitting on plastic and eating out of styrofoam.
We line up for an elaborate tent filled with candles. Paper lining the walls and ceilings give it a distinctive cave feel. A slightly above average size man keeps unnecessarily squeezing against Sarah's back. I nudge my way between them then notice that the man walks over to another man. They both pull out phones, glance at the screens then quickly separate again.
By 11PM work crews are tearing down all the displays, including the paper cave. The cathedral doors are closed, the bells are silent, the clown is gone, no candles are burning. The crowds have thinned to what would be any normal evening. A small white car slides and lurches behind us as we're ascending a very narrow alleyway. We jump to the narrow stone sidewalk, putting our backs to the wall as the driver stops beside us, mumbling some unintelligible drunken words. Somebody yells from a second floor window, probably telling him to slow down. We must jump to the sidewalk a second time as the car again screams into chaotic motion. This is personal now. The driver stops and glares at us for a moment before peeling off again. "Let's take the back way home", Sarah says, noticing the same car attempting a turn around ahead of us.
15 minutes later we're seated in our grassy courtyard eating the colorful marshmallow cookies.