Thank you @juliamulcahy for giving a name to one of my creatures. :)
Here's the post where I introduced you the tiny avatar engine: https://steempeak.com/creature/@insaneworks/what-am-i-supposed-to-do-with-this
Now let's brake this tiny avatar engine down. Explode it to tiny bits. Investigate how it was done. Dissect the bodies.
Woo-hoo says WandaWoo!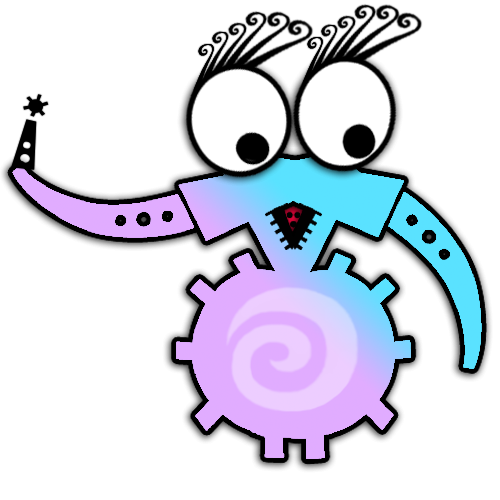 The code was partially outsourced. It happened like this: thoughts in my head, me waving hands, spit splattering all over because of all the explaining, me moaning and bitching how wonderfully stupid but still awesome idea I have, me preparing my creatures in Photoshop for the avatar engine, a ready made code magically appearing in front of me, me requesting again tiny and not so tiny changes and complaining about the fact that my hands just copypasting other persons code does not work immediately as I want it to work, me banging my head to the keyboard, pouring coffee in to my eyes because I think that would make me understand all the features in php a little bit better. And voilà, the code is there and I didn't have to swear and act like a negative aged child that much. Only a little. Coding is such fun. Trying to copypaste and change things in a code that you barely understand, is way more fun. Funner.
If you do not care about the creature body parts, just skip the images and scroll down to the code. It's there, at the end of this post.
| | | |
| --- | --- | --- |
| file and a folder | set-creature | creature-02 |
Okay so I have creatures. Each creature has different layers in photoshop. All of the creatures have a body, eyes and pupils. Most of them have mouths. Some have bellies, some have eyebrows or eyelashes and all of them have accessories. Accessories can be anything. Markings in the body, speech bubble, a wand, a hat. Different creature layers don't mix with each others. All images are maximum 500px.
| | | | | |
| --- | --- | --- | --- | --- |
| body | body | body | body | belly |
| | | | | |
| mouth | eyes | pupils | wand | speech bubble |
WandaWoo here has two different tongue colors. Red and blue. I could have made that a separate layer and place it underneath the layer called body, but in this case, I chose to do it this way. The tongue color is fixed with the body color. WandaWoo also could have had the right arm turned up in some cases, but this is what it is. Arms are fixed.
The folders number tells you how the layers are arranged. The smallest number is on the bottom and the biggest is on top. Only one png image in each folder is randomly selected by the code. That means only one belly option or only one accessory can exist at the same time in one creature.
Here's another example of a creature where the mouth is in the first folder and the body comes second.
Mouth, body, eyes, pupils, eyebrows and accessory. So there also can be an empty png image if I want some creatures to be simpler.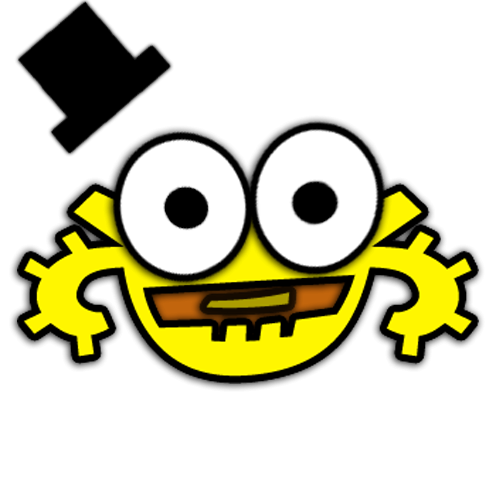 All there is left now is the code. The php in the index file. So here we go!
The three back-ticks before and after the code did not work, @steempeak didn't want to publish this because: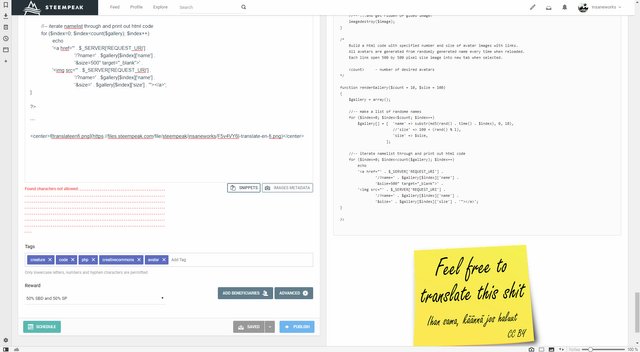 So after 4 hours of
"problem solving"
all by myself, trying out different markdown combinations, hitting my head to the wall and keyboard and table and swearing and cursing, I had to cry out for
@penderis
. And in two minutes all was fixed! Thaaaaaaaank youuuuuuuu for encoding the code! Some day your kindness will return to you when you least expect it. :)
Creature and it's body parts: CC BY 4.0.
Code is of course open source, use it as you like.

<?php
/***
		**
		**	Olio - Tiny Avatar Engine
		**
		*/


		//-- Parse arguments

		$args 		= getArguments();

		//-- Make file list

		$files 		= getFileList();




		//-- If 'name' and 'size' was defined as and argument in URL,

		//-- enter to image rendering mode and quit (without generating

		//-- any HTML code since it'll ruins the binary image data)

		if ($args['name'] && $args['size'])

		{

			//-- Select avatar set and its overlay parts

			$decision 	= makeDecision($args, $files);

			//-- Render avatar part graphics and return image to user

			renderAvatar($decision);

			//-- Exit code execution

			exit();

		}

		

		//-- !!! Just a regular page request   !!!

		//-- !!! Add your html stuff after this!!!

?><!DOCTYPE html>

<html lang="en">

<head>

	<title>Olio Avatar Engine | Insaneworks</title>

</head>

<body>

	<h2>Olio - Creature - Insaneworks <a href="https://creativecommons.org/licenses/by/4.0/" target="_blank">CC BY 4.0</a></h2><br>

	<?php renderGallery(35, 200); ?>

	<h3>Olio - Creature - Insaneworks <a href="https://creativecommons.org/licenses/by/4.0/deed.fi" target="_blank">CC BY 4.0</a></h3><br>

</body>

</html>

<?php




/*

	Collect request URL arguments and environment.

	

	<name>	- any string that is used as seed of pseudo random generator

	<size>	- size of generated avatar image bitmap (two value '<size>x<size>'

				define width and height) if not define, 32 by 32 pixel image is generated

	<set>	- OPTIONAL: number of predefined set used

	

	eg: "?name=foobar&size=100" will generate 100x100 pixel size bitmap image from 'random'

			set with 'random' features

	

*/




function getArguments()

{

	$name	= isset($_GET['name']) ? $_GET['name'] : '';

	$size 	= isset($_GET['size']) ? explode('x', $_GET['size']) : array(32);

	$set	= isset($_GET['set']) ? $_GET['set'] : '0';

	

	return [	'name' 	=> $name,

				'size'	=> $size,

				'set'	=> $set,

				'hash'	=> $name

	];

}




/*

	Build file tree of filenames beginning from specified path

	and return it to caller.

	

	<root>								<= all graphics base

		+<folder_0>							<= 1st avatar set

		|	+-<subfolder_0>						<= 1st avatar bottom images

		|	|	  +-<item_0>						<= image

		|	|	  +-<item_1>						<= ..alternative image

		|	|	  +-<item_2>						<= ....another alternative image

		|	|	  +-<item_M>						<= ......yet another alternative image

		|	+-<subfolder_1>						<= 1st avatar 1st overlay image

		|	|	  +-<item_M>						<= ...images...

		:	:

		:	+-<subfolder_N>						<= 1st avatar top most overlay image

		+<folder_1>							<= 2nd avatar set

		|	+-<subfolder_0>						<= 2nd avatar bottom images

		:	:			

		+<folder_N>							<= Nth avatar set

			+-...

*/




function getFileList($path = "/set-creature")

{

	//-- Build path and start scanning one single directory

	$realpath = realpath(dirname(FILE) . $path);

	

	$scandir = scandir($realpath);

	

	$return = array();

	

	//-- iterated all files and directories from current folder

	foreach ($scandir as &$name)

	{

		//-- Ignore 'current' and 'parent' directories

		if ($name == '..' || $name == '.')

			continue;




		//-- Make full filename				

		$file = $realpath . "/" . $name;

		

		//-- If directory, make recursion call - otherwise insert filename to list

		if (is_dir($file))

		{

			$return[] = [ 'name' => $name,

						  'child' => getFileList($path . "/" . $name)

						];

		}

		else

			$return[] = [ 'file' => $file ];

	}

	

	return $return;

}




/*

	Use pseudo-random generator and name-seed for selecting

	avatar set and its part items and build rendering list

	with desired resolution.

*/




function makeDecision($args, $files)

{

	$return = array();

	$hash   = $args['hash'];

	

	//-- Select set if defined - otherwise use pseudo-random selection

	if ($args['set'])

	{

		$olioset = $files[$args['set'] % count($files)];

	}

	else

	{

		//-- set index from 0...<number_of_folders - 1>

		//-- (modulo from pseudo-random)

		$count   = count($files);

		$index   = abs(crc32($hash)) % $count;

		$olioset = $files[$index];

	}

	

	//-- use selected set name as an extra salt form next pseudo-random value

	$hash  = $hash . $olioset['name'];

	$items = array();

	

	//-- Select one single set of parts and scan through each sub-folders

	for ($part=0; $part<count($olioset['child']); $part++)

	{

		//-- part index from 0...<number_of_items_in_one_sub-folder - 1>

		//-- (modulo from pseudo-random)

		$count = count($olioset['child'][$part]['child']);

		$index = abs(crc32($hash)) % $count;

		

		//-- insert randomized info name and filename into sub-list

		$items[] = [	'name' => $olioset['child'][$part]['name'],

						'file' => $olioset['child'][$part]['child'][$index]['file'],

					];

					

		//-- use selected part name as an extra salt

		$hash  = $hash . $olioset['child'][$part]['name'];

	}

	

	//-- get width and height values (if on one value define, use it for both)

	$width	= count($args['size']) > 0 ? $args['size'][0] : 32;

	$height	= count($args['size']) > 1 ? $args['size'][1] : $width;

	

	//-- finally add original name and resolution into decision list

	return [ 	'name' 	=> $olioset['name'],

				'width'	=> $width,

				'height'=> $height,

				'child'	=> $items,

	];

}




/*

	Render previously generated list of file top of each other from part

	which is in folder of alphabetical folder first in a list.

	

*/




function renderAvatar($decision)

{

	//-- generate transparent bitmap image for the base

	$image = imagecreatetruecolor($decision['width'], $decision['height']);

	

	imagealphablending($image, true);

	imagesavealpha($image, true);

	

	$bgcolor = imagecolorallocatealpha($image,255,255,255,127);

	imagefill($image, 0, 0, $bgcolor);

	

	$overlay = array();

	

	//-- scan part list items through

	for ($part=0; $part<count($decision['child']); $part++)

	{

		//-- load new image from file

		$overlay = imagecreatefrompng($decision['child'][$part]['file']);




		//-- scale loaded image to base size and make overlay copy

		imagecopyresized($image, $overlay, 0, 0, 0, 0,

			$decision['width'], $decision['height'],

			imagesx($overlay), imagesy($overlay));

			

		//-- get ridden of loaded image

		imagedestroy($overlay);

	}

	

	//-- all parts glued together -> return mimetype as png-image to user

	header('Content-Type: image/png');

	

	//-- ...and send png-image data...

	imagepng($image);

	

	//-- ...and get ridden of glued image!

	imagedestroy($image);

}




/*

	Build a html code with specified number and size of avatar images with links.

	All avatars are generated from randomly generated name every time when reloaded.

	Each link open 500 by 500 pixel size image into new tab when selected.

	

	<count>		- number of desired avatars

*/




function renderGallery($count = 10, $size = 100)

{

	$gallery = array();

	

	//-- make a list of random names

	for ($index=0; $index<$count; $index++)

		$gallery[] = [	'name' => substr(md5(rand() . time() . $index), 0, 10),

						//'size' => 100 + (rand() % 1),

						'size' => $size,

					 ];

	

	//-- iterate name list through and print out html code

	for ($index=0; $index<count($gallery); $index++)

		echo 	

		'<a href="' . $_SERVER['REQUEST_URI'] .

				'/?name=' . $gallery[$index]['name'] .

				'&size=500" target="_blank">' .

		'<img src="' . $_SERVER['REQUEST_URI'] .

				'/?name=' . $gallery[$index]['name'] .

				'&size=' . $gallery[$index]['size'] . '"></a>';

}




?>