Israeli Singer Turned a Poem of Mine into a Song for her New Album :) Please, support crowdfunding campaign, 75% of goal already reached, & ending in 1 week!
Two years ago, this month, I received this thrilling note from Israel singer-songwriter, Shira Z Carmel, of The Hazlenuts:
Ahalan Yahia, I came across your poetry today - wow! wonderful! I actually liked it so much I started composing music to it right away! I hope you'll like what came out, I'll send it to you asap (it's for the poem "you again")
Shira suggested that she would be contacting me, shortly, once she finished our song and shared with me music she composed to two poems (one in Hebrew) from her new album:
https://shiracarmel.bandcamp.com/album/one-source-of-bad-information
Then, life happened. My new singer friend went on tour, had other pressing projects to attend to and, only moments ago, shared with me a rough cut of my poem that she sang & set to music.
Shira also let me know that she mentioned our song in a Jerusalem Post interview which I scanned, quickly, in my excitement.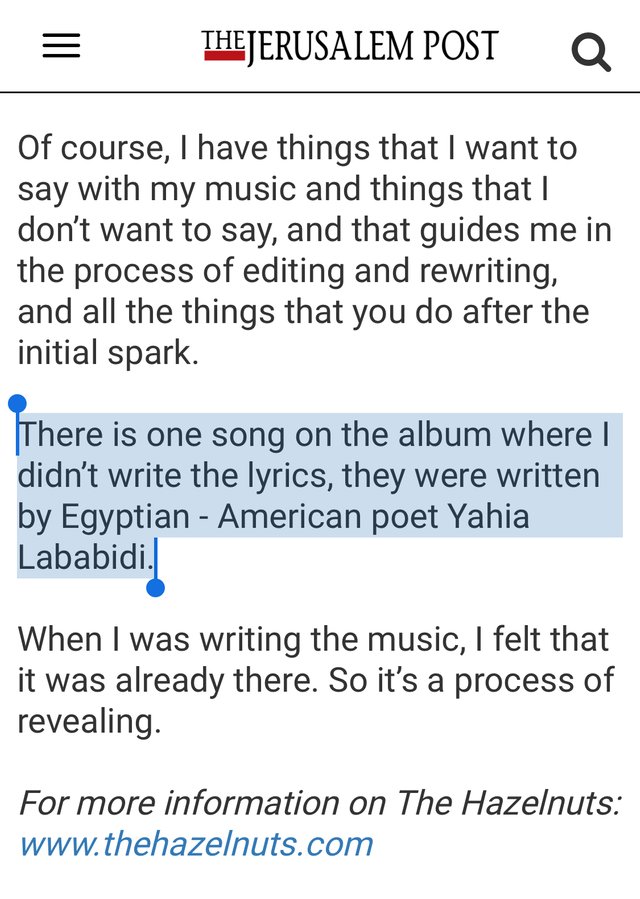 The Hazlenut singer also, repeatedly, asked me to promise not to share the rough cut, as her team only want the final version of song out there. Once I have that — very soon, I hope — I promise to share it on Steemit before anywhere else.
For now, below, is my lucky poem that gets to be on Shira's album & join her on tour. I'm triply pleased: *to have a poem turned into sing, to collaborate with a fellow artist as well as reaching a new audience, especially, in Israel as a kind of creative, peace-offering from an Arab with Palestinian background.
Here's a picture of me listening to the secret song and beaming with joy! Strong vocals, atmospheric music and, as you might imagine, I'm quite partial to the lyrics ;)
You, Again?
---
You again, of the singing wound
here again, lost and found and lost
trafficking in metaphysics and eternity
as your nearest hopes
where to, pilgrim
outdistancing chasms
rationing emotions
seeking sustenance
for the self too subtle and proud
for words
nocturnal flower, nurtured solitude
watered night
there you go, restraining the impulse
to say it all at once
even surrounded by silence
still filled with noise
now, having stirred some thrumming
hour when the moon throws
her full-bodied light
over all, like a silver screen night
of silent films, the whirring
of the reel...
© Yahia Lababidi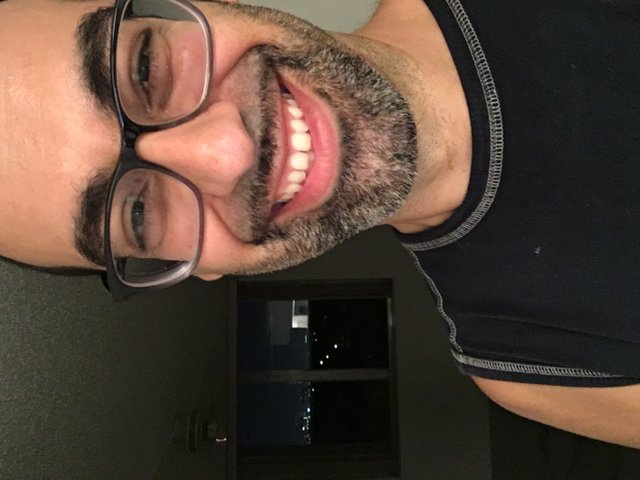 Hope to finish the album version ASAP and post it everywhere :) <3
As listeners you can help by supporting this crowdfunding project, which ends in just one week!
You can purchase a copy of the album in advance right here. Thanks, in advance :)