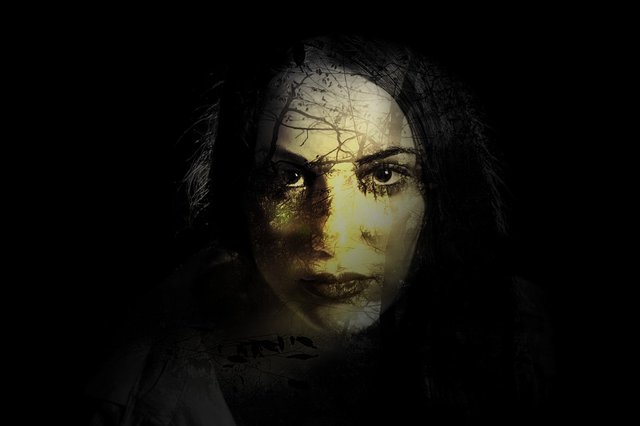 "A ghost is a totally deformed emotion, condemned to repeat itself again and again until the injustice committed is repaired."
DANIEL KASH
---
A day before the day of the dead.
---
On the dark roads of life, they traffic in spectral beings. Some, condemned forever by their own judgment and others, unnameable who have never had their own light and steal the light of innocents who, without knowing it, give way to fear, remaining at the mercy of these energy vampires.
Those who condemn themselves for reprehensible actions, die but remain wandering through the places they knew in life and through those where the memory of their history is valid. This story was told to me by my mother and, according to her, that story was told to her by her father. That is what happens with legends, fear takes the form of the story told and takes over the mind of those who walk lonely roads, this was more or less what happened to John, a day before the day of the dead.
It was a dark night, one of those that put ice in your veins and you can hardly walk because of the sensation of being frozen. Fear in the bones weighs more than walking with a sack of cement in each foot.
John came from a party, one of those that mounts in rural areas in homage to the saints. He was a Galeronist, played the cuatro and sang improvisations alluding to the honored saints, which another replied and thus spent many hours of the night singing to the sound of cuatro, mandolin and maracas, some saying, others responding in closed counterpoint. But, that night was not good for John. His gift of counterpoint was not at its peak because of an upset stomach. His mind was distracted holding the belly cramps.
There came a time when he could not stand the discomfort and, in disguise, he slipped away from the song and decided to go home, even though he was more than an hour away, on dark roads, without electricity. But he had in mind that with such discomfort it would be better to dawn at home, and although a certain fear tried to dissuade him, he overcame it and left without telling anyone.
When he was more than halfway along the route, he saw a woman in front of him. He was relieved that he no longer felt so lonely. He hurried to reach her and when he arrived close to her, she was surprised, half scared because she did not expect company on that road that nobody takes at that time of night. John reassured her and they engaged in a very pleasant conversation that bordered on flirting, after a while. She was a very beautiful woman and, as more time passed, she seemed even more. Her eyes were spellbinding and her mouth delighted the look of John, who could not take his eyes off his face.
He had a small bundle made of a handkerchief tied between his hands. She untied it and showed him what was in it, they were coconut snacks, she told him they gave it to her at the party where she came from, but she gave it to him. He didn't want to accept, but she insisted. So she took the sweets, not to argue with her.. Stomach discomfort came back stronger and he was a little relieved when he saw that his house was nearby. But he said nothing because he was just concentrating, breathing and praying to God, between his teeth, to give him time to return home without a disgraceful consequence because of the colics he had.
He does not know if it was his pleas to return home with good or if his father had a sixth developed sense and reserved shamanic arts. But the fact is that when he arrived at the door of his house, it was his father who came out of the interior, pushed him inside and told the woman a series of words..... And he shouted: "You are going to kill him!", he sanctified her with a branch of altamisa, praying the creed upside down and the woman disappeared as if by magic. At dawn, Juan realized that he still had in his pocket the bag of sweets that the woman had given him on the way and told his father that she had given it to him. The father untied it and they were not coconut snacks, but donkey dung.
What or who was the woman? John didn't know for sure because he only saw a beautiful woman who captivated him and accompanied him all the way home. But his father told him every time he remembered: "You were saved from the Sayona by a miracle, boy! If I didn't go out, she would have been transformed and you scared to death".
---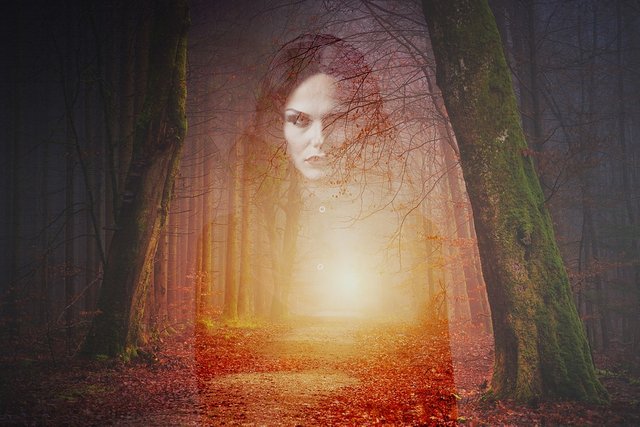 ---
---

By Zeleira Cordero @zeleiracordero.

31/10/2019

The images are from Pixabay CC0 Creative Commons:
Ghost by ArtTower
Forest by TheDigitalArtist

Separators:
Cat
Simplemente Gracias

For your kind reading, simply THANK YOU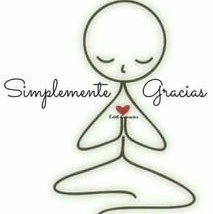 ---
Posted from my blog with SteemPress : https://zeleiracordero.000webhostapp.com/2019/10/a-day-before-the-day-of-the-dead-a-scary-story
---