Look at the man over there, standing on the sidewalk, waiting for the bus to come. Do you think all his thoughts are bent on the bus that is on its way or the scarred asphalt that his scruffy shoes are barely touching? You think he shakes his head because he is irritated that the bus is late? Or you think he stares at the earth because the sun is too bright?
No you cannot know. Some questions are like a scalpel probing a wound. The results would hurt a lot. You see the man there, even if you do not know his thoughts, you should know him well. Look at his shoulders, see how low they rest. Look at his hands, notice the knobbly knots of veins like creepers on a broken wall. See the ashen cast of his skin and the wrinkles and bags under his eyes. You see the early grey that has invaded his balding scalp and tell me you do not know him.
He is the same man that has to go to a place where there's no work, just hungry men trying to survive the day. He is the one who was promised today by his boss yesterday but knows that today will be as empty as yesterday and tomorrow will be no better. It is not pessimism, my friend, it is reality. That man has to go home, look his wife in the eye and say nothing. He has to watch his children eat beans and garri every night. He has to stare at the ceiling deep into the night, unmindful of the mosquitoes sucking his blood, the power generating sets disturbing his noise, the smell of stagnant gutters and puddles. You should know him.
That man you see there, see the way he shrugs his shoulders as if adjusting a weight has forgotten how to smile and even when his wife becomes to tired to be silent, he finds no strength to even settle into a proper quarrel with her. He hears his children's laughter as if it comes through water and when food passes his lips, he cannot tell the taste or remember to pray. You know him very well.
---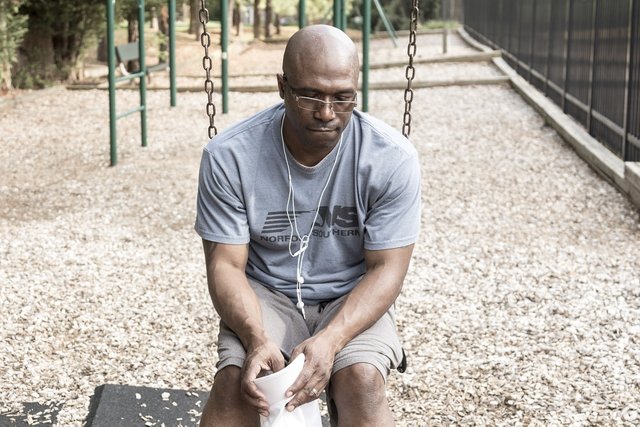 pixabay:Yindaley
---
You know when I see him, I get a sense of hope for despite the despair that rides on his shoulders, he is yet to surrender to her sweet call. He is yet to surrender to the earth and succumb to dust. There are those who are but memories of fathers and husbands. They sit in front of palm wine mugs and forget their names and the train of their thoughts. They go home only to sleep and are but strangers to children who used to love them fiercely. They watch their wives struggle through the nightmare alone, afraid and when she weeps deep into the night, too tired to do anything but, they turn and snore some more.
Their eyes are rheumy and all they know is forgetfulness. They remember only tales of yoe; of days when they were kings and had the best of everything. They call big men by their first names and claim friendship with chiefs and princes but they now rule over flies, alcohol foam and cigarette smoke. They stumble as they walk and children recite poetry with their names. They are known by all and even beggars pity them.
You see that man, he is here today at the bus stop, waiting, hoping that despite the reality, he would somehow manage to make much of the day. He hopes to go home and make his wife see him, open her mouth in laughter then tears then laughter again. He hopes to see his children eat rice this evening and maybe get to go to school again. He hopes to call his parents and hear stories of the village and maybe just maybe he could pay this month's rent.
Is to have faith despite the realities that consider it foolish to do so not a good thing? Sometimes is it not what some of us have to tide us through the day? If we succumb to dust like the ghosts that hang in the half light of thirsty bars and aching weed joints, what do we become then; failures, rejects? Is that a testimony that we can take across the great river when we go to meet our maker?
My friend, yes today is hard. Sometimes leaving the bed takes the love of a wife who cares enough to make you move. Sometimes it is the cry of a hungry daughter to propels one to his feet. Left to his devices, a man would sleep and pray he never wakes. He would become a shadow that hangs at the edge of his doorstep watching the world begin again and again. You see that man there, he is survival. He is determination. He is hunger seeking satiation. He is need seeking fulfilment. Yes he is a tortured soul that seeks to be saved. He is me.
---
©warpedpoetic, 2019.