Okay, so you can probably tell from the title there's more than one art that I'm gonna show in this post! I'm gonna show 4 drawings in this post to be exact! And you can also probably tell from the title it's someone's bday~ But first warning: kinda long post so brace yourself)
Yep, the person's bday that's toady on 13th Aug is... mine! My OC/UTAU, Ziya! No other person, not even the one that's typing this post. Disregard the striked text, that is an illusion//no
Nah, it's mine too. But this post isn't about me it's about Ziya! For those who don't know and for me who isn't sure how many times I need to say this everytime UTAU is mentioned, it's a program where you can make sing and you can record and make your own(are there any active UTAU users on steemit? Just kinda curious)
So yeah, 8 years ago I made this UTAU that you'll see in the arts, Ziya! And today's her bday/anniversary! UTAU anniversary is like..to commemorate the day you uhh... it's either, when you created them, their first song cover or something. Not entirely sure which since some peeps seem to have a slight difference in their definition for their UTAU anniversary
Anyway, I've been neglecting Ziya for a long while ever since my drive to make UTAU covers isn't as strong as it use to be as they're kinda time consuming to make. But I did make ONE cover with Ziya this year and if you're curious on how Ziya sounds, click here(still more than the number of covers I did for her last year which was 0) I am gonna show an UTAU cover I recently made in the nest post but I didn't use Ziya but another UTAU who I shall not say and will just have to wait when I make the post
But yeah, Ziya use to be kinda my main OC who I'd draw the most and I feel pretty bad that I've been neglecting her(then again I neglect a lot of my OCs sweats I'm sorry these hands can only draw so much). When her 8th anniversary was coming up, I decided to dedicate making arts of Ziya for the week to try and make up for it! So these 4 arts are what I managed to make. The 4th one was the biggest and difficult one to do and also the one I'm most proud of~ It's the one you're seeing as this post's thumbnail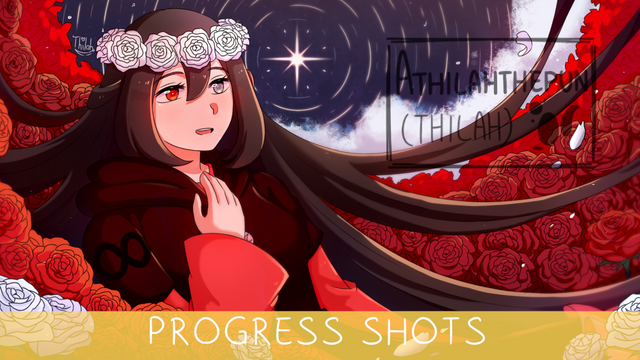 But before we go see that one, we of course gotta see the first 3! All the arts are on my
deviantart
! Will also put individdual links of the respective pieces as we go~ I had to mash the progress shots of the first 3 drawings into one or else this post would look way way longer and it's already pretty long with the pics it has and also my jibber jabbering
So here's the first pic!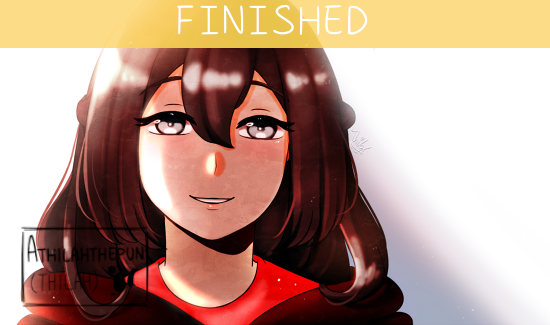 dA upload is here
So in the thumbnail, Ziya's eyes are different in colour but for this pic, they're both silver. That's because if Ziya feels super happy or just a lot of positive emotion in general, then both her eyes turn silver. If she feels a lot of bad emotions then her silver eye turns bright red. I've drawn red eye'd Ziya a couple of times though they were mostly sketches. I think I only drew silver eyes Ziya once a couple of years ago. Well she isn't exactly a super positive person(
coughs
guess you have me to blame since she's based on my ol' shy-er self) so yeah guess it's harder to achieve the amount of positivity that'll change her eye colour
Next pic!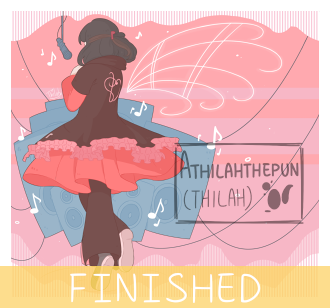 dA upload is here
This one is just a random drawing of Ziya. It's her..suuuper late 7th anniversary art because I did one for her last year. Better late than never I guess? Her wing is reminiscent of the lines you'd see in sheet music. Didn't really know what to add in the background so I just added a bunch of speakers. I went simple for this but there were times my brain was like "you can more to this. MORE" and I'd be like "no this is already okay let's stop here" which made me take a longer time than I should have to work on this one
Next pic before the final pic!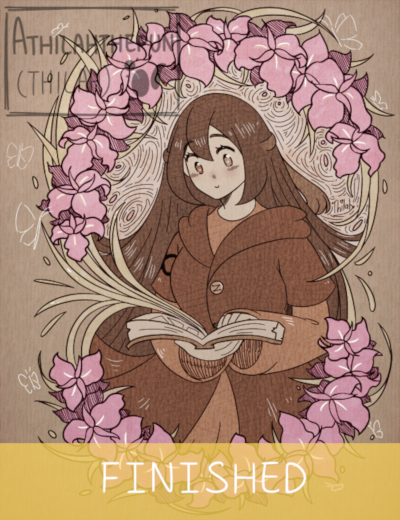 dA upload is here
It's Ziya reading her book, Bob. Yes the book is named Bob. the full name of the book is, Book of Bestowed which is how she got the name. It's a magical book that contains all the knowledge of the world!...and she's using it to read manga//no I tried to go for like...how to say.. an old book page look(?) I don't know words. The flowers were slightly death to lineart but not as death as the final one. When I was 80% done with lining it I realized the flowers made an 8 which probably would have been more fitting as her 8th anniversary art but oh well. I wanted her 8th anniversary art to be a big one so I think it was a good call in keeping this as regular art since the style for this was simpler in comparison to the final art I think
Alright drumrol! ...right, I have no drums to roll...
Final art!!! For this one, I didn't mash the progress shots together because....the roses were death to do let's bask in the painstaking amount of roses I had put in this art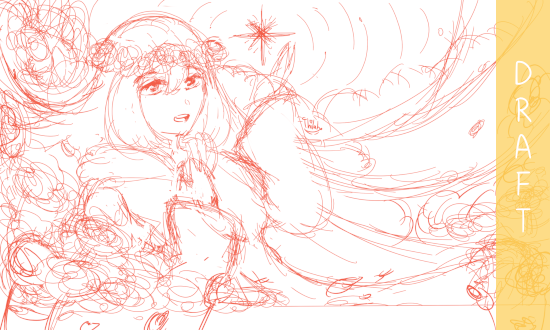 I removed the raised hand in the sketch because the way she was holding her hand out to the star reminded me of the "Is this a pigeon" meme and it was slightly annoying me because this was suppose to be a serious art. Looking at the draft, I still can't help seeing that meme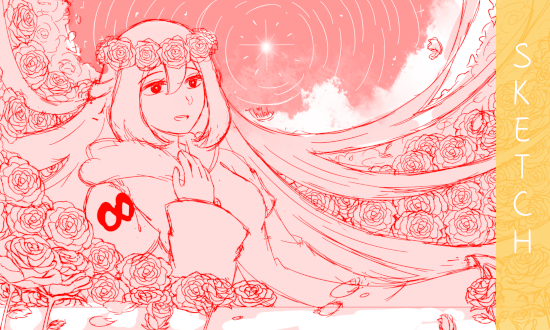 Aaaahhhhh the properly sketching part took the longest. But I guess it's good that I took my time with it because it helped making lining the art not as hard as I thought it was gonna be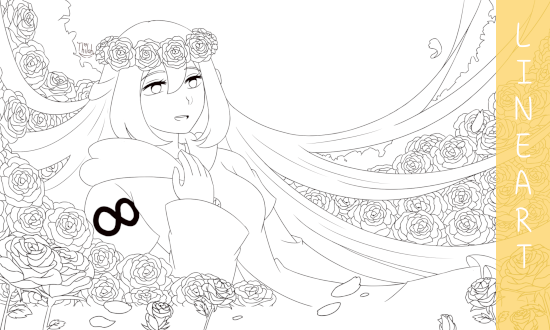 So much roses lined... Why did I do this to myself... But again, wasn't as bad as I thought it was gonna be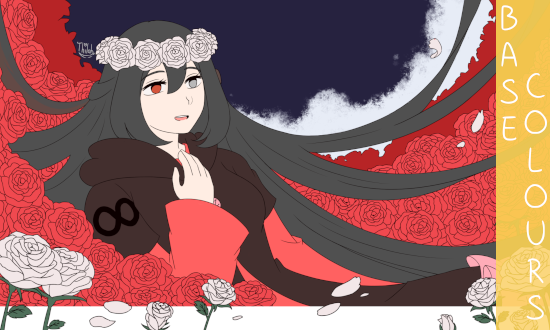 No comment for this progress shot except sorry for the bad positioned text for "base colour". It just looked off no matter how I positioned it meh
Okay for finished pic... Drumro- Oh right. Still don't have drums to roll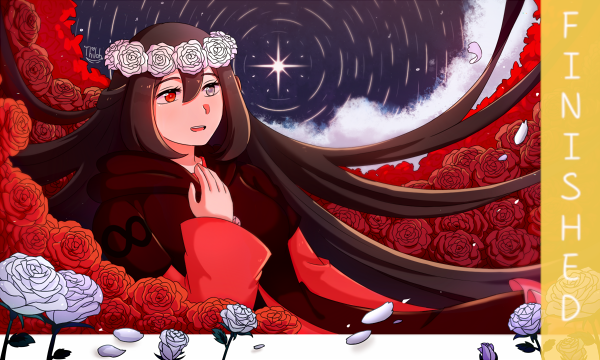 dA upload is here
THE FINISHED PIC. This is probably my best artwork for the year and maybe in general??? I don't know I was really expecting this art to be a "fail" but I'm really glad it turned out nice. I'm happy with the overall piece and also happy that I manged to finish this on time
Okay, alright! That's all the arts! My god can't believe I managed to do this withouth completely killing my hands(there were times they'd start to hurt a bit but took lots of breaks in between which did drag out the arts but gotta look after the hands)
This post was made later than intended because the final piece took the most time, hari raya haji took a big chunk of drawing time(selamat hari haji by the way) and there was a relatives gathering just now and my family surprised me with a cake which was nice~
That is it for the post! Finally done with this post's jibber jabber! Excuse the possible tons of typos I did but I gotta go to sleep soon because I have an outing with my Duncle and I may or may not slightly sacrificed a bit of sleep to get the final art done on time
Before I really end the post...
Okay post is done. Thanks for checking it out, reading all the jibber jabber if you did and goodnight!