Since I first started posting on Steem/Steemit my approach has been much like my posting practices had been on other platforms. Mostly my experience has been instagram. I gave FB a try but just couldn't get over the creep factor. I dabbled on Minds.com, which I still like, but it never really felt like home. If you know what I mean. I've dabbled here and there in other social platforms, mostly as a content consumer though, and haven't been able to find my niche. That is until now.
Specifically, it has been the creation of Creative Coin. I don't know why exactly but this tribe has grabbed me in a way the other places have failed to do. So, as I started to get serious about engagement, both in curating (mostly voting but some commenting too) and in posting, I did so in the way I'd been trained to do through the use of the platforms I've mentioned.
I mostly took the approach of posting a picture and a short caption. Much the same way one would do on instagram. I like the format of instagram actually. But that format doesn't really fit here on Steem. I haven't given a whole lot of brain time to just why this is, but I accept that it is as it is.
And so far I've been quite pleased with the response I've received here. Nice people making nice comments and giving much appreciated support. Then the other day I made a post like I normally do. That's when a kind fellow Steemian named @melinda010100 pointed out that they would like to see/know more about what my process, inspiration, and other things of the like. This was an 'aha,' moment for me.
I'd always assumed most people weren't interested in the process or the person behind the process. Much like you might see on other platforms. So it never occurred to me to add anything but a picture of a finished product or a work that was on its way to becoming one.
After some reflection I realized that the posts I'd been enjoying here on Steem was just the kind of post I'd just been asked to produce. My favorite posts are the ones that give me a little background on what's going on and how things got to the point they were in the post. So, that's what this post is... a signifier of a rebirth if you will. A step off a precipice into the unknown of... yeah I'm just making stuff up now. What I should have said is, I'm gonna start making more in-depth posts.
Starting now:
Figured a good first "new" post is to start with my studio. In 2016 I decided to start sculpting full time. So I started sculpting in my office. Not a great place to have wet clay but I did it anyway. Once I had convinced myself I wasn't wasting my time with this artsy stuff, I made a garage studio for myself.
Basically I took half of a two car garage put split that in half using one side for pretty and the other side for messy.
What I'd like to show today is the messy/working side of my much loved garage studio.
Messy means I'm working and that's good :)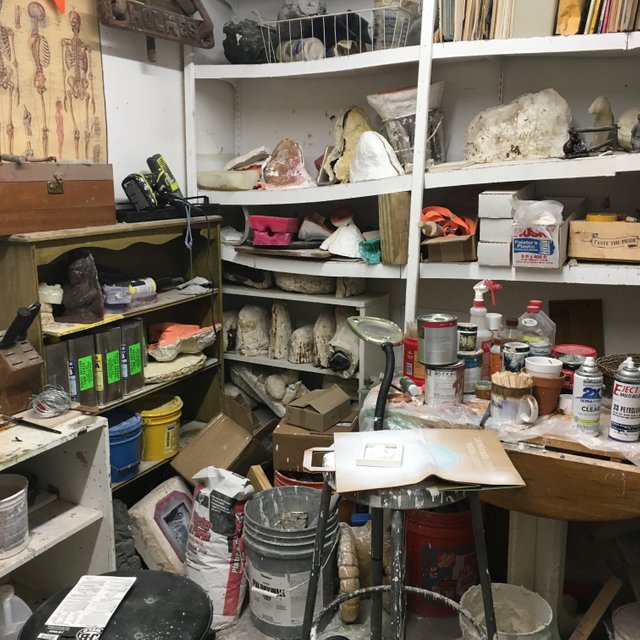 My workbench: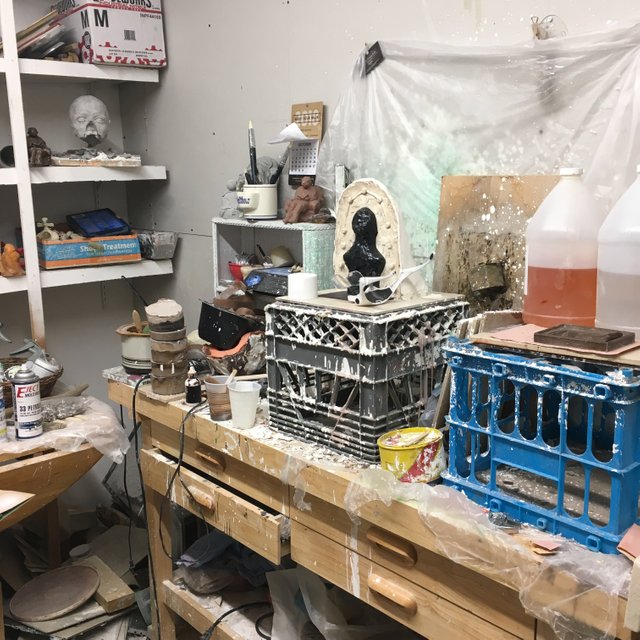 Partial view of my graveyard. Dad used to call the piled up components of pieces his graveyard I've adopted the term.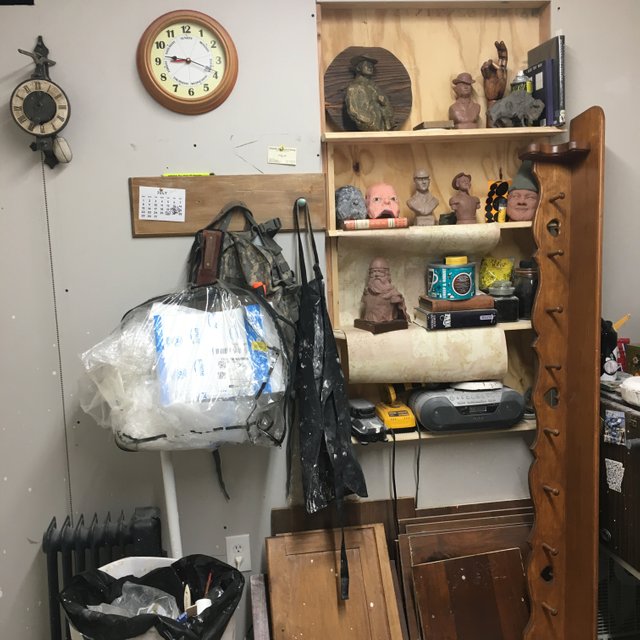 So that's it, my little home-next-to-home, I hope this was an enjoyable post to read
-Sleeping Cowboy (Matt)