Three different base colours with the word 'love' in the middle.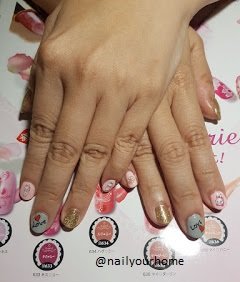 There were decorative stickers and accessories being used for this design.
I may not think it blended very well but the customer may have her own opinion so regardless of my opinion, it is more important that customers like what they had chosen and decided.
The nail designs are on their nails so they should have what they like especially they pay for it.
Art appreciation is subjective and it can be due to individual preference.
The above nail design is done by @nailyourhome located in Singapore.
Disclaimer: I am not in any position to instruct anyone what they should do. I am not responsible for any action taken as a result of this post. My post can only be a reference for your further research and growth. By reading this post, you acknowledge and accept that. No photographs for my nail design on my post should be used elsewhere without my permission.

---
Posted from my blog with SteemPress : http://nailyourhome.steemblogs.club/2019/10/07/reflection-through-nail-design-453/
---