The artist of the below photograph was trying to illustrate the illegal immigrants.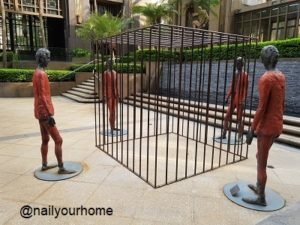 Many illegal immigrants may have thought that life would be better when they smuggle themselves into another country.
The truth is it could be another prison in another form.
The grass may look greener over the other side but no one can see the amount of worms and terrible smell.
Life could be even more terrible but it is still a manner of choice and risk.
The photograph was taken by @nailyourhome at Kampong Glam (Malay Village) in Singapore.
Disclaimer: I am not in any position to instruct anyone what they should do. I am not responsible for any action taken as a result of this post. My post can only be a reference for your further research and growth. By reading this post, you acknowledge and accept that. No photographs on my post should be used elsewhere without my permission.

---
Posted from my blog with SteemPress : http://nailyourhome.steemblogs.club/2019/10/12/amateur-mobile-photography-of-art-kampong-glam-2/
---