All you need is just 3 ingredients…so simple to make, tasty and it will stop your sugar cravings for sure!
I love jelly especially sugar free, because it's very low in calories.
I make this little glass of goodness at least ones a week!
😉
*(Polish translation)
Uwielbiam galaretke szczególnie bez cukru, ponieważ ma bardzo mało kalorii.
Ten deser robie co najmniej raz w tygodniu poniewaz pomaga mi w walce z ogromnym pragnieniem na slodkie😁
Potrzebujemy tylko 3 składników.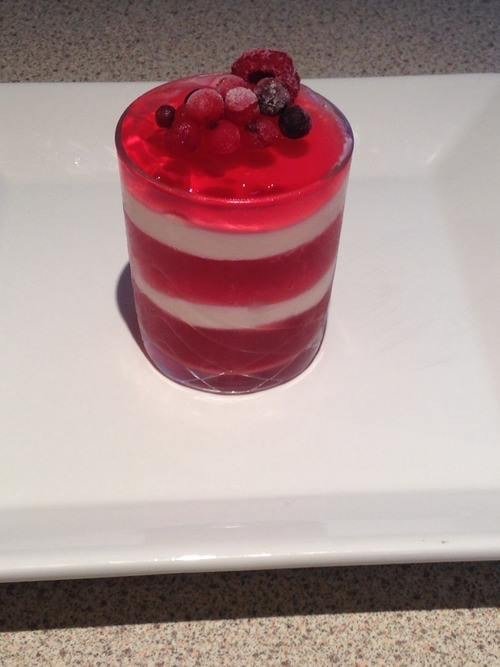 1.You will need your favourite low fat and low sugar yogurt , not to much( about 100 g)
2.Sugar free jelly
3.Good quality sweetener but this depend on how sweet do you like your desserts .
I have very sweet tooth so I always use more sweetener.
I buy weight watchers yogurts because in my supermarket they are the lowest in sugar.
*(Polish)
Będziesz potrzebować ulubionego jogurtu o niskiej zawartości tłuszczu i cukru, nie za dużo (około 100 g)
Galaretka bez cukru
Dobrej jakości słodzik, ale zależy to od tego, jak slodkie lubisz swoje desery.
Ja lubie wszystko bardzo slodkie, więc zawsze używam więcej słodzika.
Kupuję jogurty "Weight watchers", ponieważ w moim supermarkecie tylko te zawieraja najmniej cukru.
First,prepare your jelly according to the instruction on the packet.Fill your glass with jelly to about half and transfer to freezer for about 25 min or till it is cold or it's about to set.
*Najpierw przygotuj galaretkę zgodnie z instrukcją na opakowaniu. Napełnij szklankę galaretką do około połowy i przenieś do zamrażarki na około 25 minut do momentu wystygnięcia lub gdy zacznie juz zamieniac sie w galaretke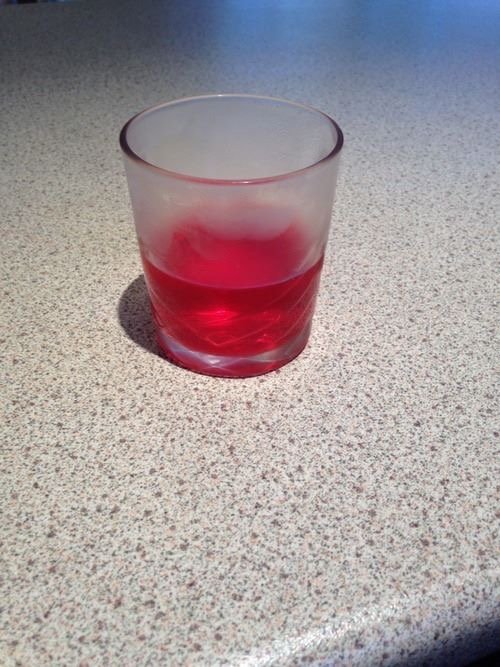 When ready, spoon 2 tblsp of yogurt on the top of your jelly and just one more time transfer back to freezer for another 25 min or more…at this point you can even add your favorite fresh fruit to the yogurt.I like sliced banana or frozen Forrest fruits.
*Kiedy galaretka jest lekko zastygnieta, nałóż 2 łyżki jogurtu na galaretkę i jeszcze raz przenieś z powrotem do zamrażarki na kolejne 25 minut lub dłużej… w tym momencie możesz nawet dodać swoje ulubione świeże owoce do jogurtu. Lubię plasterki banana lub mrożone owoce.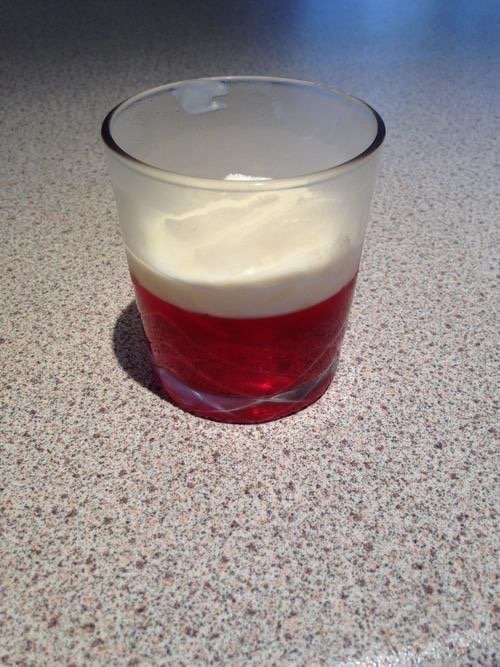 Now, cover yogurt with another layer of jelly, but do it verrryyyyyy slowly. If you do it to quick , some bits of yogurt will raise to the top of your jelly and it really doesn't look good.So take your time , don't rush 🙂
*Teraz przykryj jogurt kolejną warstwą galaretki, ale rób to bardzo powoli. Jeśli zrobisz to zbyt szybko, niektóre kawałki jogurtu wymieszaja sie z galaretka i naprawdę to nie wygląda dobrze. Więc nie spiesz się😉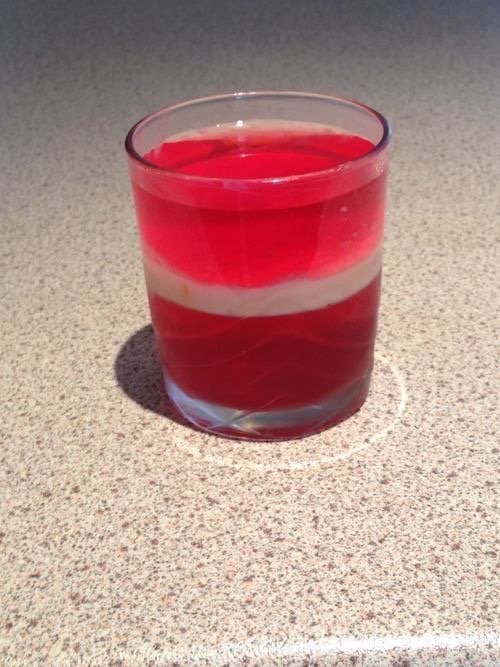 Any fruit goes just perfect with this! I have chosen forest fruits and in my second attempt just sliced banana and crashed almonds.
I ended up with this finished good looking and tasty dessert 👇
*Każdy owoc pasuje idealnie do tego deseru ! Wybrałam owoce leśne, a podczas drugiej próby pokroiłam banana i migdały.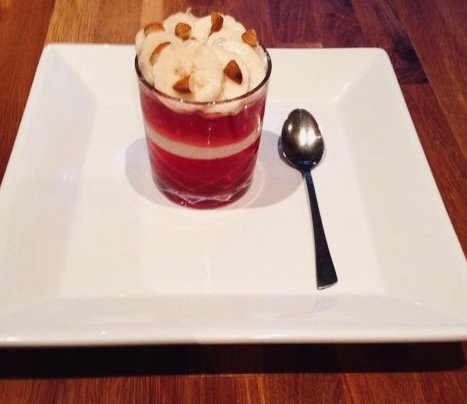 Give it a go and don't forget to show me your pictures 😉
Next time I will use two different colours of jelly ricotta or cream cheese😉👌
Have a lovely day everyone❤️
Polecam dla wszystkich! Jak wykonacie swoj desert to koniecznie podzielcie sie ze mna zdjeciem😉
Nastepnym razem zrobie ten deser z serkiem Ricotta lub Philadelfia I dodam 2 kolory galaretek.
Milego dnia kochani❤️