This is the freewrite challenge. I am using @mariannewest's #freewrite prompt to write this piece (https://steemit.com/freewrite/@mariannewest/day-660-5-minute-freewrite-sunday-prompt-plum-cobbler)
Today's prompt is:
plum cobbler
This is part Sixty Seven of my current freewrite series - I'm calling it RatsNest for now - (posted daily Monday - Saturday).
You can find parts one, two, three, four, five, six, seven, eight, nine, ten, eleven, twelve, thirteen, fourteen, fifteen, sixteen, seventeen, eighteen, nineteen, twenty, twenty one, twenty two, twenty three, twenty four, twenty five, Twenty Six,Twenty Seven, twenty eight, Twenty nine, Thirty, Thirty One, Thirty Two, Thirty Three, Thirty Four, Thirty Five, Thirty Six, Thirty Seven, Thirty Eight, Thirty Nine, Forty, Forty One, Forty Two, Forty Three, Fory Four, Forty Five, Forty Six, Forty Seven, Forty Eight, Forty Nine, Fifty, Fifty One, Fifty Two, Fifty Three, Fifty Four, Fifty Five, Fifty Six, Fifty Seven, Fifty Eight, Fifty Nine, Sixty, Sixty one, Sixty Two, Sixty Three, Sixty Four, Sixty Five, Sixty Six if you are interested
…
Kelly took a deep breath and pushed the plug into the socket. For a moment nothing happened and Kelly thought the machine was broken and then there was a click, a thud and a whirling noise and the machine began to shake.
Kelly stood up and went to watch the machine. She expected to see it sort seeds, or something like that, but she saw nothing at all. What she did notice was a wonderful smell. She inhaled deeply. It reminded her of her grandmother's kitchen. She took another deep breath.
Plum cobbler!
That is what it smelled like! She looked over the machine to see if she could find the source of the smell (her stomach was making gurgling noises and her mouth was watering at the smell: she realised she was hungry!) but she couldn't see anything.
The machine shuddered and made a noise that sounded a little bit like a crow playing the trombone, it shuddered again and then hiccoughed and stopped doing anything. Oh, Kelly thought. I've broken it.
There was another banging noise. This time it was coming from the door.
...
As usual, I started with the freewrite prompt and used themostdangerouswritingapp.com to write the first five minutes (and then popped it into google docs to check for errors and tidy it up a bit):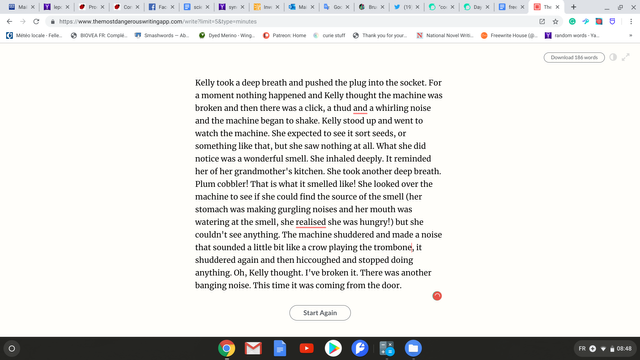 …

As well as Steem upvotes I upvote posts in the following Tribes: #leo, #palnet, #sports, #weed, #marlians and #creativecoin #neoxian #sonicgroove
![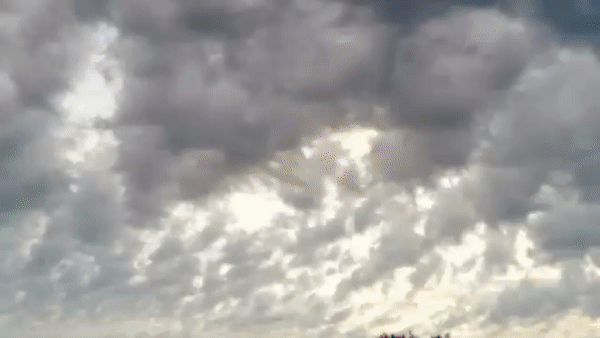 )
@felt.buzz curation accounts: @felt.buzz.pal @felt.buzz.leo @felt.buzz.sports @felt.buzz.weed @felt.buzz.marl @felt.buzz.ccc @felt.buzz.neox @felt.buzz.sonicgroove
…
The NEW @SteemFiction book, has been published! Currently available on Amazon for the Kindle it is now available as a paperback too!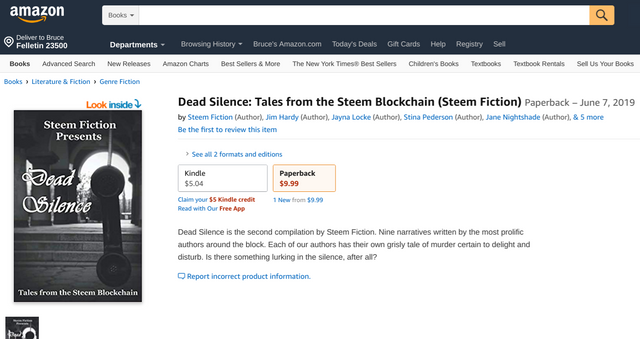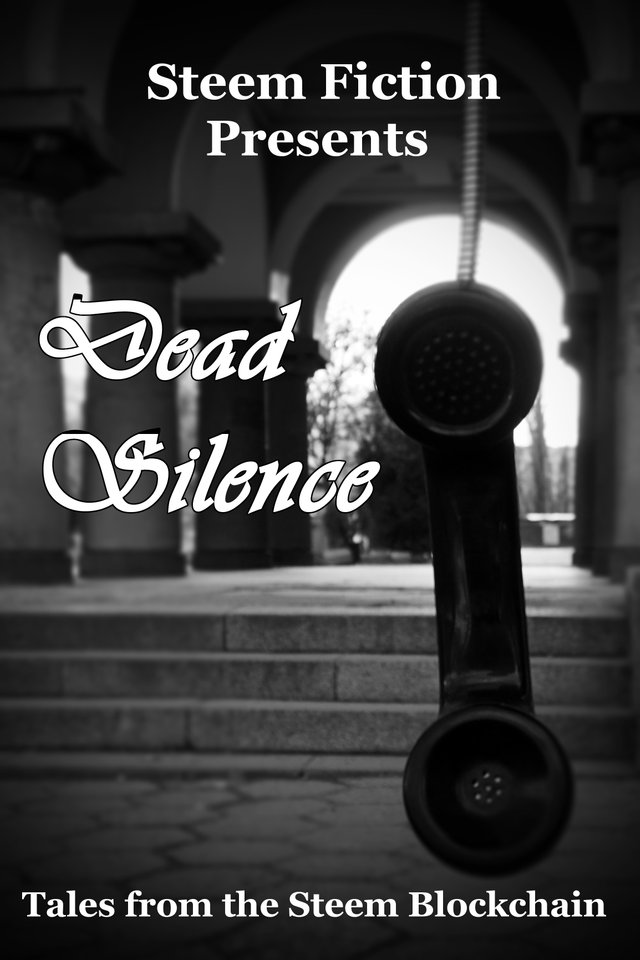 9 tales of MURDER from some of your favourite STEEM writers!
Check out the trailer for the book!
I have a story in it called The Still Blood-Soaked Path
A YouTube documentary film-maker visits a remote island to investigate the horrific murder of a young woman, and the subsequent suicide of her killer almost thirty years ago. But was the young lover really responsible for the brutal slaying of his girlfriend? And if not who was?
…
I had a comment left on one of my freewrites and I have to say, it made my day!
"Hey I got the book and want to tell you how much I enjoyed your story! Loved the twist at the end… you somehow nearly always manage to produce an unexpected twist... Love the care you take with your characters, intertwining them." @owasco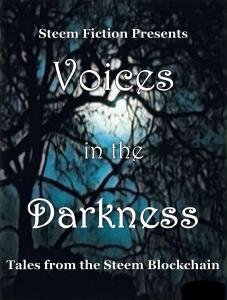 @steemfiction - Voices In The Darkness, 8 tales by 8 STEEMains, published NOW on Amazon kindle!
Voices In The Darkness is now ALSO available as a paperback!
If you want a taster of what is in the book, the video below shows me reading the first 900 words, or so, of my story, The Tell-Tale Dead
…

Join us at the Freewrite House for fun and games!!! Weekly drawing for SBI memberships and so much more!!

Proud member of two GREAT houses:
...


@steemitbloggers has evolved! We are now the #PowerHouseCreatives
....

…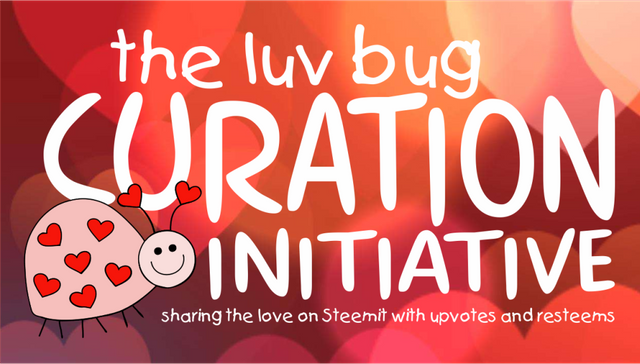 Do your posts need some more luv? Come and meet @theluvbug!
Resteems, and upvotes for quality posts!
…
Supporting the Steem Family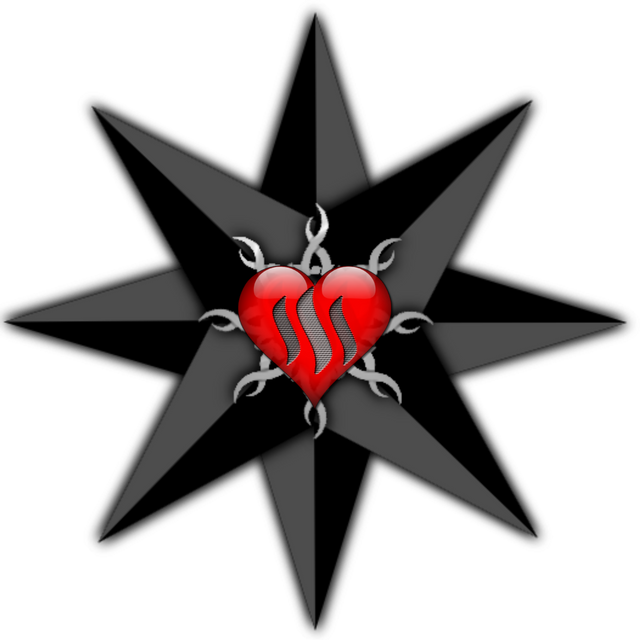 Join @thealliance