Stone Brewing Co. (San Marcos, CA) Enjoy by 2/14/17 Chocolate and Coffee IPA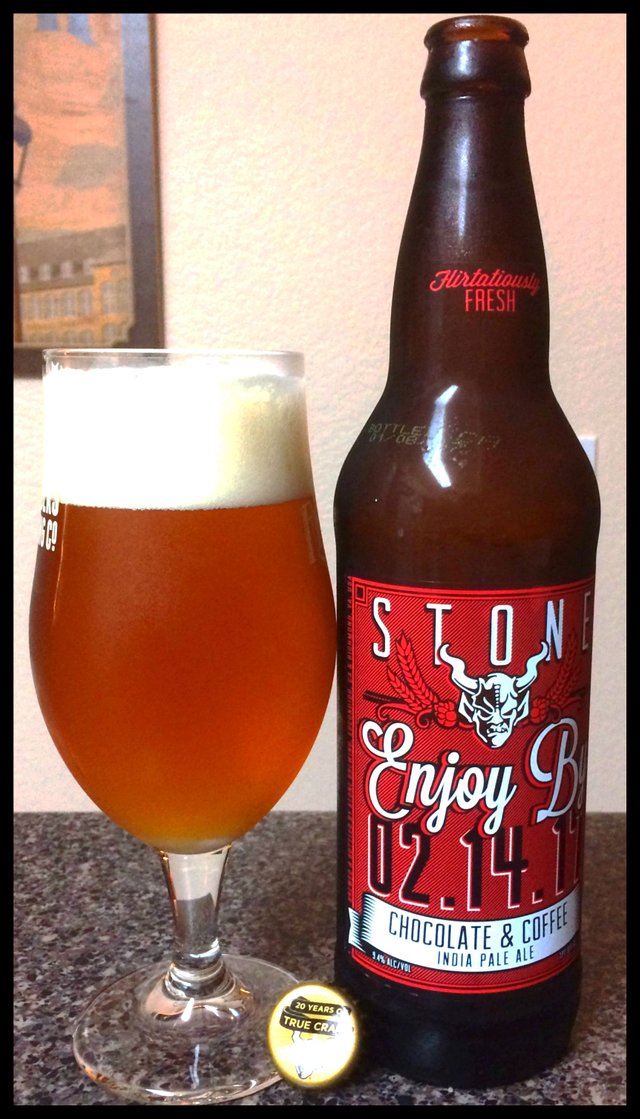 ABV 9.4% 22oz. Consumed on 1/18/17. IBU 90 Color ??? Not suitable for ageing. Brewed with the following hops: Nugget, Super Galena, Simcoe, Amarillo, Delta, Target, Cascade, Citra, Galaxy, Nelson, Sauvin, Motueka and Helga.
Appearance: Pours a beautiful clear copper with a robust cream-colored head that quickly dissipates to a light dusting of foam.
Aroma: Coffee is right in the forefront, but there's also a spicy presence from the hops. Beneath this is a nice strong cocoa note that ties together well with the coffee and spicy hop presence. Burying your nose in the class reveals some grapefruit and lemon notes. As the beer warms hazelnut, sweet almond, macadamia, cinnamon and cherry emerge.
Palate: My first impression is the mouthfeel is full-bodied and creamy. Not dry like the West Coast Double IPA versions of Enjoy By. The chocolate hits you right away; you get milk and semi-sweet followed by faint hints of chocolate covered cherry. Once the beer warms tangerine and mandarin orange emerge along with hop bitterness. The finish is long and interesting and may be the only stage on the palate where coffee is a major player. It wraps up with a nice, clean cherry fruitiness.
Overall: This Enjoy By is very different from the typical versions we're used to. Stone couldn't continue to pump out the same iterations over and over. Perhaps by necessity they've begun to branch out. I didn't think the unfiltered Enjoy By was anything special, but the Tangerine offering, and now this one, have been winners.
Final Score: 8