Discover the "New Normal" Survival, Profit, And Internationalization Secrets "The Elite" Don't Want You to Know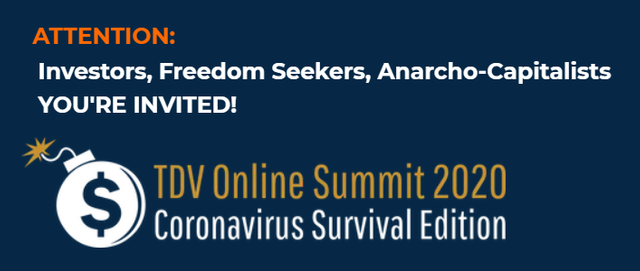 Join 1000+ fellow freedom loving investors in this one of a kind online summit.
Where Should We Send your TDV Online 2020 Summit Ticket?
Discover all the secrets to surviving and thriving "post-corona" from the exact speakers who predicted the current collapse.
Only $97 to watch live, and for 24 hours after the event (in case you miss some sessions live).
The TDV Online Summit 2020 Is For Anyone Looking for Information About...
-Freedom and Liberty
-Crisis Investing
-Cryptocurrencies
-Precious Metals
-Second Passports and Residency
-International Real Estate
-Survival Gardening
-Asset Protection
-Emerging Markets
-Self Sufficiency
-And Much More...