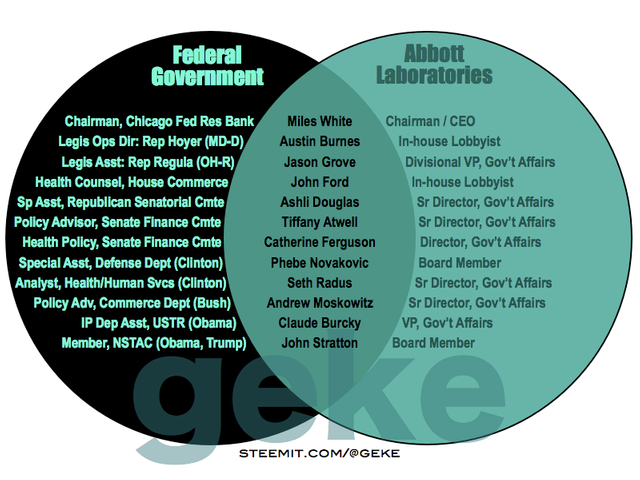 Abbott Laboratories is a medical device and nutri-ceutical company based in Lake Bluff, Illinois. The company makes such well-known products as Similac infant formula and the Freestyle Libre glucose monitor. Its revenues in 2017 were $27 billion.
Abbott has the unfortunate distinction of being part of the "first wave" of America's meth crisis. Below is a promotional ruler from 1963 advertising Abbott's Desoxyn, a long-release dose of methamphetamine.
Source
According to The Atlantic, "It wasn't until World War II... that meth became widespread as a handy tool for keeping tank and bomber crews awake. By 1942, Adolf Hitler was receiving regular IV injections of meth from his physician, Theodor Morell. Two years later the American pharmaceutical company Abbott Laboratories won FDA approval for meth as a prescription treatment for a host of ills ranging from alcoholism to weight gain."
Authors Lester Grinspoon and Peter Hedblom revealed in their book, The Speed Culture that in 1966, Abbott Laboratories distributed a large amount of methamphetamine to a criminal drug dealer.
In 2013, Tim Lee at the Washington Post broke a story about two members of Obama's Office of US Trade Representative who brokered a trade agreement with Australia and were then hired by two prominent companies that benefited from the treaty, one being Abbott Laboratories:
"The lead American negotiator was Ralph Ives, who was promoted to Assistant USTR for Pharmaceutical Policy soon after the negotiations concluded. He was aided by Claude Burcky, Deputy Assistant USTR for Intellectual Property. Less than three months after the Australia agreement was signed, the Sydney Morning Herald reported that both men would take jobs at pharmaceutical or medical device companies. Their new employers stood to benefit from some of the pro-patent-holder provisions of the treaty. Ives took a job at AdvaMed, a trade group representing medical device manufacturers. Burcky moved to the pharmaceutical and medical device company Abbott Labs."
However, a lobbying report for Abbott from February of 2008 shows that Claude Burcky was lobbying for the company five years before the USTR treaty was negotiated, which would suggest Burcky was re-hired upon completion of the deal... a full 360-degree turn of Washington's revolving door. [The lobbying report starts on page 11 of the following document: https://www.sec.gov/divisions/corpfin/cf-noaction/14a-8/2009/aflcio021109-14a8.pdf ]
Note also that Catherine Ferguson, a former in-house lobbyist for Abbott, describes on LinkedIn her time as a Health Research Assistant for the Senate Finance Committee, including her involvement drafting healthcare bills: "Provided staff support for the drafting and passage of the Tax Relief and Health Care Act of 2006 and Medicaid and SCHIP Extension Act of 2007."
IP = Intellectual Property
USTR = Office of US Trade Representative
NSTAC = National Security Telecommunications Advisory Committee