How the U.S. Government Incentivized a Vaccine Focus by Extending Liability Protection to Those Who Administered Vaccines.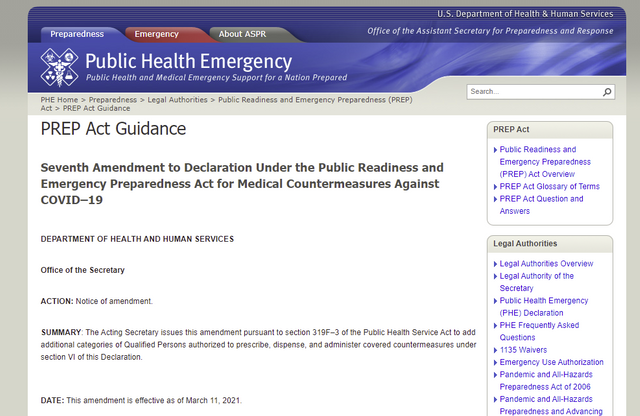 On March 17, 2020, United States Secretary of Health and Human Services, Alex Azar, published a declaration under the Public Readiness and Emergency Preparedness Act (PREP Act) legally immunizing those who were engaged in providing "covered countermeasures" for Covid-19.
The "covered countermeasures" are only those approved of and authorized by the FDA and other qualified agencies under the PREP Act.
The PREP act counter-measure coverage was expanded on March 11th, 2021, to include a wide variety of persons who could potentially administer a vaccine, including:
"Any medical, nursing, pharmacy, pharmacy intern, midwife, paramedic, advanced or intermediate EMT, physician assistant, respiratory therapy, dental, podiatry, optometry or veterinary student with appropriate training in administering vaccines as determined by his or her school or training program and supervision by a currently practicing healthcare professional experienced in administering intramuscular injections who administers COVID-19 vaccines that are Covered Countermeasures under section VI of this Declaration in any jurisdiction where the PREP Act applies in association with a COVID-19 vaccination effort by a State, local, Tribal or territorial authority or by an institution in which the COVID-19 vaccine covered countermeasure is administered;"
See:
Seventh Amendment to Declaration Under the Public Readiness and Emergency Preparedness Act for Medical Countermeasures Against COVID–19
https://www.phe.gov/Preparedness/legal/prepact/Pages/PREP-Act-Guidance.aspx
Of course, these "counter measures" did not include outpatient treatment options for preventative care with anti-viral and anti-inflammatory drugs.
Rather, the focus for liability protection was on vaccines.
Those who are injured under a "covered countermeasure" are generally unable to sue the person administering the vaccine.
In parallel to the National Vaccine Injury Compensation Program's resolution process for regular vaccine injury, the Countermeasures Injury Compensation Program (CICP) is a Federal process where the injured goes to seek remedy.
See:
Countermeasures Injury Compensation Program (CICP)
http://hrsa.gov/cicp
So, how do these incentives play out in the real world?
It means that, because of the limitation on liability, there is an incentive for doctors, and those qualified to administer a vaccine under the declaration, to only focus on that which they have liability coverage for.
Healthcare workers are protected generally from what harms may come (outside of willful misconduct) in the same manner as the vaccine manufacturers.
So the current legal landscape is one where those making and administering the vaccines cannot be held liable, and the Federal government sets the standards and the limits for compensation if one gets injured.
Remember this whenever someone tries to claim that there is "liability protection" if one is injured.
There isn't.
Rather, it's your own tax money being used to compensate if you can even get a judge or administrative panel to agree with you.
#coronavirus #covid19 #sars2 #covid #corona #delta #delatavariant #libertarian #ancap #taxationistheft #vaccine #vaccines #vaccineinjury #vaccineinjuries #vaccination