Are we in a second wave?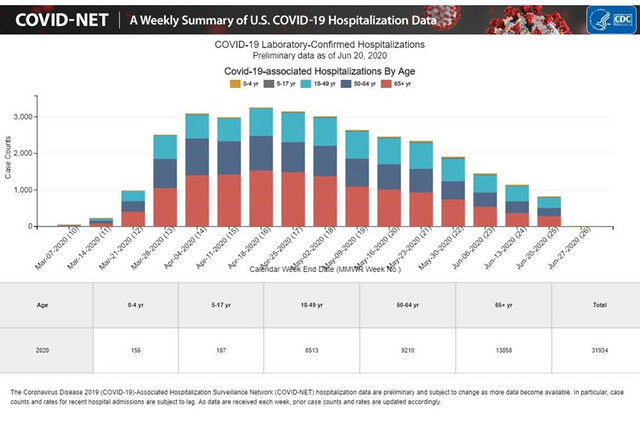 Hospitalizations for COVID-19 have recently risen in a handful of states, notably Arizona and Texas. For the nation as a whole, however, coronavirus hospitalizations have fallen steadily for two months, particularly for seniors. For younger groups, even in hot spots, hospitalization in one week does not imply or predict deaths a few weeks later.
Texas has had only 8 COVID-19 deaths per 100,000 residents, and Arizona only 18, compared with 128 in New York and 169 in New Jersey. With fewer people with symptoms, Texas has only tested 6447 per 100,000 and Arizona 7,314, compared with 20,125 test in New York and 16,014 in New Jersey.
It is still difficult to get tested without a fever and respiratory symptoms, so states that have done little testing are concentrating on sick and high-risk people (health care workers and nursing home attendants) which partly explains why 14.1% test positive in Texas, according to the COVID Tracking Project. But 24.4% positivity in Arizona does look uniquely bad.
In short, new hot spots are showing up in new places, as they usually do, yet national figures on COVID-19 hospitalizations and deaths show barely a second ripple, much less a wave.