Smoked and Spatchcocked Rosemary Turkey
I love the fried turkey that I normally cook every Thanksgiving... But my first attempt at smoking one was pretty well received. Especially with my sweet and spicy cranberry dipping sauce.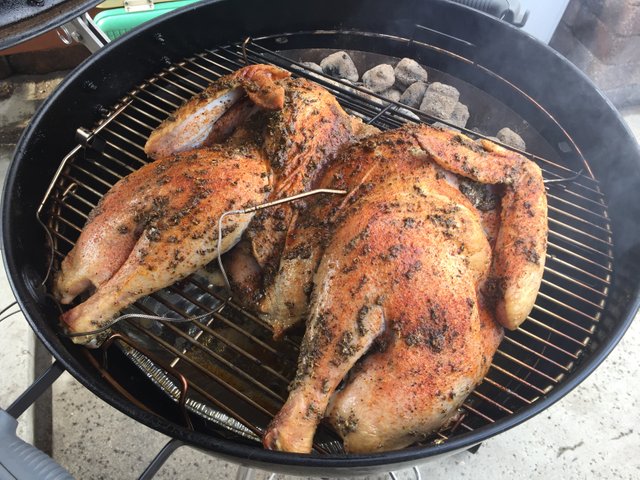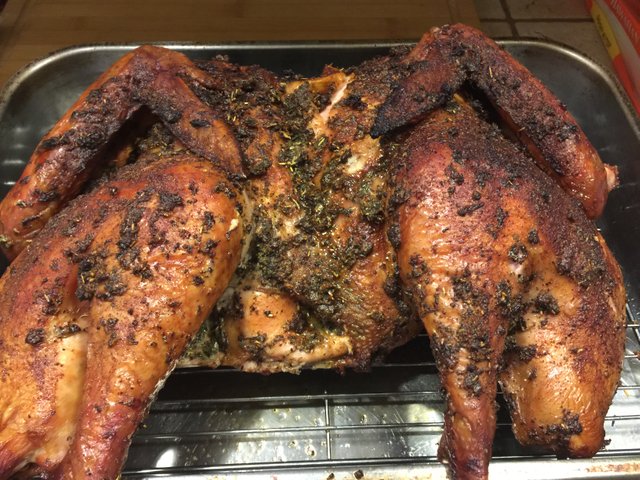 Smoked and Spatchcocked Rosemary Turkey...
Dry-brine with salt for 24 hours.
Inject with Tony's Cajun Injection.
Rub with a Rosemary, Pepper, Sage, Thyme, Oregano, Parsley, Basil, and unsalted Butter mixture.
Cooked at 300° on a standard 22" Weber Kettle with a Slow 'N Sear from Adrenaline BBQ until the breasts hit 165° and the thighs hit 175° (approximately 2.5 hours). Breast side facing the heat.
Sweet and Spicy Cranberry Dipping Sauce...
Reduce liter of cranberry juice by 75%.
Add a bottle of Stubbs Sweet Heat
Mix thoroughly and serve.
--
Follow us on Minds, Steem and check out my blog, http://letstalksurvival.com, for more discussions related to emergency preparedness, self-reliance, and urban and outdoor survival skills... You can also support LetsTalkSurvival by visiting The LetsTalkSurvival Club affiliate webstore. All purchases support LetsTalkSurvival through commissions at no extra cost to you.