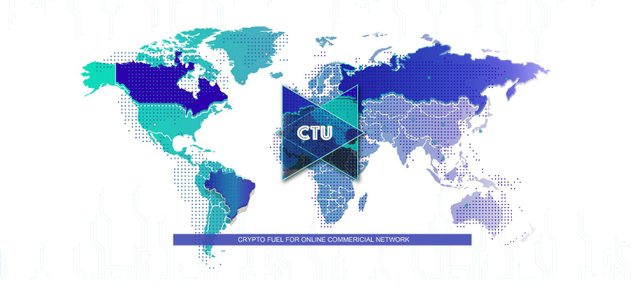 Contracts are used by businesses worldwide, I use contracts to make legal agreements with my business partners to legally bind a business agreement. We determine the agreement between ourselves and write a written contract to bind our business consensus agreements.
Smart contracts are transforming how we transact our business in the modern digital world, one of the projects optimizing smart contracts to work for us is Contractim through the use of smart contract, Contractium is adding the missing features in smart contracts by making it easy for business to create smart contracts on the go using their smart phones, desktops and web.
Blockchain technology smart contracts are technically not applicable to be adopted by business because of the programming skills required towards creating smart contracts. Using Contractium platform businesses can be able to create commercial smart contracts which are unique and executed after the consensus agreement between the businesses is met.
Contractium smart contracts contain the same features found in Ethereum blockchain, they have added the missing features in blockchain 2.0 and the platform allows businesses to make smart contracts easily and securely for their business operation purposes.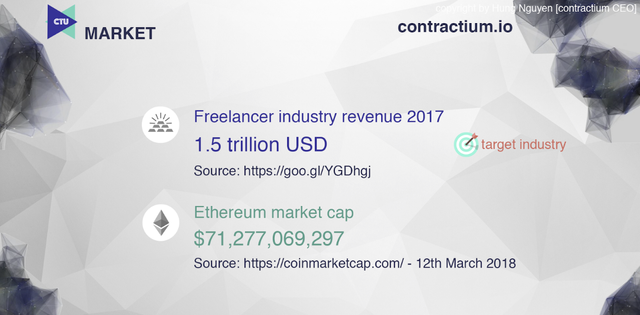 Contractoum is a project that empowers small businesses like mine towards optimizing their businesses processes at the same time reducing their costs of creating legally binding contracts by eliminating the need of a third-party contract enforcer . Through Contractium I will be able to reduce the costs associated with creating business contracts by almost 2% of the value of my business contracts which go to a contract enforcer.
Contractium Technologies.
══════════════════════════════════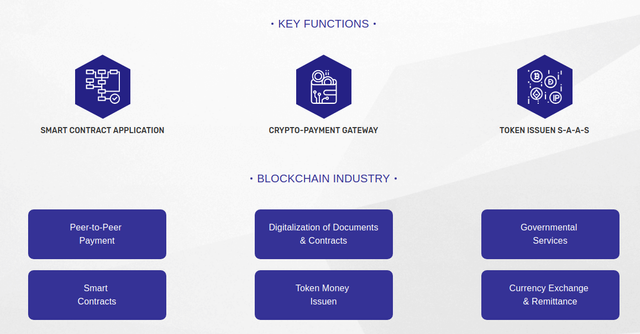 Contractium platform is powered by the Ethereum blockchain, the platforms goals are to make use of Ethereum contract features and make them easy to be applied by businesses. Businesses will be able to create smart contracts on the go using their smart phones through the Contractium App and also using their PC and web services.
Contractium will eliminate the need of third-party substandard services that inflate contract enforcement costs and also improve business contracts by allowing them to be created and enforced digitally and stored in immutable ledgers where they are secure from manipulation and exploits.
Contractium Smart Contracts applicability.
══════════════════════════════════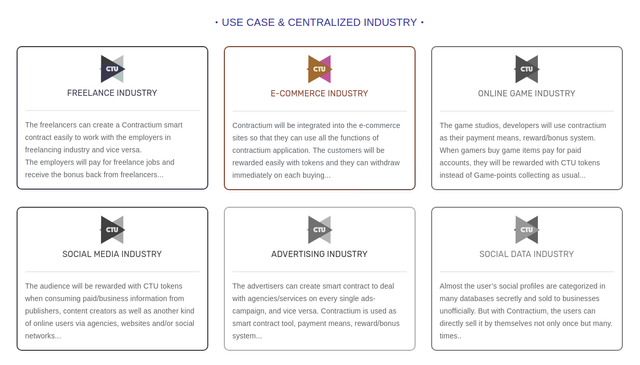 Contractium smart contracts are recorded on the blockchains distributed ledger where they are stored in structures according to time and execution dates, the distributed ledger is free from manipulation and businesses can be assured no parties can change the contracts terms. When businesses and individuals agree on the terms of the contract they have to pay foR the creation of the contract through Contractium native tokens (CTU). This is where Contractium tokens (CTU) utility value is derived.
Contractium smart contracts benefits.
══════════════════════════════════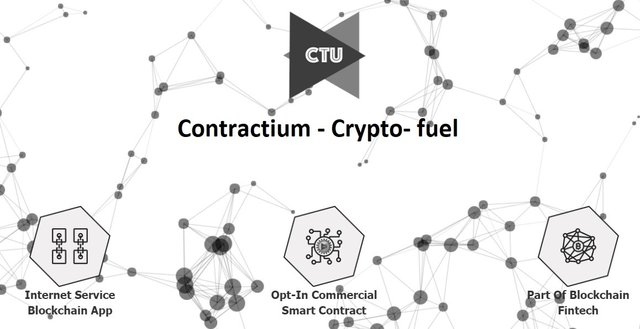 Currently businesses cannot make use of Ethereum smart contracts on their day to day business operations due to the technically involved to create a smart contract on the blockchain, Contractium makes it easy with their custom smart contracts that are tailored for day to day businesses use cases, under topic I will highlight how a business can make use of Contractium smart contracts and how they can be beneficial compared to traditional contracts.
Business will be able to speed up the process of creating smart contracts compared to paper contracts which require a third part to be present and enforce the contract. Contractium smart contracts will be able to automate the process of creating a smart contract within a few seconds of a consensus agreement between businesses.
You have all heard of contracts errors that have costed companies billions of shillings, Contractium will eliminate the need of human involvement which is a point that increases errors on contracts. The risk involved in paper contracts is very high due to the human involvement, storage issues and third-party misrepresentation, businesses will be able to eliminate these risks altogether.
Traditionally businesses are charged 2% of the value of the contract by third-party contracts enforces, Contractium will eliminate the need of third-party involvement and businesses will benefit from reduced costs in contracts creation and storage.
Current problems with smart contracts & Contractium Solutions.
══════════════════════════════════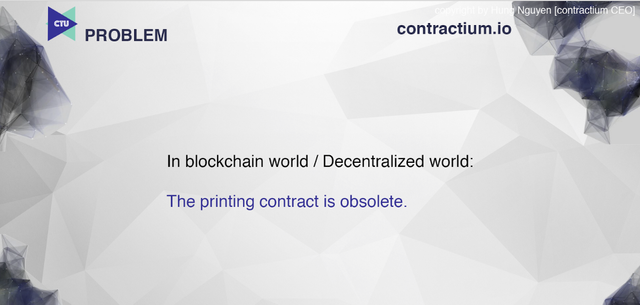 Businesses cannot use smart contracts available on the market on a daily basis due to the technicality involved in creating smart contracts, it costs over $200 to create a smart contract on the blockchain and its time consuming and requires hours of coding, Contractium will enable business to make smart contracts custom to their needs without the need of a third-party.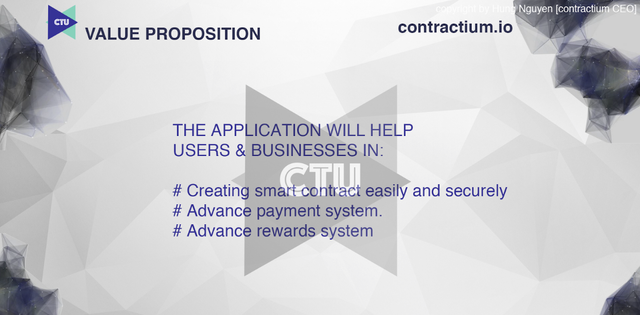 In the modern world where acquisition and mergers are the order of the day smart contracts need not to be made on paper anymore, Contractium will make it possible for instant smart contracts to be created on the go using smartphones.
Contractium considerations for businesses.
══════════════════════════════════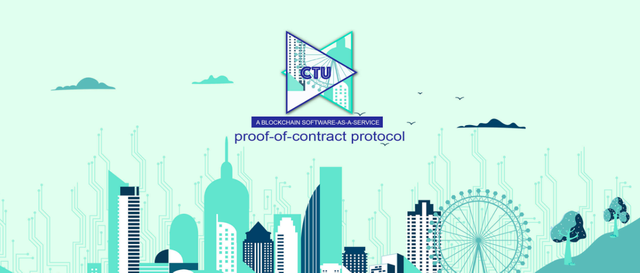 If you own a business like me, you will find Contractium services easily integrated on your business operations, I would encourage you to check on how you can integrate Contractium services in your businesses to automate the process and save contracts creation and enforcement costs.
I do believe the solutions offered by Contractium will be able to empower small business that don't have a budget for third party legal enforcers to create contracts for them, Personally I create contracts with a peer to peer consensus agreement and write it down on paper with our signature to save on costs, this method is outdated and would welcome all small business owners like me to check out the Contractium services and apply them to their businesses.
Conclusions
══════════════════════════════════

Smart contracts are optimizing business operations and they now have an opportunity to automate contract services using Contractium without the need of a third-party legal enforcer. Business agreements are being made each day and smart contracts will improve the efficiency and processes between business partners.
For more information on how businesses can transact on a decentralized business environment and trust each other by using smart contracts, please check out Contractium website, Whitepaper and social media pages in the reference section below.
References.
══════════════════════════════════
Website : https://contractium.io/
Whitepaper : https://docs.google.com/document/d/10BqajJ39sen3GeulHCSxGJ7vRx9UUT4AEkbpP2OSxmM/edit#heading=h.hpqizxn29byi
Twitter : https://twitter.com/contractium
Telegram : https://t.me/contractium
Facebook : https://www.facebook.com/contractium.io/
Linkedin : https://www.linkedin.com/company/contractium-io/
Youtube channel : https://www.youtube.com/channel/UCdNLXQrp7sn6lNeqOYOz_wQ
Twitter account of CEO : https://twitter.com/contractium_CEO
══════════════════════════════════
All Images credited to Contractium Official Website
Author: jamesndungu1
BitcoinTalk Profile: https://bitcointalk.org/index.php?action=profile;u=1856049