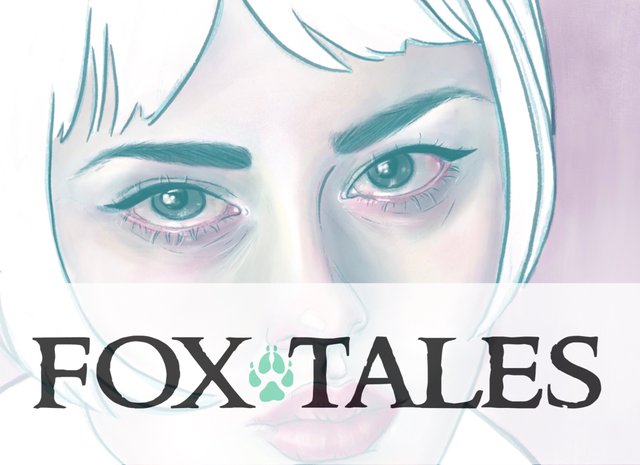 ---
If you love writing stories then this contest is for you! Write a one paragraph story about the image pictured above. Be creative, think outside of the box and follow the listed rules!
---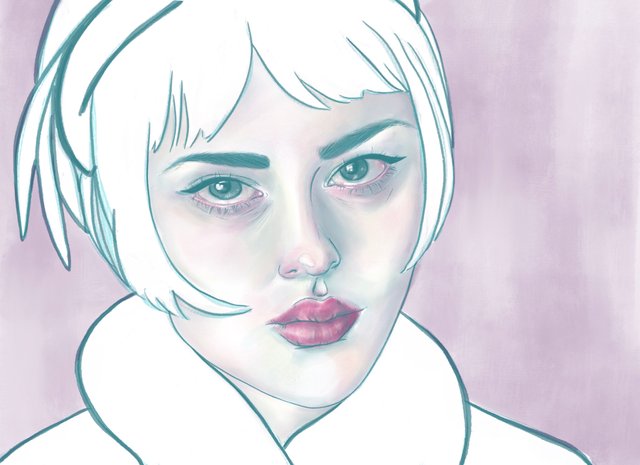 Hello everyone!
I wanted to work towards a new format for my #foxtales contest so it took me awhile to get this post written. I also went through some technical difficulties on another blockchain which has left me locked out of my account. Yesterday's built up frustration left me to run around in circles but it's all good now! I hope the wait for this announcement post was worth it! I'm really excited to share the winning stories for last week! You'll see them further along into the post. :)
---
THIS WEEK'S IMAGE PROCESS...
All my drawings are done digitally on the Procreate App using the iPad Pro with Apple Pencil.
---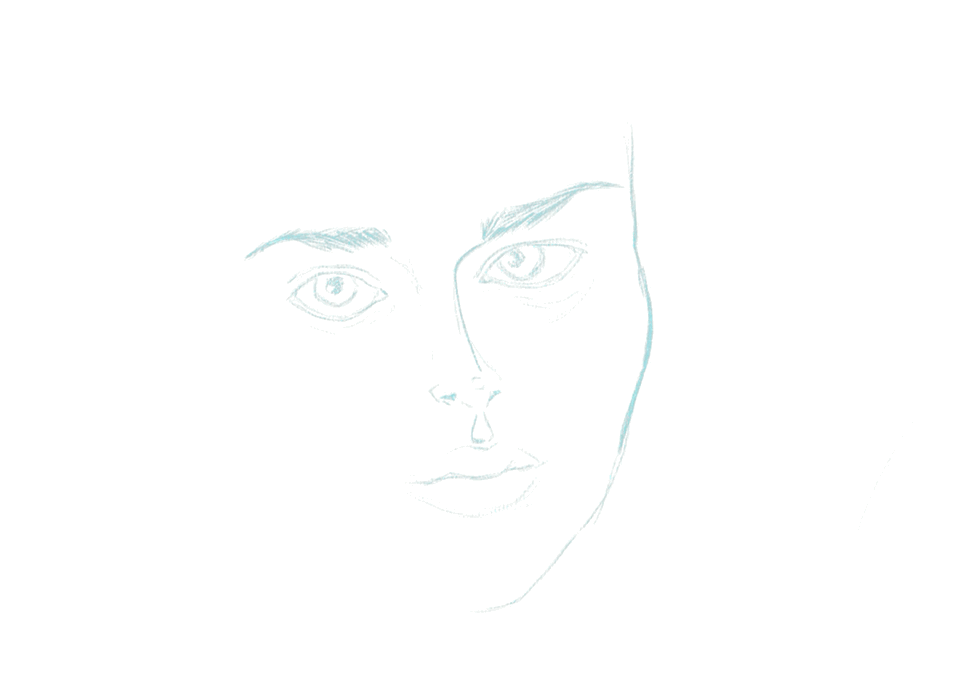 The start of this drawing came out looking a little wonky and the facial features are obviously out of proportion. Thank goodness for digital tools! I did the outline for this drawing using the Hemp tool listed under Organic in Procreate.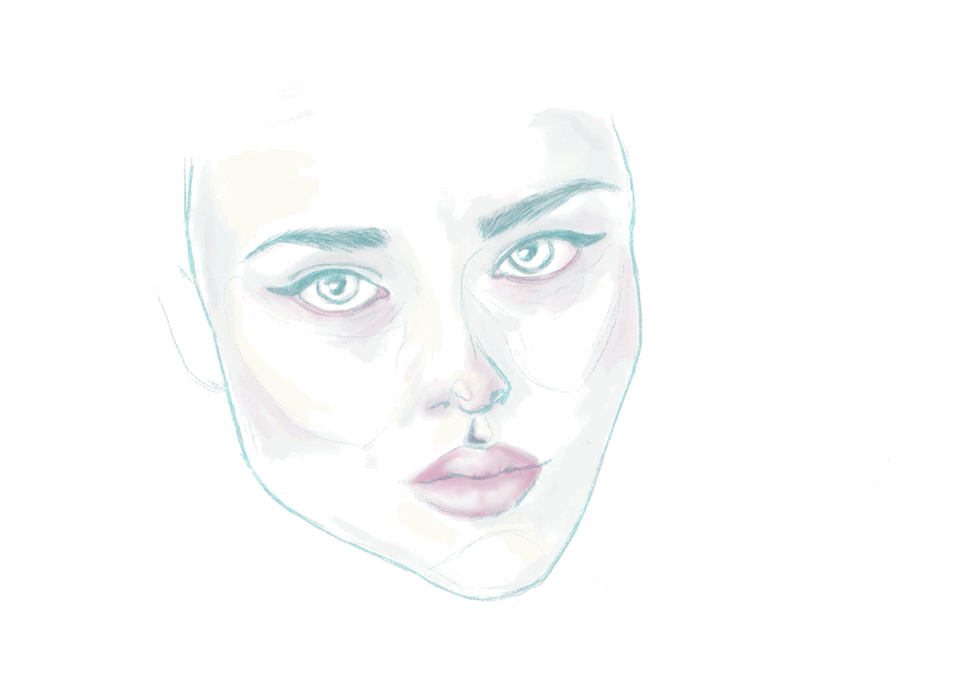 I then went into the skin coloring process using the Round Brush listed under Painting. I did some shading with a teal color before adding in warmer pink tones and yellow to brighten the skin.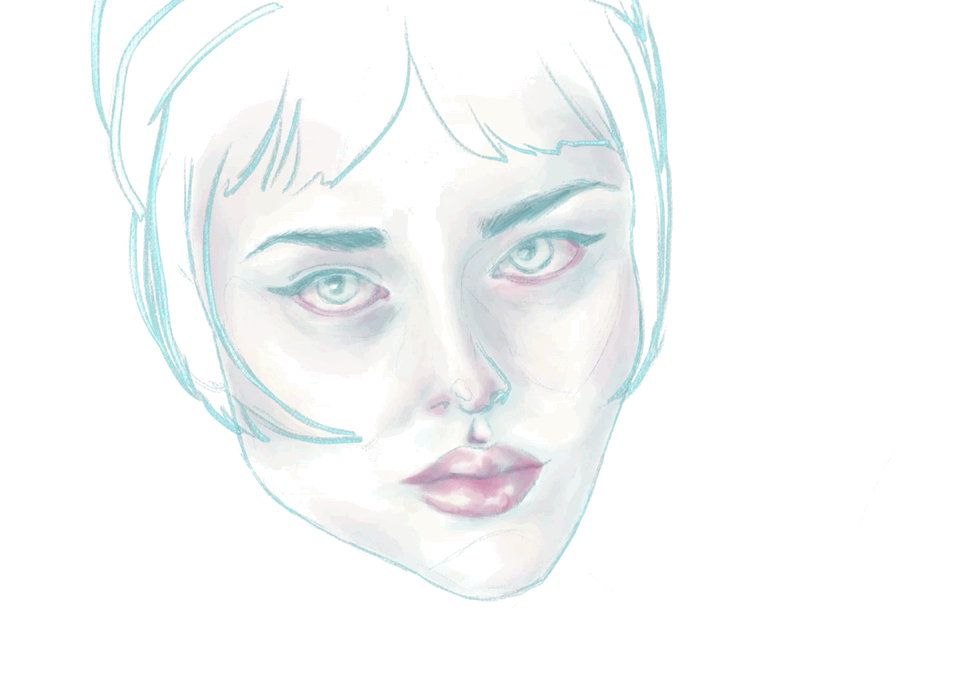 Designing the hair and accessories were a struggle. I had several layers open with different looks. I gravitated towards this short bob versus a longer style.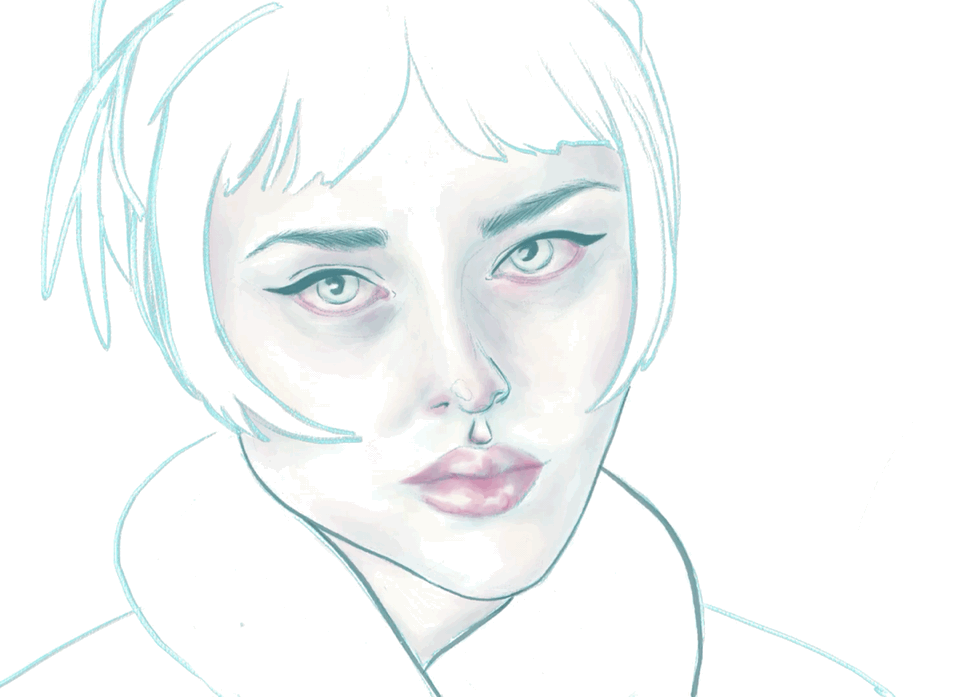 Inking. Yes, I did some inking! Usually, I'd go in with a pencil tool in a dark shade but these bold ink lines were calling to me. I chose to use the Dry Ink tool listed under Inking. Her cat eyeliner looks amazing!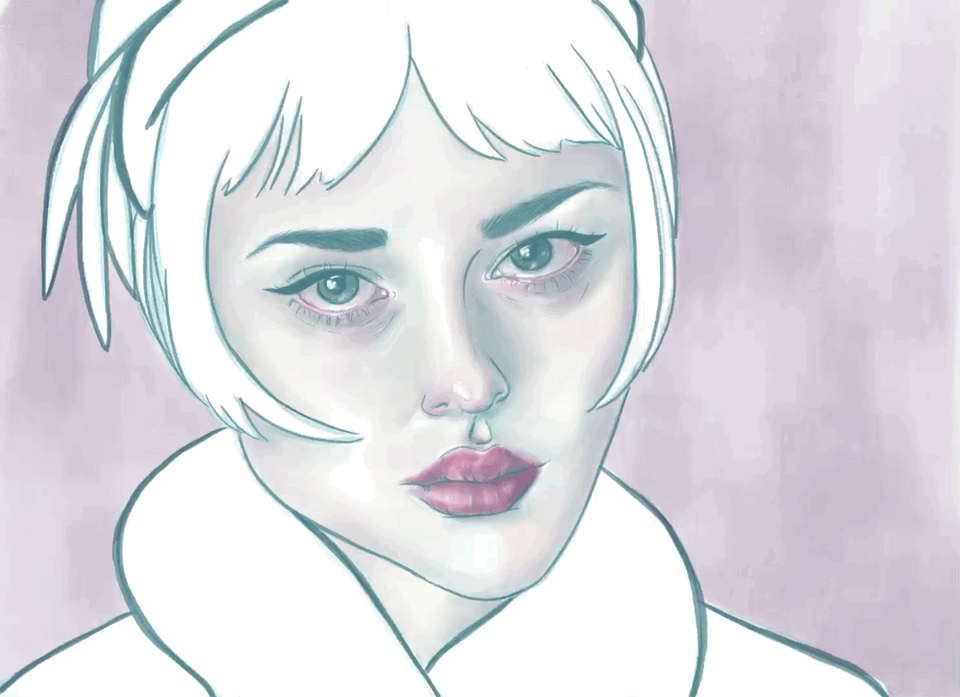 My last step, which is new to me is to make adjustments to the overall image with the liquify tool. I changed the shape of her jawline, the position of the hair and the size of her eyes.
I hope this image inspires! What do you think?
---
Prizes:
A portion of this week's prize pool comes from @kommienezuspdat! Thanks so much for the support!
---
1st // 5 STEEM
2nd // 3 STEEM
3rd // 1 STEEM
---
Contest Rules:
---
Upvote & Resteem this post.
Create a separate post with your one paragraph stories.
Maximum length 300 words. (I'll be monitoring this closely!)
Use the #foxtales tag.
Usage of the current story image in your post is optional.
Submit your post in the comment section below. (I'll sharing links to the stories submitted this way in the following Fox Tales announcement post!)
Maximum of 3 entries (only one story per person will qualify for a portion of the prize pool each week.)
Deadline is this post's payout.
---
WEEK #26 WINNERS & STORIES!
---
---
1st place // @sidequest "Untitled"
---
She stopped mid-sentence, suddenly hit by her memories. Or more accurately, her lack of memories. Could she really remember those birthday parties? There were vague impressions—the din of many children in a small space, cheap balloons, grocery store sheet cakes—but all melded together into one mass, the same block that held parties she'd seen in movies or constructed from glimpsed photographs. It was the same with homework. A blur of worksheets and lined paper, but no single assignment could be picked out no matter how hard she tried. Across from her Gabe looked amused by his friend's sudden distraction and waved a playful hand, calling her back to the present. He asked again, "Why don't they ever seem to know they're clones?" but she had no answer that wasn't too terrifying to put into words.
---
2nd place // @chinyerevivian "Shadow"
---
I was five when I first saw it happen. Before that day, it was only muffled sounds and screams. I would stand by the door and listen to her sobs, long after he was gone. She would shake her head when I ask about the bruises. Her beautiful face, the first thing I loved about her. Her hair, long and soft with curly bangs cut above her right eyebrow. Her eyes, deep green as mine, glinting with humour and protected by long lashes. Her full lips, tilting upwards on both sides whenever she smiled. I watched that smile fade but I never understood until that night. It was my birthday. I had sneaked into her room and into her bed. She had held me while I snuggled and buried my face in her neck, inhaling her scent. That was when I heard the footsteps. I left her sleeping and hid under the bed. Recognising his temper, I knew he wouldn't be happy to see me there, and that meant leaving the back of his big hands across my face. Then I watched him pin her down. "You're mine to do as I please," he said as he tore her clothes and punched her. I closed my eyes, trying to block the screams and failing. That was the day I began to hate him. I never knew the word rape but I understood everything. That was also the day I stopped calling him father. Fifteen years later and nothing had changed. There were no more screams and bruises, only a woman sitting and staring into space. Sometimes, she would smile when I talked to her. Unlike what most people believed, I knew it wasn't my mother I saved but the remnants of her shadow. Maybe I waited too long.
---
3rd place // @letalis-laetitia "The Memory Of Her"
---
It's been so long, I can barely remember the soft brush of her cheek, the gentle caress of her plump lips over my skin. If I focus, I can picture the faint trace of her, the woman I loved. All those years ago, clutching my hands down in the shelter, the ground shaking over our heads, not knowing if the ceiling would hold. In those stolen moments, our sighs lost to blaring sirens, we found each other and the stark fragility of life compelled us to something more. Her hands, worn with labour, cracked with strain, ran velvet under my dress, rising up, caressing my legs. Her pinned hair shook free to catch in our kisses as her hungry mouth met mine, between the falling bombs, fear gave way to pleasure. I longed for the raids, the rush to the bunker, the tender passion in the dust filled darkness. It was never the same, after the war, when our husbands came back changed men. I didn't see her after that. Yet the faded lines, the broken outline of her, still remain, etched between these wrinkles.
---
Thanks so much to all the writers who participated!
⬇️ Please take the time to visit their stories below! ⬇️
---
"That clear and eager image was slowly fading/ I just felt like a thick haze hugged my eye" 
@yusaymon
"My Better Half" 
@pyemoney
"Shadow" 
@chinyerevivian
"Half-a-face, half-life" 
@theironfelix
"The Memory Of Her" 
@letalis-laetitia
"Reflections" 
@letalis-laetitia
"Since you've been gone" 
@knownobody
"Killing Me Softly" 
@aboutart
"The C word" 
@jadams2k18
"The Thrill" 
@cliffagreen
"Forgotten Dreams..." 
@seesladen
"Fox Tale 26" 
@sidequest
"Green Eyes" 
@iamthegray
---
Thanks for stopping by and good luck to those who decide to participate!
Do you have any questions? 🦊
---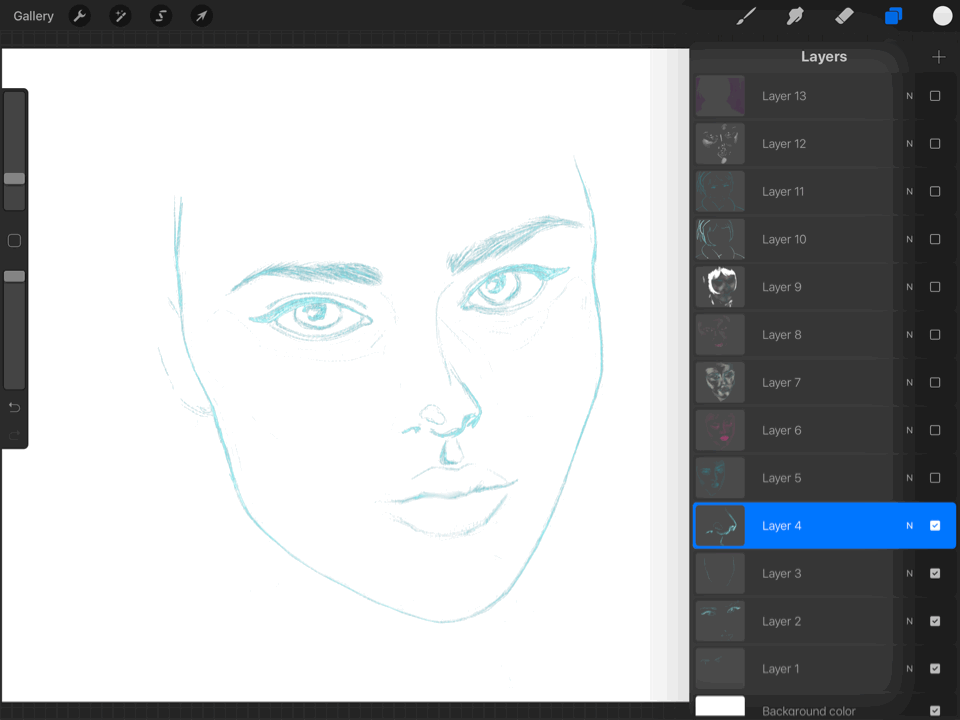 ---
Check out some of the previous #foxtales posts!
---