Giving away 10 movie tickets to "Hidden Figures" at Event Cinemas in Australia
Hey guys,
There's not a lot good on in Australia at the moment (50 shades, ugh), but one of the good ones here in Australia this February is Hidden Figures (I realize those of you in the USA and Canada have had this since December last year).
Hidden Figures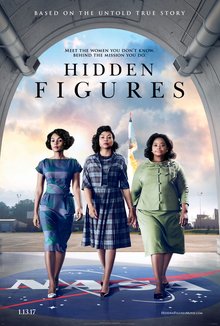 Image Source: Wikipedia. Fair use under NFCC#4
This feel-good, family friendly movie tells the story of female African-American mathematicians at NASA during the 60's, and should be a good watch, and as a STEM positive movie, may be particularly inspirational for any aspiring young female mathematicians.
I will be giving away 10 completely paid for tickets (in the form of redeemable codes, which you can show at the box office when purchasing, or use online) to anyone who wants to see this movie.
The rules
This competition is run by and fully paid for by @krazdang and I, and is open to anyone in Australia who has an Event Cinemas theatre close by to go and see the movie at.
In order to enter, simply reply below to this post, with your steemit chat username and describing why you want to go and see this movie by 2am UTC (12pm AEST) tomorrow.
At that time, the best 10 reasons will be selected by @krazdang and myself, and I will send the codes to you via private message on steemit.chat (@triddin).
Good luck, and I hope you win, but make sure to go and see this great movie regardless!
If you have Aussie followers who you think would like to see this movie, please resteem, thanks!