Steemit Bloggers Contest - Treasure Hunt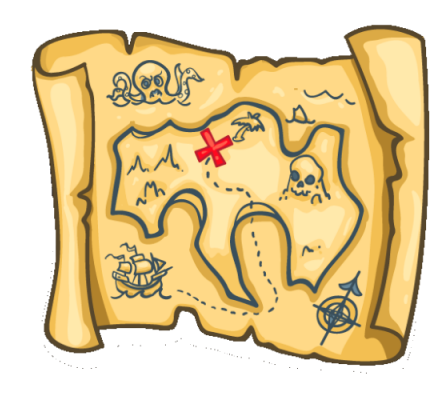 SOURCE: STICKPNG.COM
The
#steemitbloggers
community has an ongoing round of fun contests for members and the theme changes each week. I have been asked to design the contest this week and to serve as the guest judge. So, without further ado, I present my quirky idea, a revamp of the contest which I created earlier this year for my first Steemiversary.
It is a Treasure Hunt! 😺 As might be necessary when searching for buried treasure, several steps are involved in reaching the destination, which is part of the fun!
Below is a brief overview of what is involved, and then more detailed steps will follow.
Overview
Solve a crossword puzzle below. The theme is: winter

Unscramble the letters in the red boxes to reveal the name of a member of the SteemitBloggers commnity.

Go to that Steemian's blog and look for a certain post and read it. Make a note of the different things talked about.

Author your own Steemit post about one of the things that is mentioned in the SteemitBlogger's post. You may do a 300-word (minimum) freewrite, write a poem, draw a picture (stick figures allowed!), or take a photograph of the subject.

Do not reveal any of the answers when you do your post, other than including one of the things in your poem, freewrite, drawing, or photo!

😀

Step 1.
Complete the following crossword puzzle: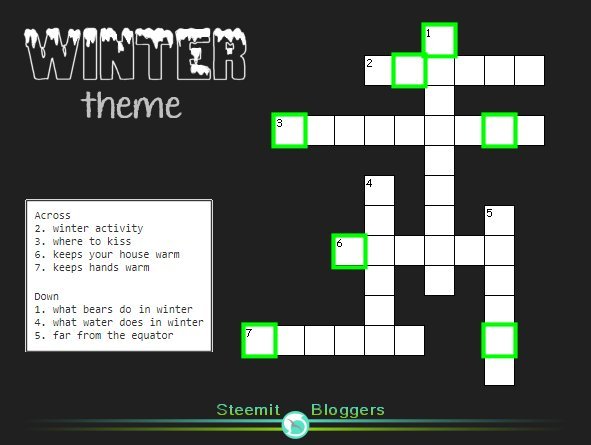 • CROSSWORD PUZZLE DESIGNED BY ME •
Step 2.
Take the letters from the seven specially-marked boxes in the crossword puzzle and unscramble them to form the name of a user in the #steemitbloggers community. (Hint: The member lives in Asia.)
Step 3.
Take the unscrambled name of the #steemitbloggers member and go to their blog page. Scroll down the titles until you see the one talking about their first video post and read it (you don't have to watch the video).
Step 4.
Make your own post that contains one of the following: a drawing (stick figures are okay!), a photo, a poem, or a short freewrite (300 words minimum) about one of the things mentioned in the secret member's post.
Submission
Your Contest Entry post is to be linked in the #steemitbloggers-contest channel.
One Entry is allowed per participant.
This contest must be done as a Steemit Post.
Post title must include the words 'Steemitbloggers Contest'
One of your tags should be #steemitbloggers
Rewards
Winner: 3 STEEM
2nd place: 2 STEEM
3rd place: 1 STEEM
Deadline
Saturday, 01-Dec-2018, 11.59PM (UTC+8) / 5.59PM (SAST) / 3.59PM UTC
---

If there are questions or you run into any problems, feel free to @mention me — @thekittygirl — in the #steemitbloggers-contest channel in the #steemitbloggers Discord server!
😊
---