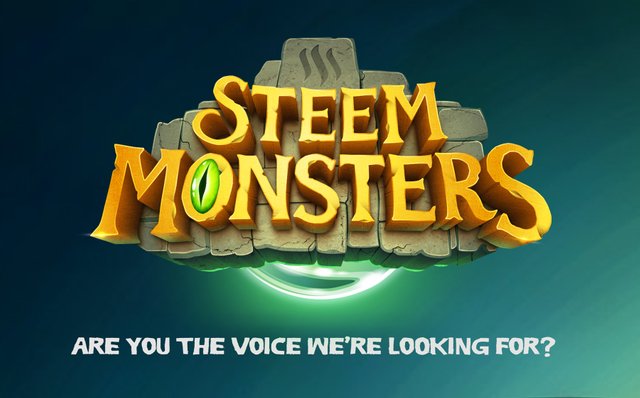 Let me hear you speak!
Greetings, Steem Monsters enthusiasts! Zippy (@zipporah) here.
As some of you may know, I'm presently working on the video for our upcoming Kickstarter campaign. As I piece it together, I'm missing a rather important element; the prophecy, spoken by a compelling voice – the very sound the video will open with.
In keeping with the crowd-sourced spirit that so defines this project, I'm asking you to help me find that perfect voice. Perhaps it is you, or someone you know! Do people often comment on the sound of you? How about that friend who's voice truly is like no other? I'd love to hear it!
To give you some sense of the kind of voice I have in mind, think Tim Curry, Morgan Freeman, David Attenborough – deep, prophetic, commanding of attention. Thus far, I've imagined this voice being male, but...perhaps there's a lady out there who wants to give it a go. Surprise me.

10 Booster Pack Prize!
Though I think of this more as a treasure hunt than a contest – a search for that perfect sound – a prize of 10 booster packs will be awarded to the voice we choose.
If you'd like to participate:
record yourself, using the best tools available to you (we'll be using this recording in the video, so as high quality as you can manage) speaking this sentence:

"That which was splintered shall be made whole"

submit your entry by direct upload here. If you'd like to make a post, you're welcome to do so, just make sure you also upload your submission by the deadline.
We haven't got much time, so this contest will run for just the next few days – through midnight PST this Thursday.

On behalf of the Steem Monsters team, thank you. We very much look forward to hearing your entries!
Steem Monsters Contact Info
Official Account: @steemmonsters
Website: https://steemmonsters.com
Discord: https://discord.gg/CAFJRjY