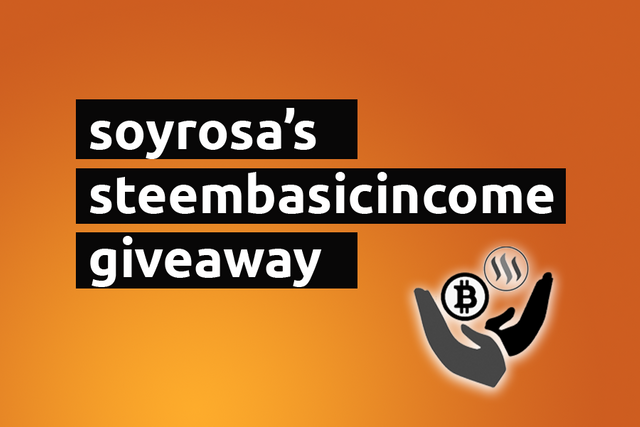 I mean, why not?
What is SteemBasicIncome?
---
SteemBasicIncome (SBI, @steembasicincome) is a program that was build and invented by @josephsavage - basically through buying a share in the SteemBasicIncome program both you and the Steemian you sponsor will get upvotes for life! Now, with only 1 share in the program that upvote won't be significant and might not even be coming in on every post. But since there is no limit to how many shares you can buy in the program, your SBI balance can grow to such heights that upvotes are quite relevant for your overall post payout.
Sounds good, doesn't it?
So, what will I get exactly?
---
If you are selected to receive one of the 50 SBI shares I'll give away after post payout, you'll get a notification from me plus you can see in my wallet that I have sent 1 STEEM to @steembasicincome with your name in the memo. From that moment on you can expect to see an upvote from one of the accounts: @steembasicincome, @sbi1, @sbi2, @sbi3, @sbi... You get the gist.
How can I win?
---
First things first: No Upvote, No Follow, No Resteem required!
Inspired by the famous @contestkings philosophy... If you don't follow that account yet make sure you do! They do and share amazing giveaways daily!
What I'd like is a comment: which user (other than yourself!) that has been blogging consistently do you believe I should get to know/follow? The one who comments, not the one you mention, is the one who is in the race to win!
---
I recently learned through @abh12345's charts I have basically stopped following new people after my first half year on Steem. It's like I stopped networking, or maybe, if I think back on that period, I had a hard time keeping up with even the ones I already followed, let alone getting to know even more Steemians.
But, it seems I have everything under control now, or is no-one active? Because my feed is often in need of new content. And that's something that should change. I love users who are responsive and engaging and create high-quality content (which is subjective, so don't be shy to share!)
I'll go through all the suggestions, and if I liked yours, you'll get on my shortlist to receive a share! I might add the person you mention, I might not, I might give one Steemian 3 shares, the other 1... The rules are mine and totally subjective, so see this as a light-hearted way to spread some love for someone you think is creating good content, with a possible bonus in the form of a share in the SBI program!
---
TL;DR: hit me up! Who's that Steemian you suspect I'm not following yet that I have to get to know? The floor is yours!
---
Edit 1: And since the first comments were, jokingly, but still, self-nominating, I want to add: name someone other than yourself! :P If I don't know you I might check out your profile anyway... ;-)
Edit 2: The amazing guys from @crowdmind added 15 STEEM to the price pool!!! I have no idea who is going to win it, maybe it will go to the one or three people spending the most thoughtful comment(s), I don't know yet! But I do know it will be in the spirit of @crowdmind, follow them if you don't do so yet! :-)