Greetings ShareDrop community!


  We hope everyone is enjoying their weekend. We have a few updates for you this week as we have been working hard behind the scenes to develop our platform and bring you only the best in legit Airdrops (and bounties). We will discuss a bit on how our ShareDrop rounds work, how to enter them properly, and some common mistakes we are seeing. We will be implementing an Ambassador and Marketing partner program, as well as ICO referral bonuses to reward users with an equity stake in our platform! And also we have a few ideas to improve our asset pool, one of them being running Masternodes.
 Ambassador and Marketing Partner programs!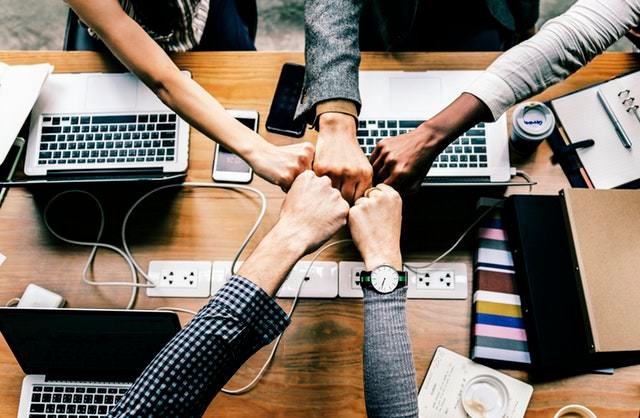 We are very excited to announce our new Ambassador and Marketing Partner programs!

 We are choosing not to hire a Marketing team member full-time. There are few suitable candidates and we are partnering with several marketing and ICO services in the blockchain space. In place of what we would pay them out of our maintenance fee %, we will instead pay YOU to market for us! Many of you belong to large channels, forums, reddits, etc. or may manage some yourself. Or maybe you know someone who does that can help get the word out about our platform. This is a way to earn a % of all the tokens we retain from users you onboard for an ENTIRE YEAR!


For Ambassadors 10% (100-999 Users):
 
  Anyone who uses their referral link to register 100+ new qualified users who complete all required tasks of entry in the MOST RECENT round and earn at least 5 SHAREs will earn the title of Ambassador. Ambassadors will receive 10% of the tokens we retain from the qualified users they bring to the platform for 1 YEAR. We will pay these out in SHAREs but can also exchange for the ETH equivalent (minus small exchange fee TBD) until we build our exchange for all users to exchange their SHAREs for the ETH in the asset pool.


For Marketing Partners 15% (1,000+ Users and beyond):

 We are offering exactly what we do to all our ICO and marketing service partners. 15% of all tokens retained from qualified users onboarded for 1 YEAR. The rest is the same from above.

For example: On-board 5,000 qualified users, who earn $10/day in referrals = $50,000 in tokens. We retain 10% at this level, = $5,000.

Your share of that is 15% = $750/day, or $22,500/month. And $270,000 over the course of 1 year.
(Estimated based on value of tokens at ICO price)

Not too bad just for spreading the word to the large, built in audience of 100,000+ users who seek airdrops daily, and receive much less from competing airdrop channels. Anyone with a presence on social media (Twitter, YouTube, Forums, Blogs, Instagram, etc.) could easily reach this number.

ICO Airdrop Client Referrals 12.5% (JACKPOT! 25,000 - 50,000+ USERS)
 
Do you know of a project that needs to do an Airdrop? We are partnered with some of the best platforms in the business (i.e. our favorite: WeStart.co) and can provide cost savings, reach a larger audience, and deliver more value to users with our unique platform. Give them our contact information: [email protected] and let us do the talking!

You retain 12.5% of all the tokens retained from new, qualified users who meet all the same requirements as listed above, for 1 YEAR. This could easily exceed tens of thousands of users, and is only good for NEW users. So even though this is no limited-time offer, the amount of new users you can get now is MUCH greater than the amount you will get once these 100,000+ users find us after the first major Airdrop we host.

We have a few ICOs on our schedule, but we cannot name names at this point and must respect our clients privacy. Once this happens, our userbase will climb to where it needs to be to fund our project and implement all the promised features on our roadmap and newsletters. ALL token distribution of SHAREs and tokens to marketing partners will be 100% transparent and in our newsletter and in the future, our website.

Masternodes in the Asset pool
  In our quest to add value and reward our users as much as possible, we are always exploring how to deliver more money to the pockets of each SHARE token holder. One of the options we are considering is running Masternodes. Masternodes perform important functions on networks and are rewarded with blocks (tokens) for doing so. Instead of providing powerful hashing power, they secure the network by holding large deposits of tokens to provide trust and security. Their output is fairly predictable and they provide a continuous stream of revenue. This will add to the total value of our asset pool, and increase the value of each SHARE token for the lifetime of the node. We have not determined exactly what percentage of the asset pool will be allocated for Masternodes, but we are strongly considering running at least a few of them. 
Entering ShareDrops correctly
 As we have begun sorting out who is eligible for SHARE tokens and who is not, we have noticed some common errors. One of them is posting the incorrect link in the corresponding box for each SHARE eligible Airdrop. You must enter via our Telegram/Twitter/Reddit/Steemit/ShareDrop/ channel links and then SAVE the referral link that Airdrop gives you (in a notepad or word doc). This is the link you paste in the box for each SHARE token eligible Airdrop. Do NOT paste your vy.tc referral link for ShareDrop! That is only for sharing with your friends and earning referrals! Example: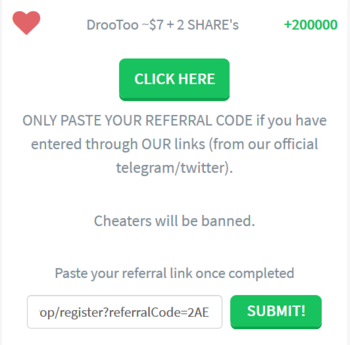 Also we have WAY too many people attempting to use fake/brand new accounts. If you do not receive SHARE tokens, this could be why. It is CLEARLY stated in the rules on the front page you must use your real social media accounts. These blockchain projects pay a LOT of money for you to advertise for them. If you have nothing but airdrop posts on your walls and a new account, odds are you will be removed as a cheater. We do not give warnings, and repeat/intentional offenders will be blacklisted. We must protect the value of our SHARE tokens and will only award them to real, authentic users who contribute.


Asset Pool / Circulating Supply update:


 Value: 0.000 ETH
Circulating Supply of SHARE tokens: 55
# of SHARE eligible Airdrops that have distributed tokens: 0
 We launched April 18th. None of the airdrops we have awarded SHAREs for have distributed tokens. Once all the airdrops for each SHARE round distribute their tokens, we will then distribute SHAREs earned accordingly.


Thank you for choosing ShareDrop
 That's all we have for you this week! Our website is still under construction and will get a much needed face-lift soon. We are busy talking to potential clients and forming partnerships with ICO and Marketing companies, and working our hardest 7 days a week to bring you the best in Airdrops and Bounties.

Stay tuned to our Telegram (or Twitter or Reddit) for all the latest!

All the best,
-ShareDrop Team

P.S. ShareDrop Round 9 is LIVE!