The Wrath of Nail Man – This Photographer's True Nightmare Story (plus my #scaryphotostory contest – 13 SBD in prizes!)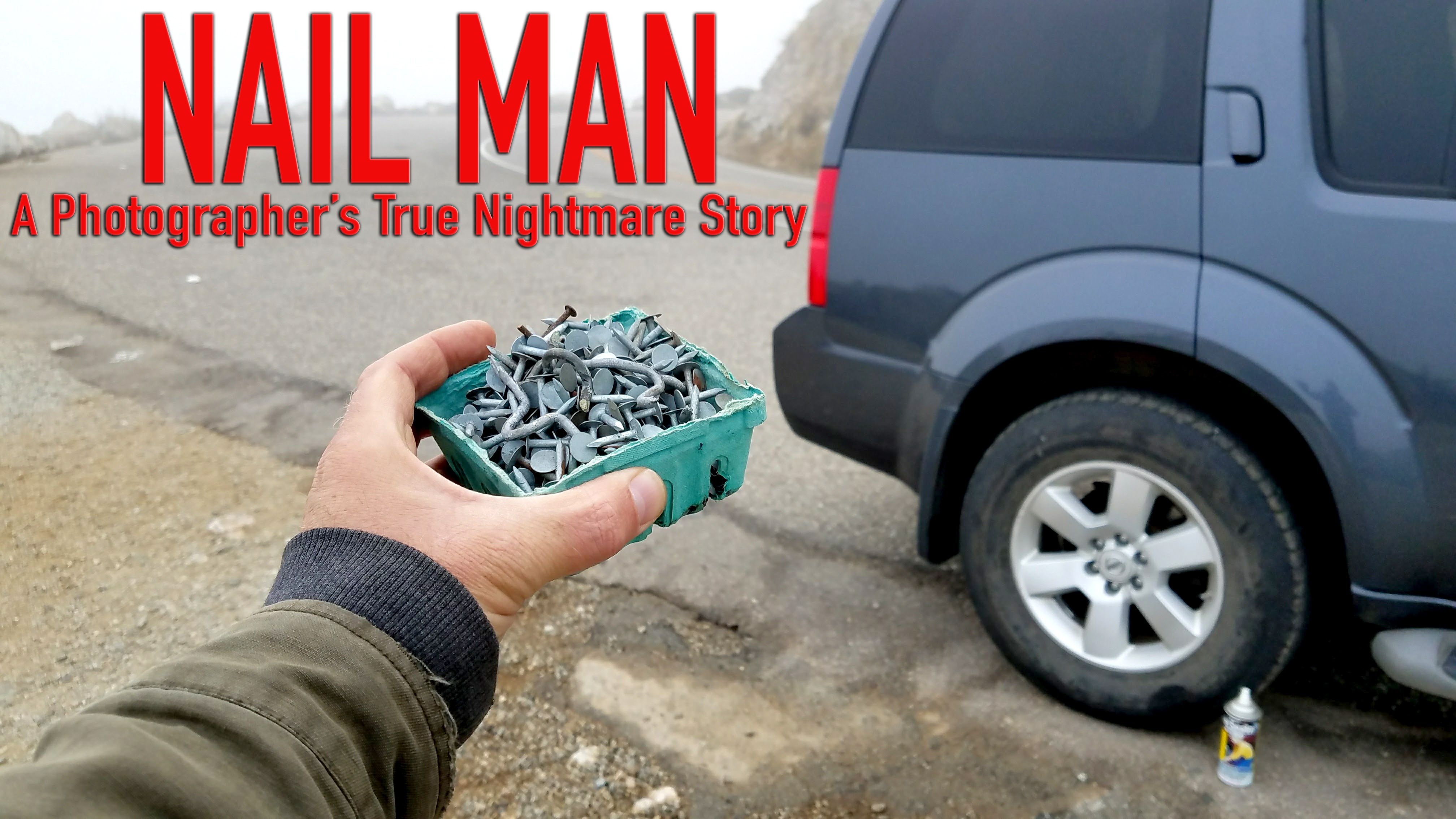 The following is a true story that left me standing with my knife in my hand, scared for my life. Nail Man is what I now call him and I believe he was trying to kill someone, fortunately it was not me that day.
It was July 3rd, 2017 and my son and I were camping in Big Sur with family and friends. I decided to wake up early that day, around 3am, to photograph Bixby Bridge at sunrise. The sunrise wasn't great, but I did end up with a decent early morning panoramic shot at the bridge. On my way back to the campground I pulled over at a few view spots to see if there were any other cool photo opportunities. At the third stop, I encountered Nail Man.

I didn't realize the danger at first. I got out of my Pathfinder, walked over to the edge of the pull over to get a better look at the ocean, and turned around to go back to my ride as there was no interesting shot for me to take. It was then I realized something was very, very wrong.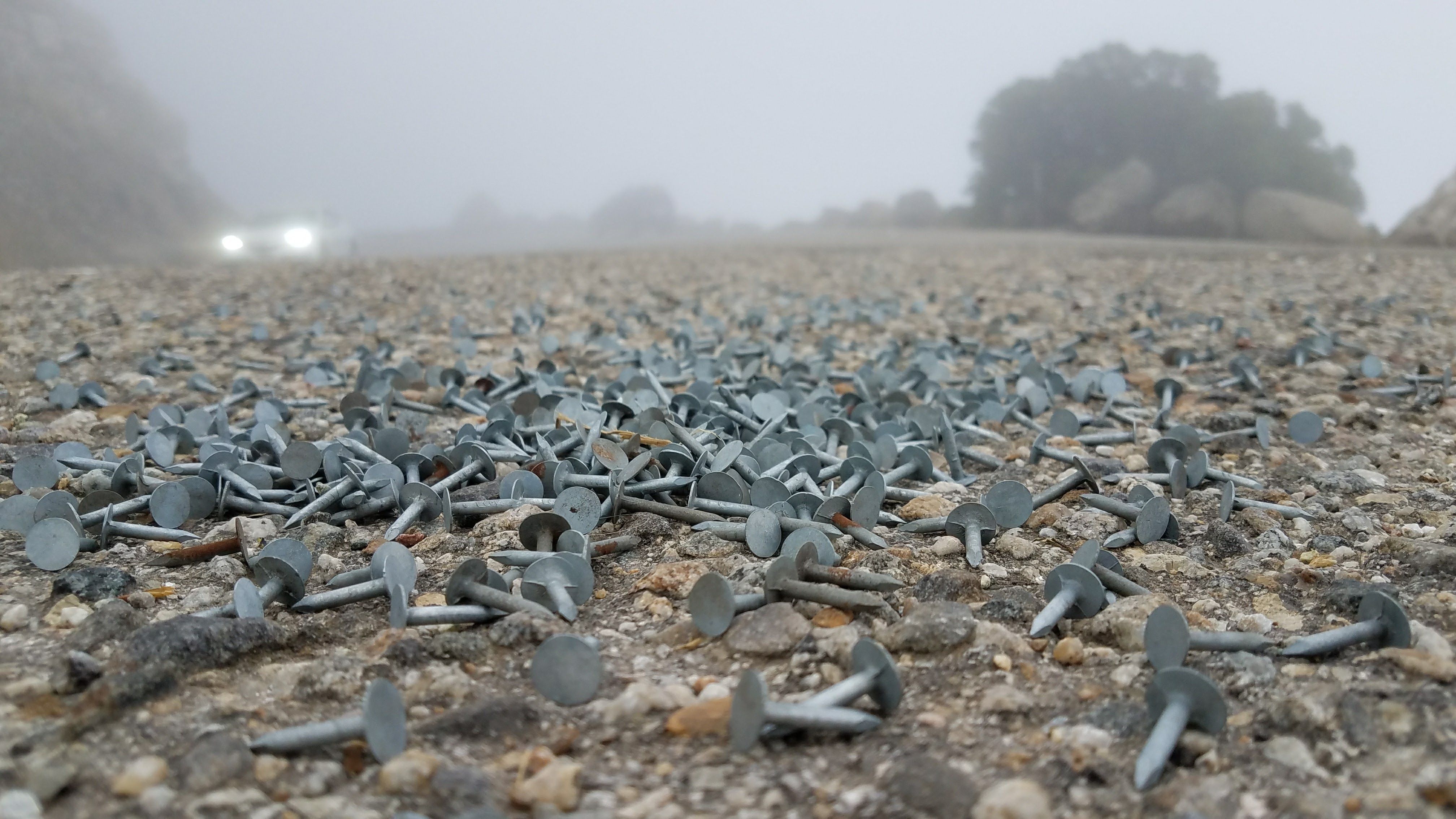 I first noticed one nail on the ground, then a few more, then I realized the ground surrounding my car was covered in nails. The nails were not just around my car, the entire pull off area was covered, from the dirt to the edge of the road. Literally thousands and thousands of nails. At first I thought it might have been an accident but it didn't make sense, they looked like they were deliberately spread around. And then I noticed weird corkscrew like metal spikes mixed in with the nails. This was obviously the work of a crazy person trying to pop tires.
A bit of panic started setting in as I realized I had just drove over thousands of nails and there was a good chance I was going to have four flat tires. This all happened very fast and it was at this time I noticed an old rusty Subaru station wagon (or similar looking car) at the opposite end of the pull off, maybe 150 feet away. The driver appeared to be a man with long grey hair but it was hard to see details. Chills ran up my spine as I stared at the car and I wondered if this was the nut who spread the nails. At that moment his car started, he backed out onto the road, and sped off in the opposite direction of me.
I really started to freak out at this point. I wasn't sure if the Nail Man was coming back. I wasn't sure if this was some weird trap where I was now going to get mugged since I couldn't drive away. My instinct was to jump in my Pathfinder and drive away as fast as possible, but I knew I had nails in my tires and I would have to drive over more nails to escape. So I grabbed my big camping knife from my camera bag and prepared myself for Nail Man's return.
After a few minutes of being in fight or flight mode, I started calming down and started thinking. I had to clear a path in the nails so I could drive out. But my tires... I looked them over and pulled many nails out by hand that were just barely stuck in the tires. Miraculously, I found only one deep nail in one tire. How lucky was that?! I had a can of Fix-A-Flat so I knew I could potentially fix my tire enough to get back to camp.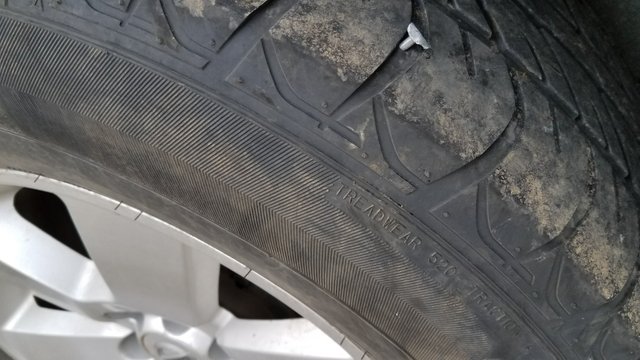 I spent the next hour picking up nails by hand, looking over my shoulder and wishing my knife was bigger. The whole time I was feeling sick to my stomach and I felt like I was stuck in a bad dream. Finally, I had a path cleared back to the road, but then it struck me. More cars were starting to drive down the highway and someone else would probably be pulling over here soon for some sightseeing. My phone initially had no signal but I walked out away from the pull off, stood on a big rock, and BAM, one bar of signal. I called 911 and explained the situation and that they really needed to get someone out there with a big broom asap.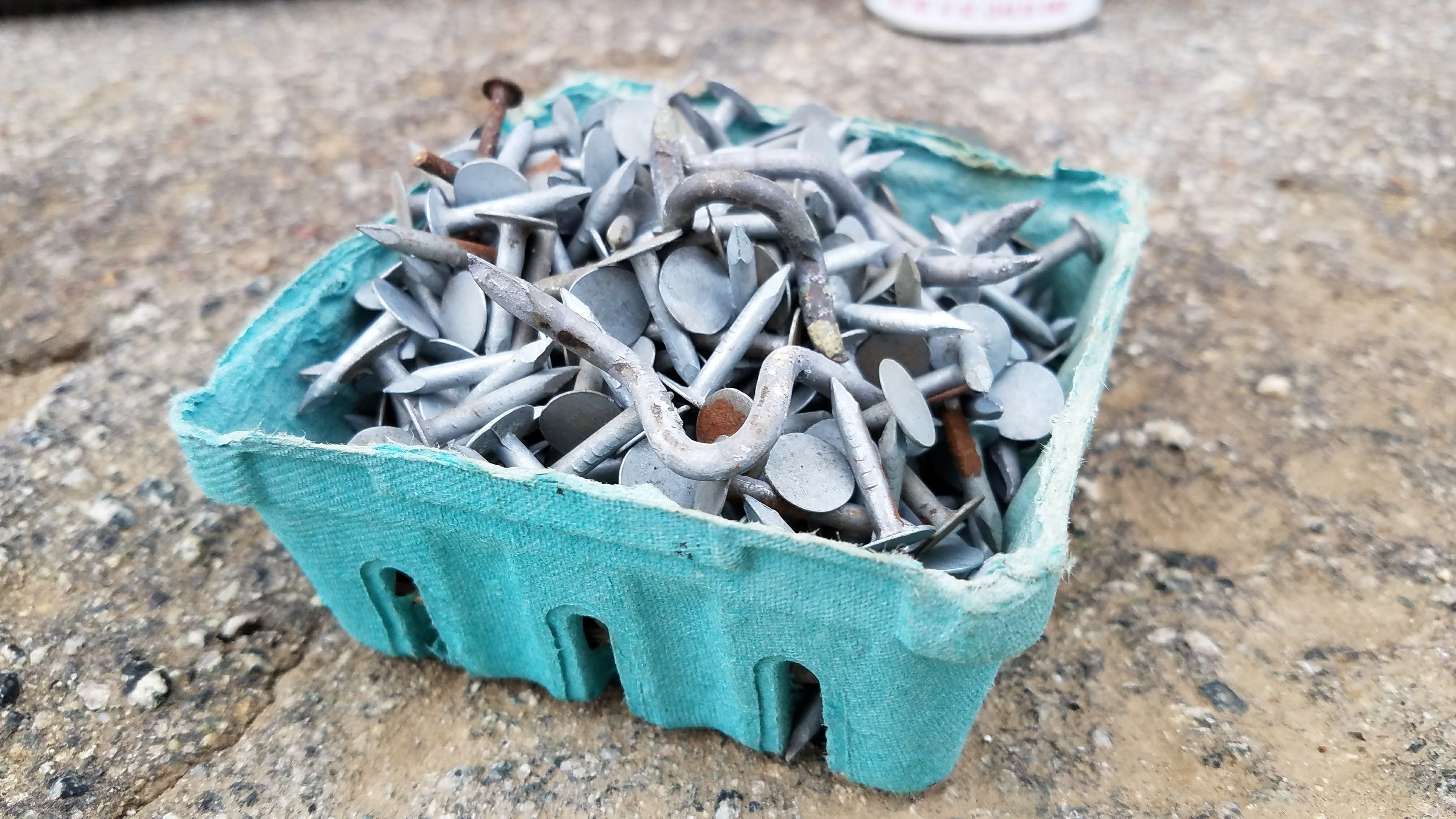 While I was on the phone, sure enough, a big rig pulled over to let some faster cars pass. I shouted NO!!! but it was too late and the driver pulled back onto the road. The dispatcher assured me that CalTrans was on it's way to clean the scene up and she helped me feel like they would be ready to tow people with flat tires.
I was preparing to head back to the campsite when I realized that no one would believe me when I told them this insane story so I took a few photos. I walked down to where the old rusty car was parked and wouldn't you know it, there were no nails in the area where his car was. I believe he was indeed the Nail Man.
CalTrans was taking a long time to arrive so I decided it was time to head back to camp. I knew my son would be wondering why I was not back making an awesome bacon breakfast at this point, so I sprayed some of the Fix-A-Flat into the tire, pulled the one deep nail out with pliers, and YES! No air leaked out. I hopped in the drivers seat and was out of there!
I have no idea what Nail Man's motive was. If someone were to have slightly swerved off the road into the pull off at a high speed, they could have ended up with a bad blow out that could have potentially flipped the car in the turn or sent them off the road down the cliff. Maybe it was a crazy activist that didn't want tourists in the area, maybe he was just an insane local who hated people in his backyard, maybe it was somebody who had recently got a speed trap ticket there, or maybe it was someone who hated speeders on the road. Maybe, maybe, maybe, I have no idea.
Here's the keeper photo of Bixby Bridge that I shot that morning. Unfortunately I can't look at it without remembering Nail Man so it is not a favorite photo of mine. I have nothing to offer in the way of education in this post, just a crazy story I had not written down until now.
Be safe photographers and travelers! Nail Man is still out there....
Ok, now to the CONTEST!!!
I want to hear your crazy, spooky, insane #ScaryPhotoStory. What have you experienced while out shooting photos or video that made you wish that you had stayed at home that day?
The rules are NO PLAGERISM and only tell a true story, no fiction, and any photos or vidoes must be yours. You must have at least one photo or video to go along with the story. Oh, and the story must be posted on your Steemit blog.
Tag your post with #scaryphotostory and you must post a link to your story in the comments below.
Try to write at least three paragraphs and try to limit longer stories to about 2000 words max or about a 5 minute read max.
I will be reading your posts and I will choose my favorite scary photo story at the end of the two weeks. My son Kane @enak may help me choose a winner (@enak is who actually came up the the name Nail Man when I got back to camp and told the story.) You have two weeks, until Friday, March 16, 2018 at 8 pm Pacific Standard Time to get your entries in.
The first place prize for my favorite #ScaryPhotoStory is 10 SBD! I will be posting about the winner's story and I will need to use one of your photos and some of your text. I will of course also post a link to your story and encourage others to go read it and upvote it.
Second place prize is 2 SBD and third place price is 1 SBD.
Runner up stories may have an honorable mention.
Upvotes and resteems of this contest post are greatly appreciated. Lets make this scary writing contest go BIG!
Thank you for reading this long post and thank you for entering the contest! Cheers!
Scott Thompson
Scott Shots Photography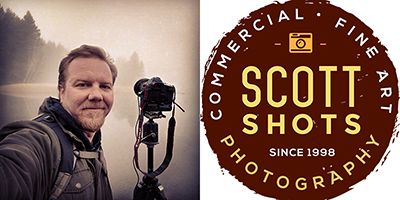 Previous posts: