To enter, visit this post, read the contest description, then do the following: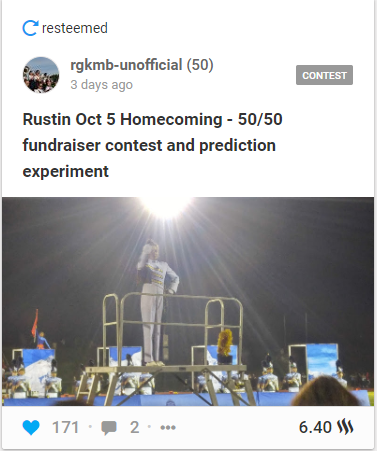 resteem that post;


upvote that post with at least 10% voting strength;


Reply to that post with a number between 1 and 10,000.


(optional) Make a prediction for the game outcome and total points for Rustin High School's homecoming football game against Oxford high school.
---
The contest ends Friday at 7pm (US/Eastern). Liquid rewards from the post in the picture go to the contest winner. As of now, two days remain and there have been no entries, so the first person to repsteem/upvote/reply with a number between 1 and 10,000 might win it.
Do not resteem, upvote or reply to this post. Go to the linked post to enter the contest, which is running under the @rgkmb-unofficial account.
All rewards from this post are delegated to @rgkmb-unofficial and @steempeak.

The @rgkmb-unofficial account is an experimental account that is operated by Steve Palmer (@remlaps). The account's purpose is to demonstrate the viability of a fund-raising model that is based on use of the Steem block chain in the community. The account's goal for 2018 is to raise enough money to send one student on the Rustin Golden Knight Marching Band's trip from Pennsylvania to Florida in December for performances in the Citrus Parade and in Disney. For more information, see our introductory post: Introducing Steem to the Rustin Golden Knights Marching Band