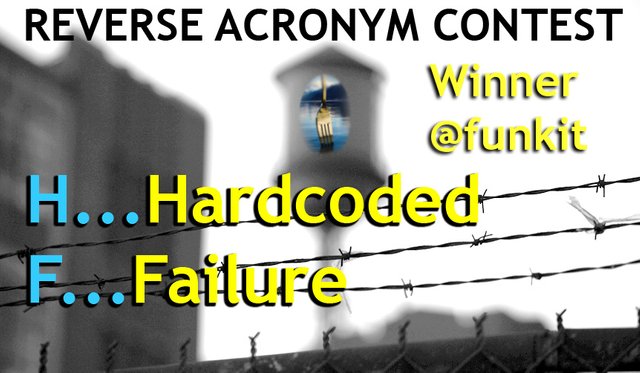 The Entries
We received 41 entries with a lot of action on the blockchain right up to the epic fail of HF20! So its no surprise that @funkit grabbed the 5 Steem prize with his entry "Hardcoded Failure!" Congratulations and lets try to be more positive next time.
Grand Prize
"Hardcoded Failure" @funkit (5 STEEM)
A Big Thank You To All The Participants!
@losthippie @hayzeed @dreamer007 @funkit @teresah @jdbs @poyim @onefatindian @cyberspacegod @mariela53 @visabella @edgrand @gillianpearce @markkujantunen @liznellacastillo @georgechuks @bridgetnnenna @eveokonma @michael11 @stellastella @leighleigh @florino @zekepickleman @lovepreet2511 @overkillcoin @ecoinstant @gabeboy @roxy-cat @hedidylan @steempampanga @hubyr @khiabels @quatro @dinglehopper @london65 @noechie1827 @allyson19 @renald @santos1983 @iamjadeline @iamthegray
STAY TUNED
The next contest will be posted when the HF allows!!!
UPVOTE • RESTEEM • FOLLOW
Support the contest and win STEEM!
---

Thanks for the art @overkillcoin... minnows, dolphins, whales... I'm down with squid!