Competition time and two-fingered salutes to the @sbi and @markymark hating, downvoting knob-heads.....WIN 10 SBI shares
@sbi has been hitting the headlines recently as someone who seems to intensely dislike SBI users has been downvoting people for being a part of this what I consider to be a really nice sharing, community initiative. At the same time, threatening memos have been sent to lots of users who have nominated @markymark as a witness.
To be honest, I didn't get one as in a pique of childishness and brattery to which I'm occasionally prone, I deleted all my witness votes a few months ago and only slowly started voting again one at a time. Thanks to this wicked moron, it reminded me to add @markymark back and I'd suspect this act of thuggery has actually had the inverse effect and actually gained him votes. Anyway, what to do about @sbi? Simple. Run a competition in which the first prize is 10 SBI shares, and this is what you have to do...............
The wife and I went to a local Temple fair tonight and there was a nice lady selling these T-shirts for 100baht (or 130baht if you needed XL!) all beautifully laid out in a multitude of colours. I decided to buy one and all you have to do is guess which colour I.....OK, the wife, chose!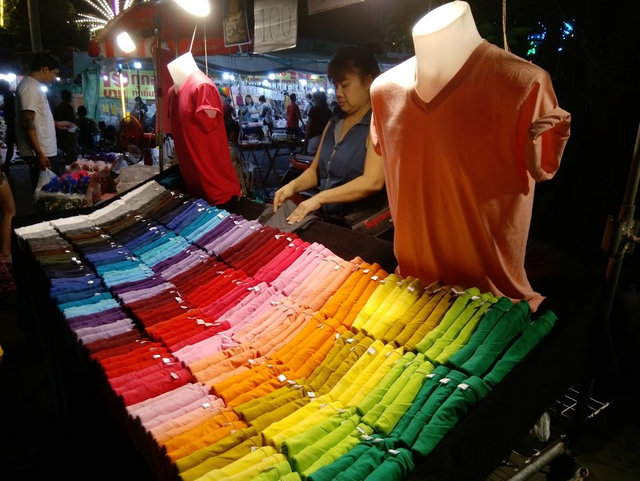 PS The grey one that the stallholder is folding isn't mine!!
One entry each and everyone gets an SBI share and if someone gets it spot on, they will get 10, if more than one person gets it right the prize is shared!
That's one idiot triggered, and to make sure the other idiot gets triggered too......

Bring it on.....
Competition will run for a week. Goodluck :-)