Formula-1-Steemit Contest - Race #21 - Abu Dhabi, UAE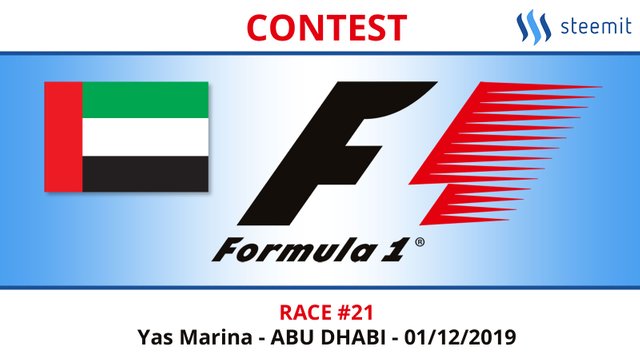 | GP | 1° | 2° | 3° |
| --- | --- | --- | --- |
| Abu Dhabi | - | - | - |
| Brazil | Verstappen | Gasly | Sainz |
| USA | Bottas | Hamilton | Verstappen |
| Mexico | Hamilton | Vettel | Bottas |
| Japan | Bottas | Vettel | Hamilton |
| Russia | Hamilton | Bottas | Leclerc |
| Singapore | Vettel | Leclerc | Verstappen |
| Italy | Leclerc | Bottas | Hamilton |
| Belgium | Leclerc | Hamilton | Bottas |
| Hungary | Hamilton | Verstappen | Vettel |
| Germany | Verstappen | Vettel | Kvyat |
| Great Britain | Hamilton | Bottas | Leclerc |
| Austria | Verstappen | Leclerc | Bottas |
| France | Hamilton | Bottas | Leclerc |
| Canada | Hamilton | Vettel | Leclerc |
| Monaco | Hamilton | Vettel | Bottas |
| Spain | Hamilton | Bottas | Verstappen |
| Azerbaijan | Bottas | Hamilton | Vettel |
| China | Hamilton | Bottas | Vettel |
| Barhain | Hamilton | Bottas | Leclerc |
| Australia | Bottas | Hamilton | Verstappen |

Gara #21 – Abu Dhabi, Emirati Arabi
Un saluto a tutti,
Eccoci anche quest anno alla conclusione del campionato di F1, e così anche della nostra serie di contest. Come ormai capita da qualche anno, l'ultima gara si svolge ad Abu Dhabi, sul circuito al porto di Yas Marina. È una bella pista, veloce e spettacolare, dove la gara parte al tramonto per finire in serata, con il buio e le luci artificiali accese. Il tracciato ha un lungo rettilineo che può favorire i sorpassi utilizzando il DRS, e altre parti più tecniche ma che possono portare ad ulteriori sorpassi.
I campionati piloti e costruttori sono ormai chiusi, ma le squadre e i piloti punteranno come sempre alla vittoria e a fare bene. Sicuramente però già proiettati verso il prossimo anno, e sullo sviluppo delle prossime vetture, completamente nuove.
Godiamoci questa ultima gara, e pensiamo al nostro campionato qui su Steemit, che non è ancora chiuso!
---
Regolamento del concorso
Dovete upvotare il post manualmente al 100%.
Resteem non obbligatorio, ma consigliato: ovviamente può aiutare a far aumentare il valore del post portando nuovi concorrenti (ditelo anche ai vostri amici).
I pronostici vengono raccolti commentando questo post, per i primi tre classificati, ad esempio 1. Vettel - 2. Hamilton - 3. Raikkonen.
Potete votare fino alla partenza della gara. L'orario verrà controllato anche attraverso GinaBot su Discord e SteemWorld.
Vengono assegnati 3 punti a chi indovina il primo classificato, 2 al secondo, 1 al terzo. La somma dei punti, farà la classifica dei vincitori, che eventualmente si divideranno i premi: 30% - 20% - 10% del valore del post al momento del pagamento, dopo 7 giorni.
Ricordo i premi extra di fine campionato:
15% di quanto raccolto e non assegnato per il vincitore del nostro campionato Formula-1-Steemit;
15% (come sopra) per il vincitore del pronostico sul pilota campione del mondo di Formula 1. Il vincitore sarà chi esprimerà la preferenza corretta per primo, quindi meglio farlo durante i primi GP o quando iniziate a partecipare.
Aspetto i vostri commenti e pronostici.
In bocca al lupo a tutti!
---
Passiamo ora al recap nostro concorso
Risultato un pò inatteso in Brasile nell'ultima gara. Il primo posto di Verstappen poteva anche essere una possibile previsione, ma il secondo posto di Gasly e il terzo di Sainz hanno spiazzato tutti. Infatti nessuna delle nostre previsioni ha avuto risultati positivi. Nessuno ha ottenuto premi o punti e la classifica è rimasta invariata.
Ci sono ancora punti per questa ultima gara: riuscirà @jonelescalona a mantenere la testa della classifica? @c3r34lk1ll3r e @ciuoto riusciranno a guadagnare altri punti per arrivare a vincere? Lo sapremo domenica dopo la gara.
Da notare il contatto tra le due Ferrari, che oltre ad avere gettato in fumo la gara di entrambi i piloti, ha scatenato non poche polemiche e discussioni internamente alla squadra. Si dice che si siano chiariti e abbiano risolto, ma secondo me ci saranno novità. Staremo se e quali saranno.

Race #21 – Abu Dhabi, UAE
Hello everybody,
Here we are at the end of the F1 championship this year, and so is our contest series. As has happened for some years now, the last race takes place in Abu Dhabi, on the circuit at the port of Yas Marina. It's a beautiful track, fast and spectacular, where the race starts at sunset to finish in the evening, with darkness and artificial lights on. The track has a long straight which can favor overtaking using the DRS, and other more technical parts that can lead to further overtaking.
The drivers and constructors' championships are now closed, but the teams and drivers will always aim to win and do well. Certainly however already projected towards the next year, and on the development of the next cars, completely new.
Let's enjoy this last race, and let's think about our championship here on Steemit, which is not closed yet!
---
Rules of our contest
You have to manually upvote the post at 100%.
Resteem not mandatory, but recommended: obviously it can help to increase the value of the post by bringing new competitors.
Predictions are collected commenting on this post, for the first three classified, for example 1. Vettel - 2. Hamilton - 3. Raikkonen.
You can vote until the start of the race. The timetable will also be controlled via GinaBot on Discord and SteemWorld.
Who get the 1st position will raise 3 point, 2nd place 2 point, 3rd place 1 point. The sum of the points will make the ranking. The ones in the same position will divide the prizes: 30% - 20% - 10% of the final value of the post at the moment of the payment, after 7 days.
I remember the extra end of season prizes:
15% of the amount collected and not awarded for the winner of our Formula-1-Steemit championship;
15% (as above) for the winner of the prediction on the World Champion Formula 1 driver. The winner will be who will express the correct preference first, so it's better to make your guess during the first races or when you start playing with us.
I'm waiting for your comments and your choices.
Gook luck to all!
---
Let's talk about our contest
Unexpected result in Brazil in the last race. Verstappen's first place could also be a possible prediction, but Gasly's second place and Sainz's third displaced everyone. In fact none of our predictions has had positive results. No one got any prizes or points and the ranking remained unchanged.
There are still points for this last race: will @jonelescalona manage to keep the lead? @c3r34lk1ll3r and @ciuoto will they be able to earn more points to get to win? We will know it Sunday after the race.
To note the contact between the two Ferraris, which in addition to throwing the race of both drivers into smoke, sparked many controversies and discussions within the team. It is said that they have been clarified and solved, but I think there will be news. We will stay if and what will be.

Race #20 - Results


FESteem Ranking

Official FIA Formula 1 Site
Official FIA Formula 1 Youtube Channel

Immagini CC0 con diritti di modifica
CC0 Image labeled for reuse with modification