Results of Week Two and New Prompt for Week Three!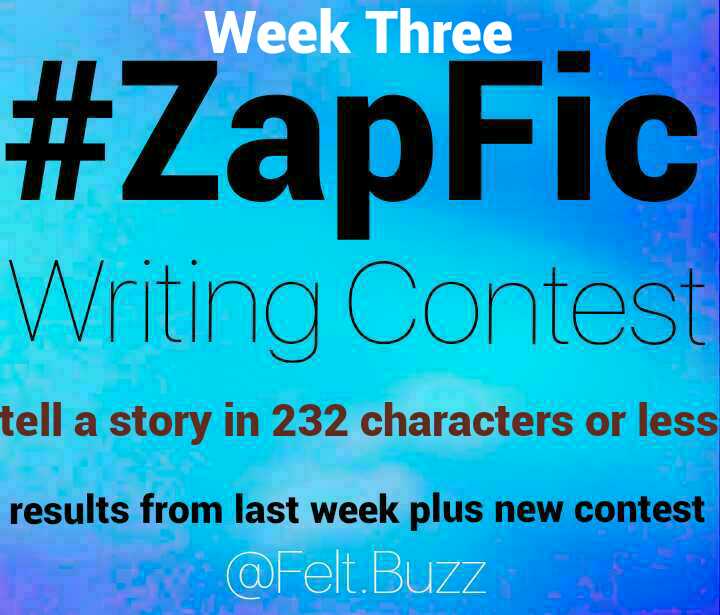 #zapfic is a very short story (written in 232 characters or less) posted on the steem blockchain via Zappl.
I was introduced to the idea of writing very short stories on @zappl -#zappl-fiction - by @mydivathings. I thought it was a great challenge, and thought it would be a great idea if more people get on board!
What is Zappl and how do I sign up?
@Zappl is a micro blogging site (like Twitter) that is linked to the steem blockchain. What you post on zappl appears on your steem feed. You have 240 characters (including hashtags) you can use to post on zappl plus a title (not included in the character count) and you can add your own picture too.
Hint: once posted don't edit your published Zappl post on steemit. If you do it will disappear from Zappl (although it will stay on steemit).
You can find Zappl here: https://zappl.com/ (it is also available as a phone app.)
You can use Zappl straight away - because it runs on the steemit block chain all you need is your steemit user name and your posting key.
For more information on Zappl and writing fiction on Zappl contact the Zappl Community Influencer for fiction @mydivathings
Results of the #zapfic contest (week two)
We had 9 valid entries for the first week of the #zapfic contest! Thank you everyone for taking part! I really enjoyed reading every one of them, if you haven't done so already please take a look (the nature of the medium means they don't take long to read!)
The SBD payout of last week's post was only 0.16SBD (I rounded it up to the same as last week 0.40 because either a) I am 'generous' or b) because I couldn't be arsed to calculate such a small amount - you decide)
They were all really good quality stories and it was hard to choose between them, but I have chosen the following winners:
1st prize 0.70SBD (0.50+0.20 (50%of the post's SBD payout of 0.40))
@tygertyger
https://steemit.com/zapfic/@tygertyger/eyes-wide-open
Wonderfully poetic reflection on human nature and religion
2nd prize 0.42SBD (0.30+0.12 (30%of the post's SBD payout of 0.40))
@soorefunmi
https://steemit.com/zapfic/@soorefunmi/my-reflection
Two relfections in one, in this autobiographical piece
3rd prize 0.28 (0.2+0.08 (20% of the post's SBD payout of 0.40)
@eaglespirit
https://steemit.com/zapfic/@eaglespirit/first-zappl-post-reflection-with-felt-buzz
Reflecting on a night of partying. You can feel the energy in this one, and some lovely phrases
The other entries were also fantastic (listed in no particular order):
@wondersofnature
https://steemit.com/zapfic/@wondersofnature/crazy-stranger-zapfic-freewrite
A really cute story told from a dog's perspective.
@botefarm
https://steemit.com/zapfic/@botefarm/the-thunderstrike
Reflection on the creation of a phobia… with good reason. There is a wonderful phrasing in here
@thatlovechild
https://zappl.com/zapfic/thatlovechild/reflection
Spooky goings on in the mirror! Loved it
@iamthegray
https://steemit.com/zapfic/@iamthegray/the-legend-of-ji-a-short-story
A fierce sword battle, fantasy style!
@jadams2k18
https://steemit.com/zapfic/@jadams2k18/changing-the-world
Life lessons on litter and change!
@hartfloe
https://zappl.com/zapfic/hartfloe/just-keep-staring-through-the-separation
A poetic reflection on losing clarity.
On to new week's contest:
#zapfic Writing Contest Week 3:
Write a story - inspired by the prompt - in 232 characters, or less (the zappl limit is 240 but you need to include the tag #zapfic at the end) and post it on Zappl
Try to ensure you tell as complete a story as you can.
To read an example story click here to read it on Zappl or you can see the same story on my steemit feed or you can read a different story on zappl or steemit
As today is Mothering Sunday in the UK I thought this weeks prompt should be: birth
You can interpret the prompt as you wish (the story does NOT have to contain the word "birth" in it)
Rules
The story must be posted on Zappl (once posted don't edit it on steemit or it will disappear from Zappl)

It must contain the hashtag #zapfic use lowercase

The story must be less than 240 characters long (including the hashtag, but not including title or picture)

The story must be your own work, and previously unpublished

If you post a photo (you don't have to, there are no "points" for photos, it is all about the story) it must be yours (not taken from the net). Zappl want to discourage posting of unoriginal photos on their platform and I agree with that stand!

Resteem and upvote welcome (the contest reward will depend on post payout, so the more people see it, the more upvotes, the bigger the final reward) but it is not essential

The link to your zap must be left in the comment section of this post

The deadline for submissions is the payout of this post

The judge's decision is final
Prizes
1st prize 0.5 SBD plus 50% SBD from the payout of this post
2nd prize 0.3 SBD plus 30% SBD from the payout of this post
3rd prize 0.2 SBD plus 20% SBD from the payout of this post.
Plus all valid entries will receive an upvote from the judge
Any leftover payout will go towards the following week's contest (leftover payout may result if there are less than three valid entries).
Zappl is still in beta, so you may experience trouble posting, from time to time. If you can try again later. If you have problems let me know.
Note: this contest is hosted, judged and run by @Felt.Buzz. It not affiliated with Zappl.
edit:
Please take note of the rule (above) regarding images with your post. If you post a photo, or other image, it MUST be your own. If you found it on the internet you must NOT use it. You do not get bonus points for using an image (this contest is about the images you create with words).
Zappl want to encourage people to only post their own original content (I agree 100% with this). If you found it on the web, I will be able to reverse image search and find the original too.
Thank you! and good luck!