Hello guys... Welcome to another episode of Show Us Your Witnesses Weekly Contest. This is the fourth episode of this contest but before we will proceed with it, we need to announce the result of the third episode.
Aim of the contest
To increase witness voting consciousness of steemians as well their knowledge of the roles witnesses play in ensuring stable ecosystem.

This contest is targeted at ensuring continuous increase in the witness voting engagement rate occasionally published by @lukestokes. This is currently put at 30.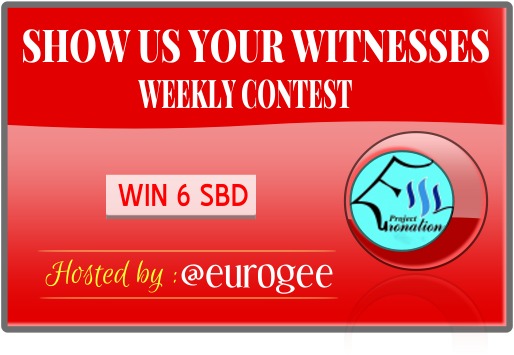 Witness votes delivered since inception
First episode delivered = 270 witness votes
Second episode delivered = 101 witness votes
Third episode delivered = 101 witness votes
Total witness votes delivered since inception
472 witness votes
Announcing winners of 3rd episode
In the third episode, we had a total of 5 entries whose performances are as given below:
@desmoniac polled 153 votes to emerge second runner-up winning 1SBD!
@burlarj polled 170 votes to emerge first runner-up winning 2SBD!!
@eunireal1 polled 182 votes to emerge winner winning 3SBD!!!
Congratulations!
Episode #4: the contest
We will be neutral regarding your choice of witnesses to vote. We do not canvass for votes for particular witness. This contest is for you select witnesses and cast your votes for them.
We will only show you how to vote and those you must not vote because they are currently inactive
How to vote for witnesses
Before you go voting, click this: https://steemian.info/witnesses. Take note of all the witnesses. Those in red colour have been struckthrough. This shows that they are inactive for now. So they should not be among witnesses you will choose. This is only valid for now.

Click this link in the page that opens, you will see a list of top 50 witnesses. If your choice witnesses are among the 50, click on the corresponding upvote icon to vote. If they are not among the top 50, scroll down and you will see a box similar to the below image. Type in the name of your choice witness and vote.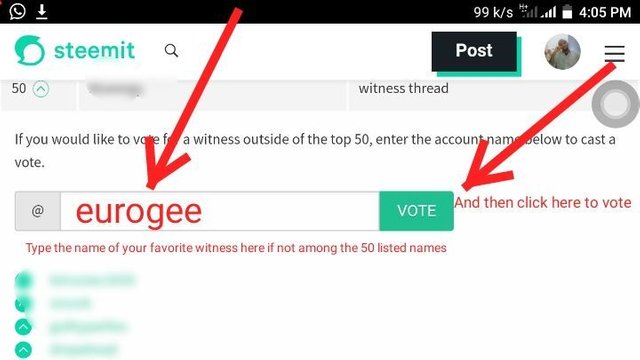 The rule of the contest & how to submit your entry
You must RESTEEM this contestto reach wider audience.

You must vote for at least 20 witnesses (you can vote for the maximum 30 allowed witnesses if you have reasons to).

Visit https://steemd.com/@urusername(substitute @urusername with your Steemit username). Scroll down and you will see the all the list of all the witnesses you voted for. Screenshot/snapshot it.

In not more than 60 words, state the roles witnesses play in sustaining steem blockchain as a reply comment to this contest article; and upload the screenshot/snapshot of your chosen witnesses under your comment.

Invite your friends to come and upvote your comment.

All your chosen witnesses must be active at the time of choosing them. To find out those that are active, refer to the Part I under How to vote for witnesses above.

Voting proxies attract outright disqualification.
This contest comes to an end on Sunday at exactly 3.30pm +1 GMT. Result follows thereafter.
Entry with popular vote wins but participant must have demonstrated to have good grasp of witness concept in steem blockchain.
Donators so far: @sircork
We need your support to continue with this impacting weekly contest
Proudly powered by @sndbox
---
---
---
@euronation is a team of people with common goals and desires. The team was created with the intention to create awareness around Steem ecosystem, getting new members on board the program, nurturing as well as mentoring towards excellence and helping them to find strong footing in the program. We guide new members on the ethos of Steemit, how they can be creative and come up with amazing ideas and impact the community at large.
The Team Is Made Up Of These Erudite Steemians:
@eurogee @edith4angelseu @smyle @sweetestglo-eu @drigweeu @bob-elr @dray91eu @jeaniepearl @adoore-eu
Join us on Telegram and whatsaap through the below links: