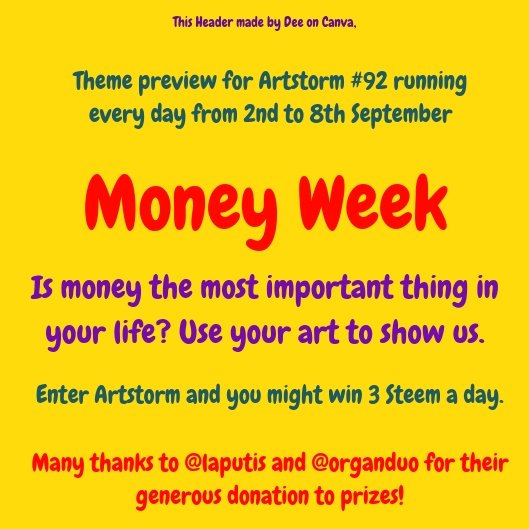 Hey Everyone!
This week we are thinking about how important money is in our lives. This idea was prompted in my mind because I and three others were told by some people on Discord that our posts were not wanted on Steemit and Steemspeak because we are not primarily here to make money. Use your art to show us how you feel about money and you might win 3 Steem a day.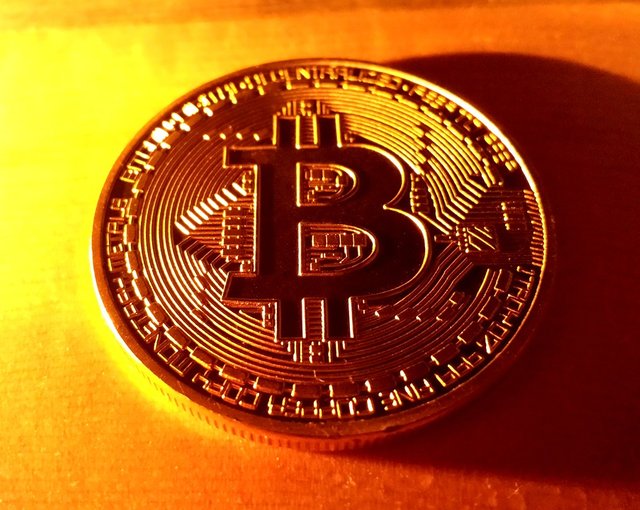 Here is a preview of the themes for Artstorm Contest #92... 'Money' Week:
What's the most important in life?
Monday 2nd September – Money or Food
Tuesday 3rd September – Money or Good Health
Wednesday 4th September – Money or Clean Water
Thursday 5th September – Money or Relaxation
Friday 6th September – Money or Shoes
Saturday 7th September - Money or Vacations
Sunday 8th September - Money or Love
Artstorm is a contest for challenging yourself and having fun!
Artstorm Contest #91 will run every day from 2nd to 8th September inclusive (7 days altogether).
Each day I post a 'Money' theme. Entrants should create pictures using the medium of their choice.
Each theme runs for two days.
Digital and non-digital (trad) art are accepted.
Your entries must be your own original work relating to the theme and created for this contest. No old art, please.
The prize will be 3 Steem each day.
All prizes are paid after two days, for the entry or entries I like best.
Winning entries will be carefully designed and presented.
Please post using Steemit or SteemPeak so I can upvote you.
This is what you need to do:
• Make a post for each of your entries with the title 'Entry for Artstorm Contest #92 - 'The Theme of the Day'.
• Leave a link to your post and a picture of your entry in the comments below.
• If you upvote and resteem this post it helps me afford the prizes for another contest.
Sorry, photography is not accepted.
The entry closing time after 2 days is 8:00 am UTC (Follow this link for a time zone converter.)
Don't leave entries here.
I will make a daily post for your entries.
I hope YOU will have time to enter and have fun!!


Why not use one of your witness votes to support "untersatz" run by @contrabourdon and @organduo?
This is their witness statement given to me on Discord:
Statement: Produce more blocks so we have SP to upvote our circle and keep providing you with Steem prizes.
I voted for them as I support the aim in their statement.
Follow this link to place your vote:
https://steemitwallet.com/~witnesses