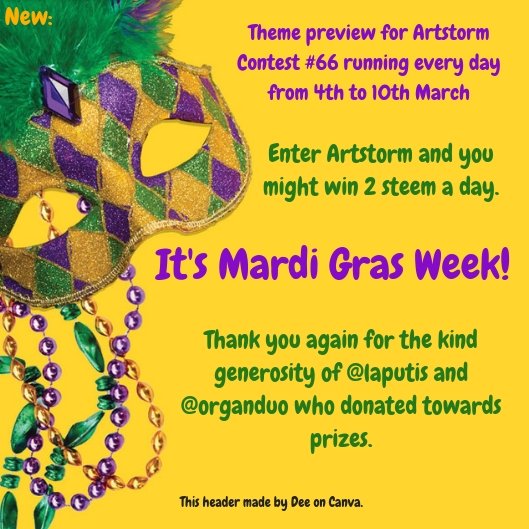 Hey Everyone!
It's Mardi Gras on Tuesday. Some countries call it 'Carnival' and, in my country, we call it Shrove Tuesday. I know many of you observe this tradition so it's Mardi Gras Week on Artstorm.
Have some art fun with us!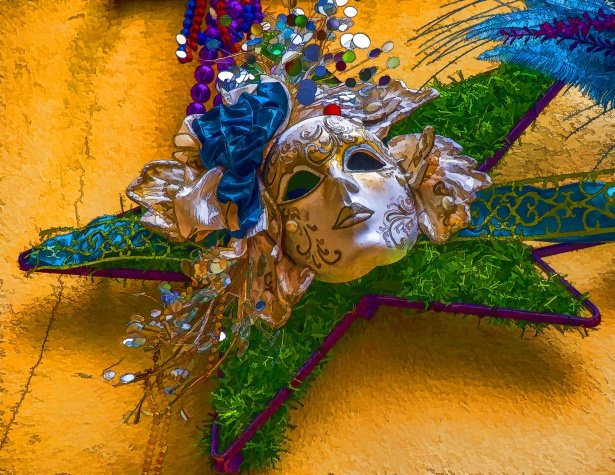 Here is a preview of the themes for Artstorm Contest #66... Mardi Gras Week:
Monday 4th March – Baking a King Cake
Tuesday 5th March – Mardi Gras Pancakes
Wednesday 6th March – 40 days of Lent
Thursday 7th March – Fasting
Friday 8th March – Masks
Saturday 9th March – Feather Trees
Sunday 10th March – Mardi Gras Parade
Artstorm is a contest for challenging yourself and having fun!
Artstorm Contest #66 will run every day from 4th to 10th March inclusive (7 days altogether).
Each day I post a Mardi Gras theme. Entrants should create a picture using the medium of their choice.
Each theme runs for two days.
Digital and non-digital (trad) art are accepted.
Your entry must be your own original work relating to the theme and created for this contest. No old art, please.
One entry per person.
The prize from me will be at least 2 Steem each day.
All prizes are paid after two days, for the entry or entries I like best.
This is what you need to do:
• Make a post for your entry with the title 'Entry for Artstorm Contest #66 - 'The Theme of the Day'.
• Leave a link to your post and a picture of your entry in the comments below.
• If you upvote and resteem this post it helps me afford the prizes for another contest.
Sorry, photography is not accepted.
The entry closing time after 2 days is 8:00 am UTC (Follow this link for a time zone converter.)
Don't leave entries here.
I will make a daily post for your entries.
I hope you will have time to enter and have fun!!