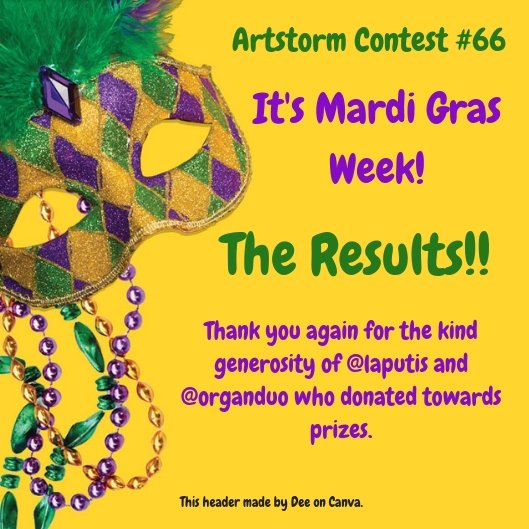 Hey Everyone,
Artstorm Mardi Gras Week - Day 1 - The Results!
Today there is one prize of 2 Steem.
Day 1 had seven entries.
The Mardi Gras Week theme was 'Baking a King Cake'.
@organduo is a winner of Day 1. I have transferred the prize of 2 Steem.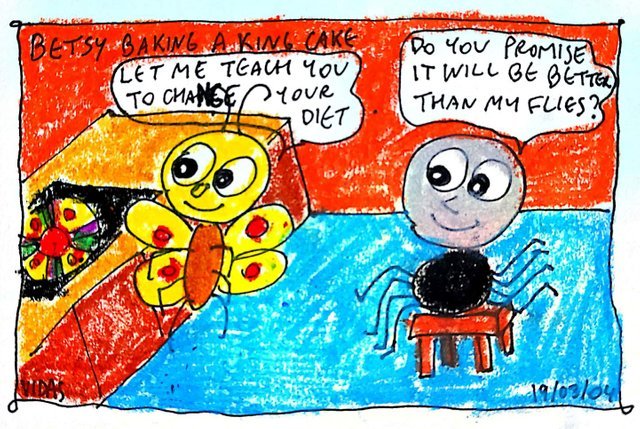 https://steemit.com/@organduo/betsy-baking-a-king-cake-artstorm-contest-66-day-1-oughy7dg
I chose this entry because the characters look so cute.
As always, many thanks to everyone who entered.
Don't miss the Artstorm 'Mardi Gras Week' contest with a prize of 2 Steem or SBD a day donated by @laputis and @organduo!
Here is a link to contest #66 Day 3 in case you would like to enter:
https://steemit.com/contest/@deemarshall/artstorm-contest-66-day-3-mardi-gras-week-theme-today-lent

https://steemit.com/contest/@deemarshall/fantasy-art-contest-2-your-chance-to-win-5-steem-why-not-have-a-go

The Folk Art Colouring Contest
https://steemit.com/contest/@deemarshall/the-folk-art-colouring-contest-4

Would you like to enter The Butterfly Colouring Contest #30? Follow this link for the details:
https://steemit.com/butterflycolouring/@deemarshall/the-butterfly-colouring-contest-31

If you'd like to enter the Colourstorm Contest please follow this link:
https://steemit.com/art/@deemarshall/the-colourstorm-game-day-183