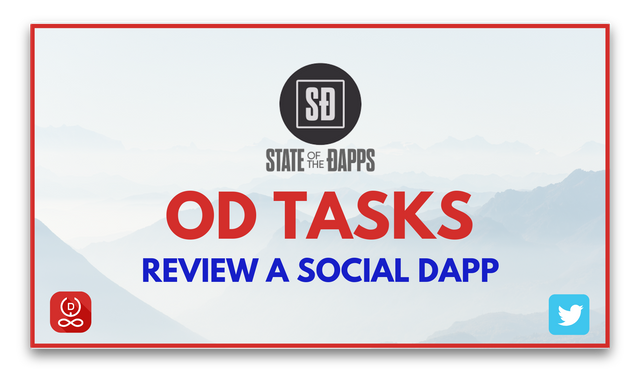 Image is property of @oracle-d
---
When I woke up this morning, I noticed that I had been mentioned in this "Winners Announcement Post" by @dapplovers. At first I thought they had perhaps just mentioned all participants of the "Review a Social DApp Task", but it turned out that my "Review of Partiko" was among the 5 winning entries!
I was completely blown away by this, there were 100 participants and my entry had been chosen as one of the 5 best reviews of a social DApp on State of the DApps. I've been on Steem for over a year and this is by far my biggest achievement on this amazing platform.
You can imagine how glad I am that I've joined the Oracle-D Discord a couple of months ago, I don't think I would have participated if I hadn't joined their Discord channel.
---
My Experience With This Task
When this task was first announced, I told myself that I was going to try and offer them my best work to date. Before I started writing my review of Partiko, I first meticulously studied all of Oracle-D's guidelines for this particular task. Then I watched Oracle-D's guidelines video, to make sure that my post would be up to their strict standards.
Watching that video proved to be a great help, I learned certain techniques that I've now incorporated into my day-to-day workflow. Now I always make sure that I correctly tag all images that I use in my posts and I pay close attention to the keywords I use. I'm sure that this will have a positive impact on the visibility of my own Steem posts on Google.
While I didn't need much help completing this task, I knew that I could always contact someone in the Oracle-D Discord if there were any issues. It's amazing to know that there's a whole community out there, ready to offer help when needed.
---
Pleasant Surprise
In the comment section of my Partiko DApp Review, I saw that @cryptocurator had asked me a question about the chat function on the Partiko IOS app.
When I was looking up information about that, I saw that my own article was on the first page of the Google search results.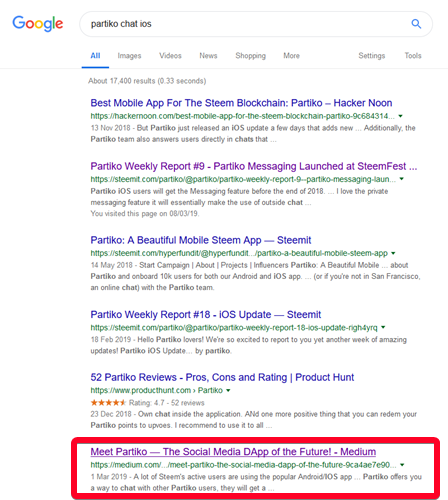 Isn't that just great? To be able to see the results so fast is just an amazing feeling. Okay, in this case it's my article on Medium that gets a prominent spot in the search results, but that doesn't matter too much. I think that Medium had slightly better SEO than Steemit, so it was smart of @Oracle-D and State of the Dapps to ask for Medium articles as well.
---
Conclusion
The fact that this was such a positive experience overall makes me want to jump on the next task! The absolute best part of the prize I'm getting, is that I can now access internal/closed OD Tasks available on OD Portal. I mean, the large upvote is nice too, but having access to internal OD tasks will have a far greater impact on my continued presence on the Steem platform.
If anyone has any doubts about participating with the open tasks that @oracle-D provides, I hope those doubts are now gone after having read this article. The opportunities that tasks like these provide are simply huge! I hope you, my readers, will also participate the next time Oracle-D launches another open task!
A huge THANK YOU to @oracle-d, State of the DApps & @dapplovers for hosting this amazing contest!
---