Steemit for Resteem Contest ↕ Win a Resteem to 3000 Followers and Posting in a group with more than 19000 members ☺
Our group Steemit for Resteem ↕ is one of the biggest steemit groups on facebook. It's free for new users who never claimed to post there, but it's not free for other people.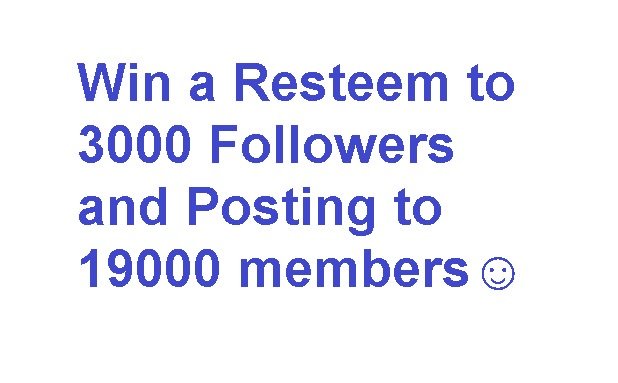 We will let you post in it your link for free if you win in the contest, the winner will be also resteemed from @clixmoney to more than 3000 followers.
So your post will be seen by 19000 + 3000 people, it's 22000 just imagine that. ☺
To participate in the contest you have to :
---
---
1 - Post a picture in the comments that best describes how you feel about this community. ( no words )
2 - Resteem this contest to make it viral.
---
---
You have to take the picture yourself, not from the web
We also will choose the winner who has better quality posts to resteem him and to share his post in the group.
Participate in our contests and you may be rewarded in steem or steem dollar also, we will choose sometimes random participantes and send them some reward.
- HAVE FUN -
---
---

Join the Clixmoney's server let's be in touch !
---
---
There is also a website where you can get free upvotes : steemfollower.com

---
---
Here are my addresses in case you want to support me:
---
BTC: 1DPCC7AteUzCsWmutyHdtvYWmwy79Jnc2p
BCH: 1GAYB9XLnoUDVDXruvXYmgc295zu8LJFpn
ETH : 0xfB2C3068895337AeA7ae4567E1522103331c81b4
LTC : Lasy18J7kmDtZPMtHzxp6B86f53YKNn3kt
---
---
Follow @Clixmoney for more improvement !
---
You can also like our new page where we share the quality posts :
Best Resteemed Steemit Posts
IF YOU WANT TO EARN WITH ME CHECK THIS :
Earn 30% with the group ↕ Steemit for Resteem ↕ - Special post for active members !
Here is the bonus for those who read to the end :
The best steemit tips! , The best steemit tools