ProximaX - Building Your Business On The Blockchain
The blockchain space is filled with promise and to be honest none of us know where it will lead us nor who will be the companies or projects that become the market leaders in the space. We also do not know which areas it will become adopted in first, although Fintech looks like most likely at the moment.
We have not fully grasped the possibilities of the technology nor the fact that it will bring about the ability to build whole new systems that were not possible in previous centralised models.
The problem with building a blockchain-based business is, of course, the infrastructure. If you want to build a blockchain-based business today you need to commit to a certain chain and do the due diligence to find out if it will meet your requirements and make certain allowances or latch on centralised services to make it work.
Businesses looking to tokenize their services at the moment have Ethereum, EOS, GoChain, STEEM and a few more. Each chain has its own pros and cons and while ETH seems to be the most widely adopted it is by no means the ideal system with many businesses finding out later and having to migrate to another chain which can be costly.
To avoid these sorts of mishaps and assist businesses to integrate existing systems or building entirely new systems on the blockchain ProximaX has built a sweet set of blockchain business tools.

What is ProximaX?
ProximaX is an extension of the NEM coin framework and draws inspiration from and code from it using the SDK and API structure but has overlayered 4 distinct decentralised resources that make it an attractive blockchain to build on.
By integrating the blockchain protocol with off-chain service layers the ProximaX Sirius platform solution provides both the advantages of a decentralised network and traditional centralised database solutions.
Learn more about ProximaX
What is ProximaX's mission?
ProximaX wants to make it easier for enterprises and startups to take advantage of blockchain technology and disrupt the use of centralised services when it comes to things like database management, database storage, streaming data services, data aggregation services and more.
This helps reduce the cost of operation and allow companies to better use their resources and focus on creating a better, more affordable product for their users or clients.
But how do they aim to do this?
By creating scalable SDK's and combining them with smart contracts to give developers more control and ease of use in customising and deploying features for their products. Reducing development time and allowing products to be shipped much faster.
What ProximaX brings to the blockchain space
ProximaX will be launching its main net soon with is known as the Sirius chain. Instead of trying to be the next big blockchain in a niche ProximaX wants to be the underlying technology behind the next big blockchain application.
ProximaX will provide the backbone for you to build your application or service by allowing you to integrate blockchain ledgers to house data that cannot be changed, smart contracts to seal transactions, IPFS storage for decentralised storage, Decentralised streaming and a consensus layer built into that.
The best part of it is that these API's built on top of the chain will have improved support and new plugins will be added to give you more options when improving your product.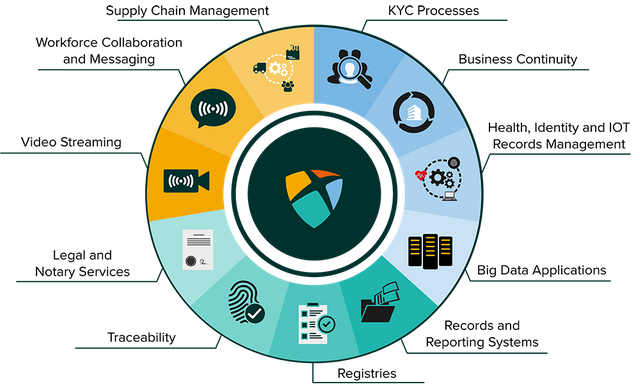 Features that can be integrated into ProximaX
Having the ability of the decentralised database securing data along with the ability to store a massive amount of files across a network, streaming bandwidth shared across a network, smart contracts and consensus executed across a single network gives you the opportunity to create apps that have no speed or scalability limitations.
Making building on a blockchain easier
How you could use ProximaX
I've spoken about what ProximaX offers and I can understand that it can be a little confusing so I thought I'd give you a practical example of how the chain can be applied to a project.
Application development
Let's suppose you want to build an application that allows students to apply for digital tutor programs and get training from experts from around the world. You could do this by using Wistia as your video platform, PayPal for payments a central database to host account data, Amazon web services to save all your files and this can quickly become costly and integration tedious.
Instead, you could use one system the ProximaX chain to build the entire project. It's streaming SDK can handle live training streaming video, its IPFS can handle course guides and how-to videos hosted on your site. Smart contracts will handle payment between students and tutors and share revenue with the platform and you could have a token you can use to reward users and accept payment instantly.
Enterprises solutions
Let's suppose you have a franchise of stores and want to keep track of your inventory. You could have a ProximaX application built that uses its IoT SDK to capture people coming into stores. Capture what they buy, which shelves are empty, which products sell best at which stores and record this in a database.
You can then use that data to move stock between stores, cancel orders from certain distributors to certain stores, arrange floor displays for better conversion rate and so much more.
ProximaX is promising
ProximaX shows a lot of promise in what it is trying to offer developers and it will be up to them to build a set of developer tools that make integration easy. While the project does sound good, its all about the execution.
I do like the fact that it can be applied to both enterprises and startups and I feel there is plenty of room for XPX to build a solid foundation with helping enterprises transition to blockchain.
---
Get to know ProximaX
If you found my review of this project interesting and would like to do more research on it. Then I suggest checking out the following resources.
---
Disclaimer
This has been my submission for the @cateredcontent writing competition found here
Let's connect
If you liked this post sprinkle it with an upvote or resteem and if you don't already, consider following me @chekohler


---
| Buy & sell STEEM | Donate LikeCoin For Free | Earn Interest On Crypto |
| --- | --- | --- |
| | | |