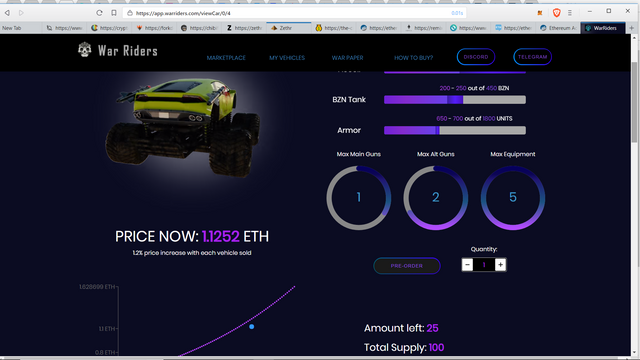 This is your chance to get your hands on a Lambo to cruise around in the wasteland in speed and style. The War Riders Pre-Sale has been going on all day, but you still have a chance to get your hands on some of these rare vehicles. All of the vehicles go up in price as more people buy them, so you have to act fast if you want to take advantage of this opportunity. The market has already shown they have an appetite for these rare vehicles. To get your hands on a Lambo will cost you over 1 ETH now, but the less rare vehicles are still pretty cheap. This just shows there will be a nice demand for these premium vehicles. The stats are random so no matter when you buy one you don't know how awesome it may be. Here's an example with the 2 hovercrafts that I purchased.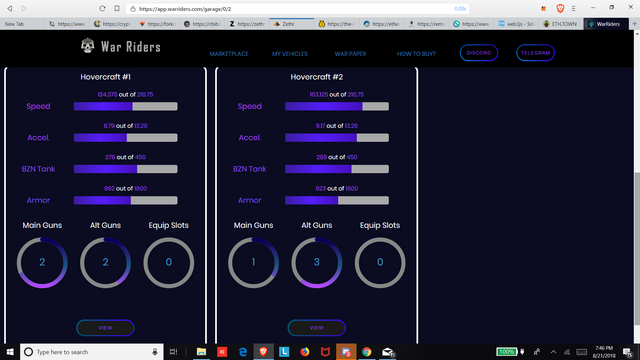 The best part is the Benzene. Each vehicle comes with a tank full of Benzene that will be available for trade on numerous markets. Other than discovering it in the game, this will be the only what to get your hands on this rare resource. Come and get your WarRiders Premium Vehicle
Only entries that complete all the steps will be valid. All valid entries will receive a 100% Upvote!
-The winner will be drawn in The-CIty
You have 72 hours to claim your prize after the drawing. You must message me on Mr. Contest Discord to claim your prize!
Need 💰?
You can purchase 💰 by winning an auction @ http://the-city.surge.sh/ . Right now all the auctions are at bottom prices, so you either get a great deal 💰 or win some ETH!
Winner Winner