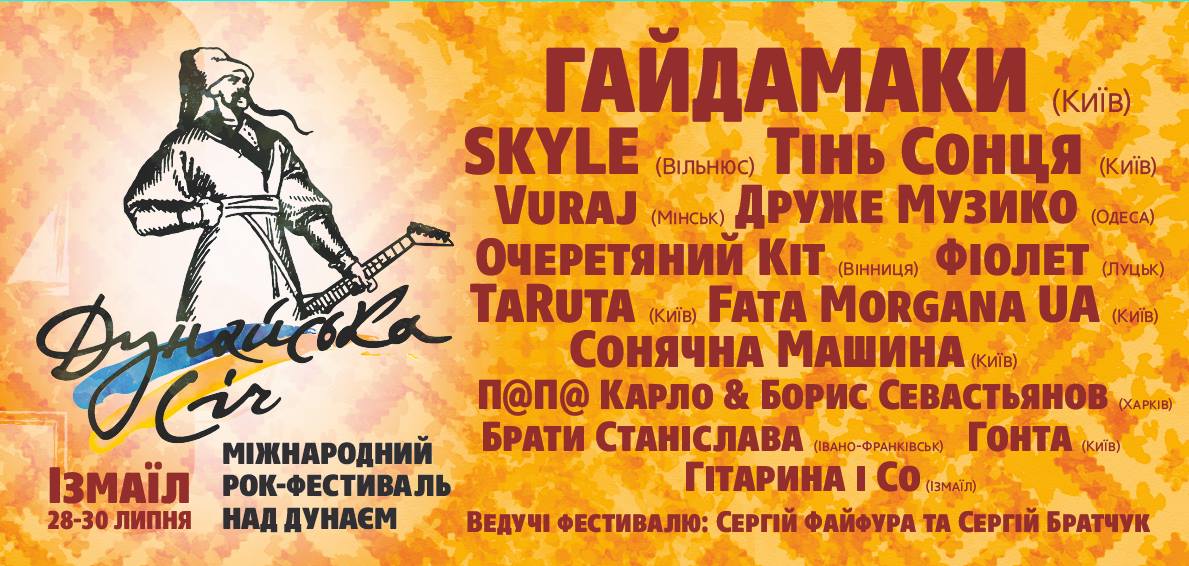 July 28-30, 2017, the volunteer creative Association "Musical Battalion" organizes the Ukrainian rock music festival in Izmail (Odessa region). The "Dunajska Sich" which is held for the fourth time and from a small performance of several bands, the festival has grown to th international level. This year the following groups will perform: TaRuta, Haydamaky, Druzhe Muzyko, Ocheretyanyi Kit, Fiolet "Shadow of the Sun" SKYLE (Lithuania), Vuraj (Belarus) "Solar Car", "AP @ n @ Carlo" & Boris Sevastyanov, GONTA, "The Brothers of Stanislav", "Guitarina & Co", Fata Morgana UA and others.
"Today we unite people and want to make Ukraine a cultural center and to the whole country, the whole world to show Ukrainian Izmail, Ukrainian Odesa region, bringing there our Ukrainian music" - said organizer Olexandr Yurkov.
This Festival is also a good opportunity to visit Ismail, the Danube river, the trip can be combined with a visit to "Ukrainian Venice" Vylkovo, or just relaxing on the Danube river, the Black Sea, Odessa.
Many said and talked about the tourist attractiveness of the Odessa region - hence this festival is one more opportunity to prove this.
It is worth adding that there is a direct train "Kiev - Izmail"
So see you at the Dunajska Sich!
All the details, photos, videos you can see in the Facebook group: https://www.facebook.com/groups/1757829291110928