Compound - Algorithmic Money Markets (dApp Review)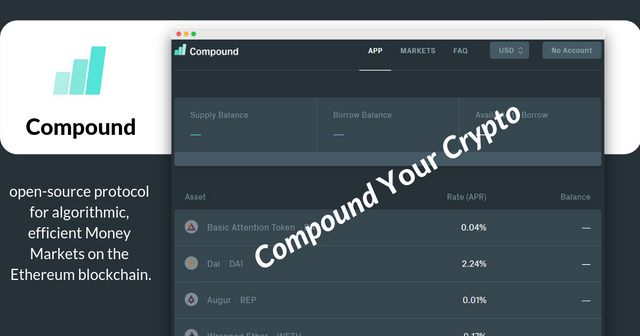 Source
Compound is an open-source, peer-to-peer loan platform built on the Ethereum blockchain. Founded by Robert Leshner, Compound was built as a means for users to earn interest on their Ether holdings and other various tokens. Compound users are classified as Suppliers (lenders) and Borrowers. These Suppliers and borrowers of assets do communicate directly with the protocol, earning (and paying) a floating interest rate, without having to negotiate terms such as maturity, interest rate, or collateral with a peer or third party.
Compound is currently ranked at the 71st position among all decentralized applications (dApps) listed at the the state of the dapps. Check out Compound's profile
Compound Official Website: https://compound.finance/
How to Get Started with Compound

In other to continue using the compound platform, there is a need to enable the asset listed so as to navigate the asset page as seen below.This will enable you to borrow or supply any of this asset but the duo cannot be done at once.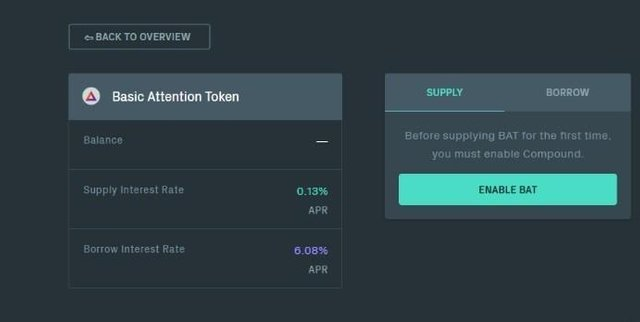 From this stage you can supply and start earning immediately after submitting the transaction. All interest will be seen on your supply balance as time goes on.

From this stage you can supply and start earning immediately after submitting the transaction. All interest will be seen on your supply balance as time goes on.
Compound's vision is to provide a means of earning passive income with Cryptocurrency holdings. Many people hold on or invest on different cryptocurrencies on a long term basis. Thus, Compound provides an opportunity for these people to earn interests on their cryptocurrency holdings.
The Compound platform is simple, user friendly and easy to navigate.

Transactions are carried out on the platform between suppliers and borrowers with no authority or third party involved.

Interest rates are very good and better than most banks.

Users can borrow tokens (to invest, sell, or re-lend) using their account balance as collateral.
Compound charges a 2.5% fee on every borrow order. Though this was implemented as a method to fight against spam or misuse of the protocol, I still think it is a harsh decision as the fee should be deducted during transactions.

Also, there is a need to support more Cryptocurrencies like EOS, steem etc in order to expand the platform and adopt many users.

Moreover, Compound does not directly supports Ethereum despite operating on the Ethereum blockchain. Users need to wrap their Ether in to WRETH and the unwrap it in to Ether at the point of withdrawal.
Comparing Compound with other Platforms Offering Similar Services
Centralized Cryptocurrency exchanges (such as Poloniex, Bitfinex) allow customers to trade blockchain assets on margin, with "borrowing markets" built into the exchange. Compound on the other hand provides a decentralized system for the seamless and smooth borrowing of Ethereum tokens.
Conclusion and Rating
Compound is an amazing application that is offering a remarkable service to users by creating a balance between crypto holders and borrowers as it offers interest on long term crypto holdings and at the same time, provides loan at a relatively lower interest rates.
Based on the above analyses, I am awarding Compound a 4.2/5 star rating.
Disclaimer
All images are screenshots from the Compound official website

The information disclosed by this post is not intended to serve as a financial advice. Making an investment based on these information should be at your own risk.

The post was written for the Steem Cameroon Community by Ndorrh Oswald (@ndorrhoswald) and proofread by @ernestapondo and @slimformin. 80% of this post's author reward will be paid to Ndorrh Oswald and the remaining 20% will be held by this account.