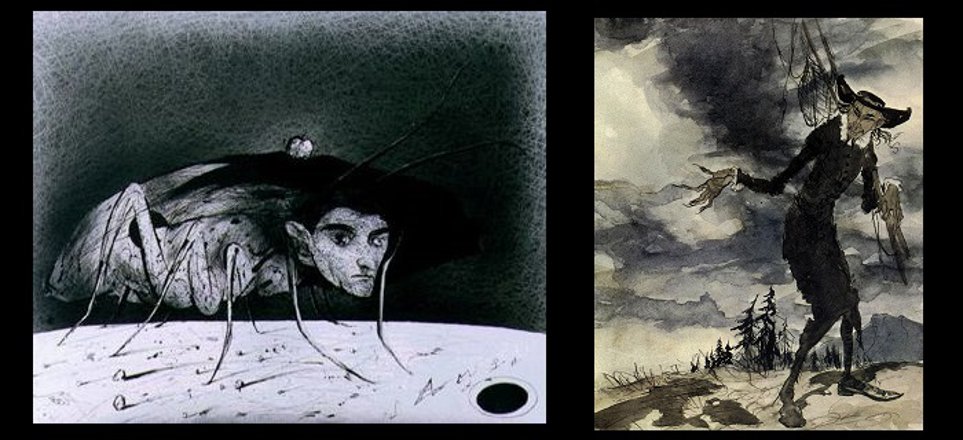 The picture on the left is an artist's impression of Gregor Samsa, the lead character in Franz Kafka's "Metamorphosis". The picture on the right represents the devil (The Thin Man), in Henrik Ibsen's "Peer Gynt". The Kafka picture is attributed to Metraproceso on Wikimedia Commons. It is used under a Creative Commons Attribution-Share Alike 3.0 Unported license. The picture on the right was drawn by Arthur Rakham and is in the public domain.
---
---
Peer Gynt: From Folklore to the Modern Stage
---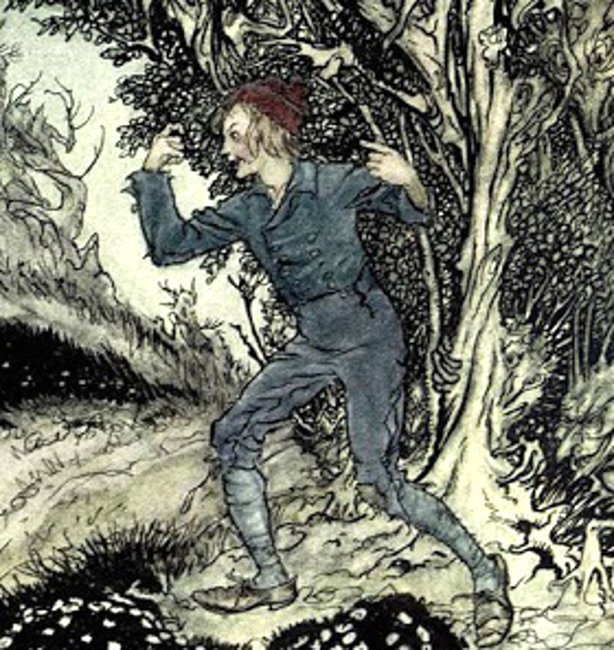 This drawing of the character Peer Gynt was cropped from a larger illustration by Arthur Rakham (1867-1939). The image is in the public domain.
---
---
Henrik Ibsen wrote one of the greatest masterpieces of modern Norwegian literature, Peer Gynt. Described as a verse play, the story is rooted in Norwegian folklore. The theme is timeless: its protagonist struggles to avoid existential annihilation. Peer Gynt's enduring appeal is not surprising, because folklore and mythology seek to explain some of life's deepest mysteries. What is surprising, though, is the way science--quantum mechanics and theories of multiple universes, for example--seems to validate some of the existential insecurity explored in the play.
One technique Ibsen uses to create an uncertain reality is to integrate dreams, illusions, and even madness into his play. These devices have been employed by countless writers, with similar effect. A writer who comes to mind particularly is Franz Kafka, who creates a grotesque version of reality in his short story, The Metamorphosis.
I'm sure readers have their own favorite writers who use dreams and illusions to create a tentative sense of reality. It would be wonderful to hear about these, in the comment section below.
---
---
A word about the prompt for this post: @sndbox issued a #hashtag challenge this week. We're supposed to come up with a #hashtag for Steemit that has never been used before. I came up with #comparativeliterature. In my #comparativeliterature post today, I'm considering two works: Henrik Ibsen's Peer Gynt and Franz Kafka's The Metamorphosis. Other books may be referenced for purpose of illumination. I'm focusing on a specific aspect of these works: the use of dream states.
---
Here goes. My first exercise in a #comparativeliterature post on Steemit.
---
---
Synopsis of Peer Gynt
---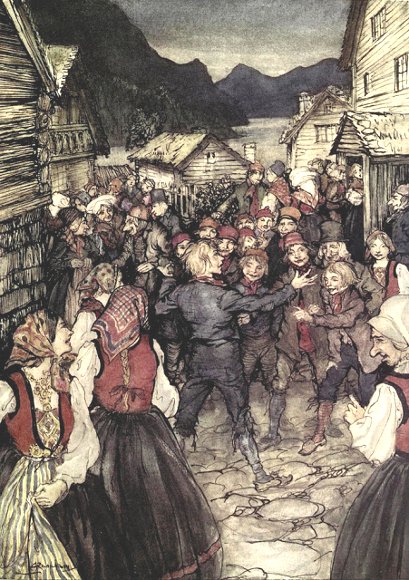 ---
In this picture, Peer is boasting at a wedding feast. Everyone knows he's lying and there is general derision directed toward him. The picture was drawn by Arthur Rackham, as were all the Peer Gynt illustrations that accompany this essay. The picture is in the public domain.
---
---
Peer Gynt, the play, has as its protagonist a young man who is a ne'er-do-well. In the very first scene of the play Peer's mother, Aase, declares, "Peer, you're lying." And so he continues to do, right up to the very end. As the play progresses, Peer's loose attachment to morality is matched by his tenuous relationship with the physical world. For him, there is no distinction between wishing something to be and believing it is true.
In Act III the play comes to a culmination of realization. Peer acknowledges his unsteady relationship with reality. He declares, as he attempts to chop down a gnarled tree:
One's dreams get mixed up with one's working.
All that must stop this daytime dreaming...
---
---
Don Quixote de La Mancha, Another Sort of Fantasist
---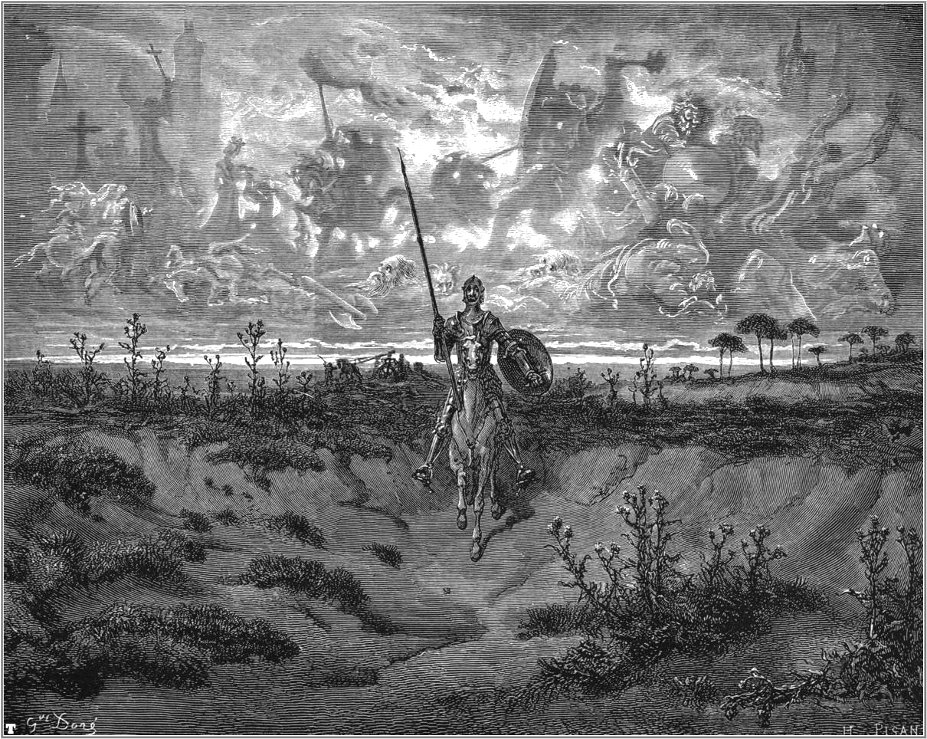 ---
In this illustration by Gustav Dore (1832-1883), Don Quixote rides on his imaginary steed. His grand visions of noble adventure swirl behind him. The picture is in the public domain.
---
Perhaps the most famous dreamer in literature is Don Quixote, who was brought to life by Miguel de Cervantes in the seventeenth century. There is a pronounced distinction between the mad knight of this Spanish classic and the self-dealing egoist of Ibsen's play. Don Quixote lives in a world of illusion but he is always completely true to his nature--as a matter of fact, that is the root of his madness. He is so true to his essential nature that he's lost touch with the physical world. Peer Gynt, on the other hand, denies his essential nature and therefore risks extinction.
---
---
---
Peer Loses Himself
---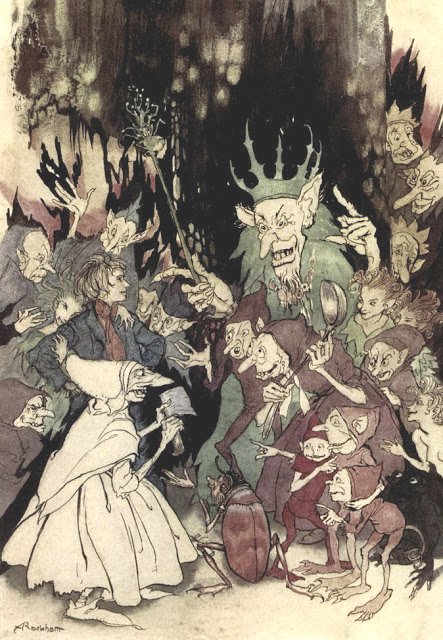 ---
Here Peer is cavorting with trolls. Illustration by Arthur Rakham (1867-1939), 1936. The work is in the public domain.
---
After his avowal to stop "daytime dreaming", Peer shows no sign of reform. Indeed, references to dreams, nightmares, and sleep increase. These allusions pepper the play, and gradually we become aware that in his detachment from reality, Peer Gynt is surrendering his essential self. This abdication from self is described for the first time in the second act of the play. Here Peer strikes a bargain with a troll king. Humans, the troll king explains, follow the principle "Man, to thyself be true". Trolls live by the principle, "Trolls, to thyself be enough." Peer agrees to live by the second principle and in effect abandons his humanity.
---
---
Augusto Perez, Another Figure of Dreams and Imagination
---
The Fog (La Niebla in Spanish) is a novella, written by the Spanish philosopher and author Miguel de Unamuno. The book deals not only with dreams and existential uncertainty, but also with the issue of free will. The protagonist, Augusto Perez, realizes he is the character in a novel. He struggles throughout the book to discover who the true "author" of his life is. Augusto is neither a scoundrel nor a fantasist. It is his fate to be the product or someone else's imagination.
---
Miguel de Unamuno, 1864-1936
---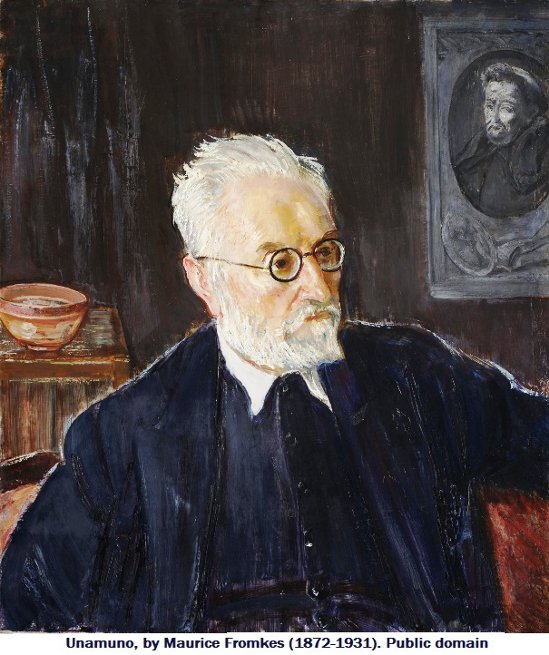 ---
---
---
The Boyg Threatens to Absorb Peer
---
After his abdication of self in the troll scene, Peer is confronted by "the blank nothingness" of the Boyg. Peer is about to be absorbed into this emptiness, when a ringing of bells is heard. The Boyg retreats at the sound. We learn that Peer's mother and his lost love, Solveig, have rung the bells in tribute to him. It is this demonstration of love that redeems Peer, at least momentarily. But he continues in his rascally ways throughout his long, adventurous life.
When he is an old man and returns to his village, he faces a final existential challenge. This occurs at the end of Act V. The most prosaic of entities, a Button-Moulder, informs Peer that there will be an end to him. A complete and irrecoverable end. Peer is to be melted down and become indistinguishable in a mass of other worthless humans who have been melted. From this common blob, buttons will be made. Peer is horrified and seeks to prove that he has been bad enough or good enough to be recognized as an individual. But he cannot provide proof.
As he is about to be extinguished by the Button-Moulder, love once again materializes, in the form of Solveig, to save him. Solveig is old and nearly blind, but she comforts him. In the last lines of the play she sings,
I will rock you to sleep and guard you !
Sleep and dream, my dearest boy !
However, Solveig's words do not convince us completely that Peer is saved, for a few lines before we have been told that the Button-Moulder is lurking nearby.
---
---
The Metamorphosis: Gregor's Existential Crisis
---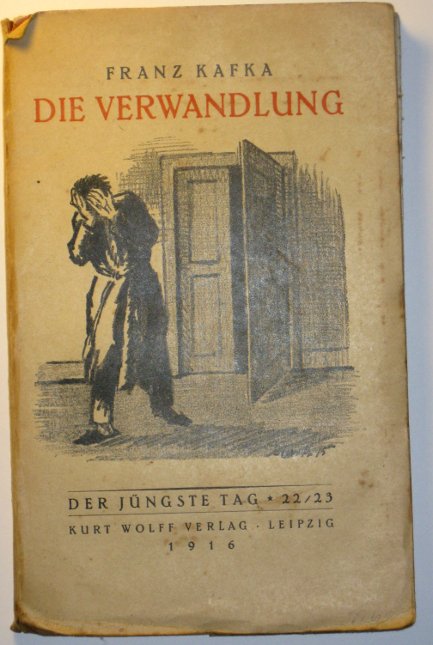 ---
The cover of Die Verwandlung ("The Metamorphosis"), 1916. The illustrator is not known. The picture, attributed to Gottfried Plehn, is in the public domain.
---
Many who read this essay are probably more familiar with Gregor Samsa, in Kafka's Metamorphosis, than they are with Peer Gynt. These readers may recall that at the beginning of Kafka's story, Gregor wakes "from troubled dreams" and discovers that he is a beetle. After describing briefly, and graphically, his physical state, the deformed Gregor asserts (in the second paragraph) "It wasn't a dream". With this statement, the possibility of a dream state is introduced. Is Gregor a reliable narrator? Do we know that we are not in a dream? Our certainty never returns to us as the story progresses.
Suspicion of a dream state is heightened at the conclusion of the story, in which there is reference once again to dreams: "And, as if in confirmation of their new dreams and good intentions..." Kafka writes in the last sentence . Use of the word dream at the start and conclusion is a curious coincidence. Kafka was a fastidious writer who used words sparingly. To bracket, as it were, his story with references to dreams, cannot be accidental. Only once more are dreams mentioned. This is in reference to Grete's frustrated ambition to study music:"...conversation with his sister would often turn to the conservatory but it was only ever mentioned as a lovely dream" . It is, significantly, Grete who is liberated by Gregor's transformation and ultimate demise. She is free to follow her dream.
If Peer Gynt is a play about existential annihilation, The Metamorphosis is about this, and more. It represents not only an obliteration of Gregor's humanity, but also a loss of love and respect. It is a complete alienation from self and all the people Gregor holds dear. This is a fate from which Peer is very clearly spared. He retains to the end the love of his mother and Solveig.
---
---
Gregor's fate is more tragic and cruel than Peer's, partly because Gregor appears to be blameless. However, I've always suspected that his passivity was the crime for which Kafka indicted and sentenced him. Or, to wax more psychoanalytic, passivity was the crime for which Gregor indicted himself in his dream state.
---
Well there it is-- an illustration of what a #comparativeliterature post might look like.
---
---
---

Postscript: References to Dream States in Peer Gynt
---
There was one in all that your mother told me,
And others that came to me in my dreams
---
It's nightmare ! illusion ! I soon shall wake up !
It's heading to sea ! And at top of its speed !
It's a dream, and I'm sleeping ! I'm drunk or I'm mad
---
...and live again,
As in a dream, the days of old ;
---
In boyish dreams I used to travel
Over the sea upon a cloud
---
I'd have you opened and laid bare.
It really is the seat of dreaming
That I am seeking
---
Fancies, dreams, and still-born wisdom
For a base, while lies shall serve
For a staircase for the building
Of a lofty pyramid.
---
It's a dream, and I'm sleeping ! I'm drunk or I'm mad !
---
It's a dream ! It must be it shall be a dream !
---
I must be dreaming I must be dreaming !
---
I might believe that it was myself
That was sleeping there and was listening
In dreams to praises that I deserved

Some Resources Used in Writing This Post
---
https://www.theatermania.com/off-broadway/reviews/peer-gynt_77198.html
https://onlinelibrary.wiley.com/doi/pdf/10.1111/j.0022-3840.1971.0502_349.x
https://bigthink.com/scotty-hendricks/a-new-hypothesis-suggests-that-parallel-universes-might-interact-after-all
https://en.wikipedia.org/wiki/B%C3%B8yg)
http://www.gutenberg.org/files/5200/5200-h/5200-h.htm
http://www.gutenberg.org/files/49836/49836-h/49836-h.htm
http://www.gutenberg.org/cache/epub/996/pg996-images.html
https://archive.org/stream/peergyntdramatic00ibseuoft/peergyntdramatic00ibseuoft_djvu.txt
https://kristihillmusic.com/2018/03/28/teach-music-through-animated-movies-edvard-griegs-in-the-hall-of-the-mountain-king-in-trolls/
https://www.iflscience.com/physics/schr%C3%B6dinger%E2%80%99s-cat-explained/