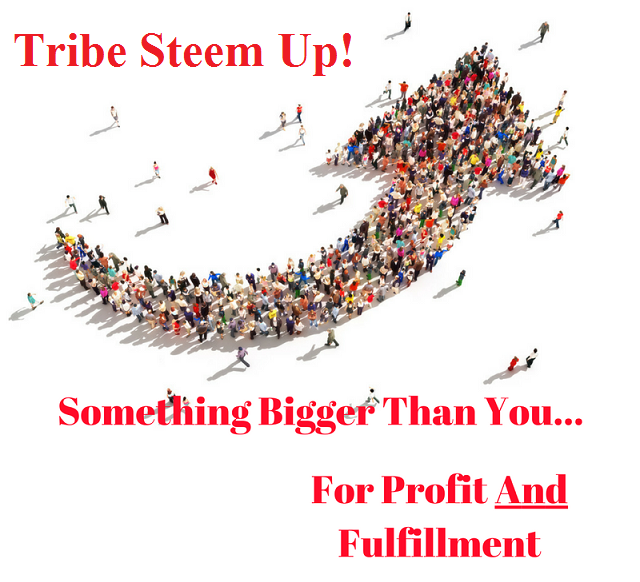 @TribeSteemUp is a collective voting bot, created to support content & content creators focused on making the world a more peaceful & free place. Most of its role in this steem-ciety is simply to curate, to help the Steem block-chain recognize & reward the value of great content. The focus is on high-quality content, from under-recognized content creators, and more specifically on those who create content related to:
| Anarchy | Non-Violence | Philosophy | Veganism | Mindfulness |
| Community Empowerment | Love | Original Music | Esotericism |
| Healthy Recipes | Psychedelics | Truth | Permaculture |
The list of creators started off relatively small last summer, all people that @kennyskitchen knew personally, and has since expanded based on recommendations from within the growing community, new members of the Tribe joining Steemit, and new Steemit creators who are in alignment being discovered.
Everyone who is added to the list gets an 11% vote automatically, and those who invest in the project get a higher vote %, based on a tiered system. Everyone who has invested in the @TribeSteemUp account gets a split of the curation rewards, equal to their portion of the total investment (after a 10 week vesting period).
---
As always, the author rewards for this post will be converted to STEEM and powered up in the @tribesteemup account, both increasing the votes everyone receives, and rewarding everyone who delegates SP to the project.
---
@TribeSteemUp is supporting over 150 creators!
It takes a LOT of time to copy this list over, so I'll just point you towards @tribesteemup's following page to see everyone who is on the list.
Here you can see the last 4 weeks of voting (thanks to SteemReports, obviously quite a bit of our tribe is dormant right now, as there have only been 95 accounts voted on.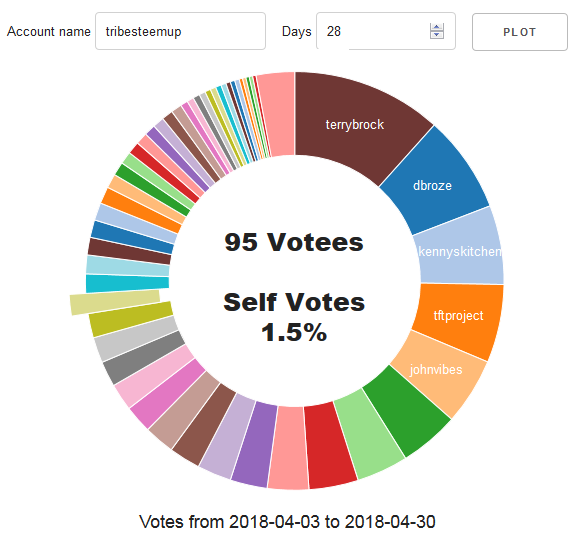 Give thanks to everyone following the curation trail
| @thepatrick | @catherinebleish | @bryanj4 | @johnvibes |
| @careywedler | @farmsnotpharms | @juansgalt | @rocknrolldm |
| @copperchildren | @tiamat | @kennyskitchen | @tftproject |
| @wearechange-co | @dbroze | @csmedia | @sbedwards |
| @brooklynwildfire | @mickeybeaves | @consciouskitchen | @philosofusion |
| @antimedia | @burntmd | @dannyquest | @maloneyj55 |
| @churdtzu | @socialmisfit | @ashe-oro | @discodaddy |
| @krisstofer | @geliquasjourney | @colinhoward | @kieranpearson |
| @elamental | @hempress | @dannyshine | @adamkokesh |
| @paradise-paradox | @lishu | @brightstar | @be-empowered |
It's easy to support your community!
To follow the curation trail (which simply means that your account will up-vote everything that @tribesteemup up-votes, follow these simple instructions to set yourself up on @SteemAuto, then go to @TribeSteemUp's Curation Trail and click follow. Once the page reloads, you will have the option to adjust settings; I would recommend "fixed voting weight" and setting the weight to around 33%, unless you like to do a lot of manual voting, then down to 11-22%.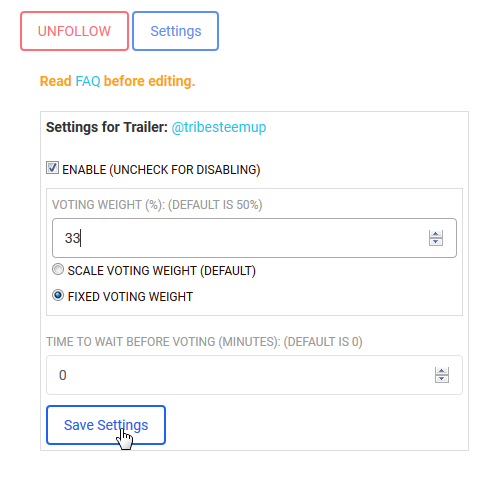 You can always see your current voting power at SteemD & SteemWorld, and since we know that a 100% weighted vote takes 2% of your voting power, and you regain 0.82% voting power every hour, it's simple to track our voting power level and make sure we don't dip too low (I try to not go below 80%)
The most efficient way to vote until you get the "slider"
If you're someone who is relatively new to the platform, if you have less than 1 MVest (currently around 490 SteemPower), then you don't get to use the slider, and your manual votes are always at 100%

In order to stay within a decent range of voting power, this means that newer users are limited to 10 up-votes per day. Using the @tribesteemup curation trail, you can support 30 or more creators per day, maximizing your curation rewards, as well as diversifying/spreading the wealth as much as possible, within a group of people who share your morals, vision of freedom, and many other things :-)
Your other option is to simply delegate your SteemPower over to the @tribesteemup account. What this means is that the SP stays in your account, but it's voting strength is used by TSU instead. The more that you delegate to @tribesteemup, the higher your upvotes received from the primary bot, and everyone who invests is splitting all the curation rewards of the account. Here's my whole breakdown on how to delegate SP over.
The main reason to keep using this option in addition to or instead of the curation trail, is that I have manual control over @tribesteemup, so even if the bot skips a post, I can hand-vote it. If the curation trail isn't working for some reason, I can't log into all those accounts and upvote all the recent posts with each of them. It's also great to have that one big vote coming in, helps bump posts up the hot/trending lists as well.
Give thanks to everyone delegating to @TribeSteemUp
| @alchemage | @alexstacy | @ashe-oro | @bryanj4 |
| @burntmd | @careywedler | @catherinebleish | @colinhoward |
| @dbroze | @elamental | @erikaharris | @johnvibes |
| @juansgalt | @juxley | @kennyskitchen | @lesliestarrohara |
| @lukestokes | @lukewearechange | @maceytomlin | @miningio |
| @mountainwashere | @pomperipossa | @sashadaygame | @sbedwards |
| @scottermonkey | @sovereignalien | @terrybrock | @tftproject |
| @treaphort | @wearechange-co |
Here's a cool image :-P
Another one of the options on SteemReports is called the Enhanced Votes Graph, which shows you your network's voting patterns. Let's see how big of a cloud we can turn this into!!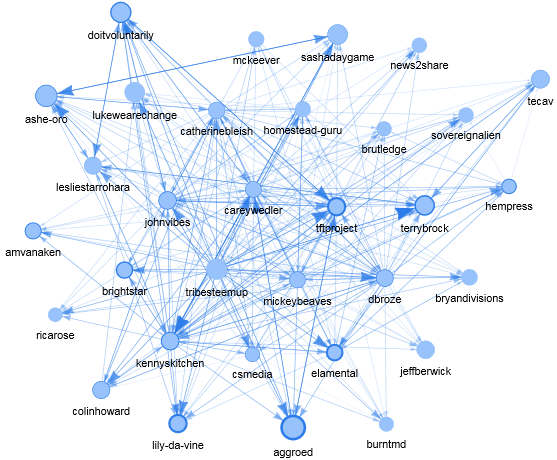 You are beautiful!
You are powerful!
You are free!
I LOVE YOU!